Prime Minister David Cameron's failure to live up to his 'greenest government ever' pledge could cost him the election reveals a new survey by research consultancy ComRes.
Climate change policies will likely have a significant influence on voters in the May election, with the survey showing almost 70 percent of voters surveyed calling for their party to have a "strong policy for tackling climate change".
Almost 60 percent of British adults said they want to hear their political leaders make stronger statements on climate change, while more than a quarter said they would switch political allegiances in the voting booth if their party of choice did not have a strong policy on tackling climate change.
The survey, consisting of more than 2,000 people, was conducted at the beginning of February and was commissioned by a group of more than 100 NGOs, including Greenpeace and Oxfam.
'Very Concerned'
It follows growing opposition to the prime minister's stance on the environment. Cameron has recently been criticised for his stance on going "all out" for shale gas and in December he claimed that people were "fed up" with wind farms.
This is despite another poll released this week which reveals that 77 percent of people in the UK think the nation should generate more electricity from renewable sources.
The ComRes results released this week also complement those of a November Populous poll, which found that three-quarters of the British public want to see global action on climate change in the lead up to the Paris COP21 climate negotiations in December.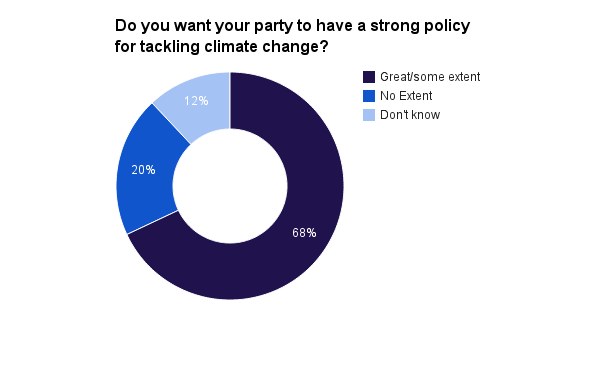 Chart by DeSmog UK based on ComRes data
Overall, the ComRes poll shows that about three-quarters of Labour and Liberal Democrat supporters are either "very concerned" or "fairly concerned" about climate change. This is compared to only 54 percent of Conservative voters stating a concern about climate change.
Interestingly, half of UKIP supporters surveyed are also 'very' or 'fairly' concerned about climate change. However, UKIP is the only party actively calling for the removal of the 2008 Climate Change Act—an act which commits the country to reducing its greenhouse gas emissions.
Young Voters
The ComRes survey also reveals that younger Conservative party supporters are significantly more concerned about the future of climate change than older Tories.
It shows that 77 percent of Conservative-leaning 18 to 24-year-olds are 'very' or 'fairly' concerned about climate change. This is compared to less than half (46 per cent) of Conservative voters aged 65 and over, who said they were concerned about climate change.
However, the survey also confirms that Conservative party supporters are less concerned with climate change compared to supporters of other parties.
For example, 10 percent of 18 to 24-year-old Conservative-leaning voters said they were not at all concerned about climate change. In contrast, only one young Labour-leaning voter of that age said they weren't worried.
Overall, more than a third of voters aged 18 to 34 said they "could not vote" for their chosen party if it did not have a strong policy for tackling climate change.
Photo: Mirror / Getty Images via Creative Commons