Kinder Morgan, the company currently seeking permission to nearly triple the capacity of the Trans Mountain pipeline to carry Albertan crude to the west coast, has engaged in a protracted fight with the province of British Columbia in an effort to keep its oil spill response plans a secret.
The company alleges its motivation has to do with 'security concerns' although a look back at the to and fro with the province of B.C. paints a story of either incompetence or pure, defenseless hubris.
Either way, what Kinder Morgan is refusing to produce for B.C. and other intervenors in the pipeline review process, the company willingly disclosed south of the border for portions of the pipeline that extend to Washington State.
A read through the detailed spill response plans Kinder Morgan has in place for the U.S. shows just how far the company went to prove they can handle a pipeline spill. 
It also highlights how outlandish it is that Kinder Morgan has not released similarly-detailed plans to the province of B.C.
It is also troubling that Kinder Morgan expects the government of B.C. to consent to a massive pipeline expansion — the proposal calls for a twinning of the pipeline which would lead to a fivefold increase in tanker traffic — without adequate assurances the best available emergency plans are in place.
So, what did Kinder Morgan tell Washington State that it refuses to tell B.C.?
1. Details for every unique section of the pipeline
In its Emergency Management Plan (EMP) documents released to regulators in Washington State, Kinder Morgan provides detailed information about every individual section of the pipeline, including the thickness of the pipeline's walls, where it crosses water, the location of shutoff valves, peak volumes and a 'spill volume profile' for each geographical 'zone' of the line.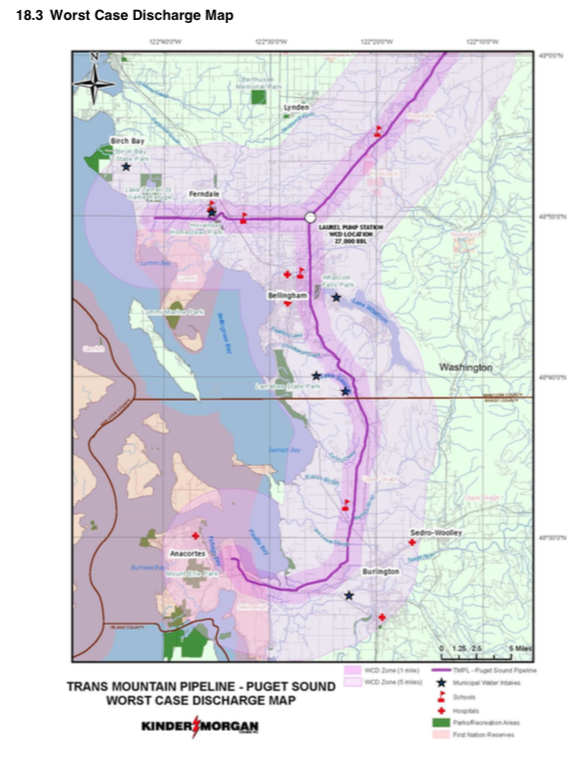 A map from Kinder Morgan shows worst case scenario spill zones.
Worst case scenario plans for five individual zones
Based on previous spill data going all the way back to 1955, maximum flow rates and maximum shut-down response time, Kinder Morgan estimates what the worst case discharge might be for any given segment of the pipeline. The company uses these estimates to plan detailed spill response measures. It even calculates for elevation, adverse weather conditions, whether shut off valves are automated or manual and how these factors might help or hinder response efforts. The company also provides these details for storage tanks at terminals along the pipeline.
If that wasn't enough, the documents show exactly how Kinder Morgan arrived at its estimates so the methodology can be evaluated independently.
Who exactly is responsible for spills in each individual location
Pipeline companies are obligated to obtain something called 'mutual aid' from spill response agencies and private companies expected to respond to a spill. Kinder Morgan lists every single company and agency it anticipates would respond to a spill from the Trans Mountain pipeline or terminals in Washington State. The company also lists 'activation instructions' outlining the steps to be taken in the event of a spill in order to draw upon the resources of their mutual aid partners.
Kinder Morgan also provided regulators with confirmation letters (example below) from numerous companies that agree to provide aid in the event of a spill. These letters include signatures from personnel at the managerial level providing the state with some assurance that response plans, equipment availability and other expectations have been previously discussed.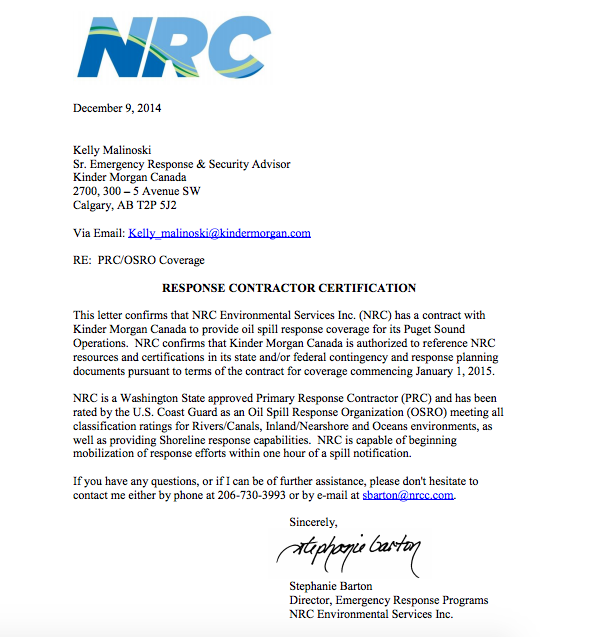 Kinder Morgan provided this letter of intent to regulators in Washington State to confirm NRC Environmental Services will provide spill response services. Kinder Morgan refused to supply the province of B.C. with similar letters of intent as part of the Trans Mountain pipeline expansion review process.
Kinder Morgan refused to provide B.C. with the names of agencies to be notified in the event of an emergency, leaving the province to question if the company is relying on out-of-province first responders which could lead to lengthy response delays.
Without such information, B.C. argues Trans Mountain has no "ability to substantiate the assertions it has made" about spill response preparedness in its application.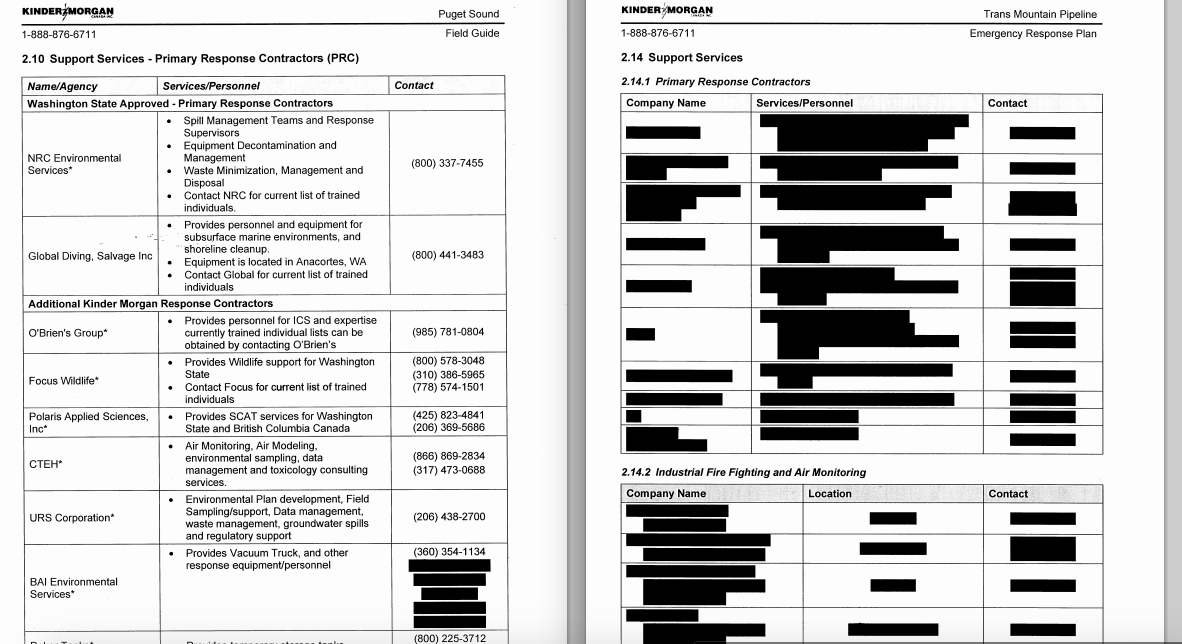 A side by side comparison of primary response contractors documentation demonstrates the extent to which Kinder Morgan redacted information provided to B.C.
What will be cleaned up, where, with what, and who's bringing it
Not only does Kinder Morgan list all of the individuals, departments, agencies and companies it will rely on in the event of a spill, but also documents the skills and equipment each of these responders would provide.
For instance, O'Brien's Response Management can supply highly-qualified personnel like Incident Commanders and Safety Officers. The Centre for Toxicology and Environmental Health can provide 24/7 professional air monitoring and environmental sampling and can arrive via the company's KingAir 200 airplane if necessary. The company BakerCorp. will deliver ten 21,000 gallon tanks to a spill site within 12 hours and has enough pumps and hose to move 6,300 gallons of oil per minute.
Kinder Morgan also lists what the pipeline carries — crude oil, synthetic crude, or diluted bitumen — so first responders know in advance what they'll face in the event of a spill.
Detailed spill response timelines for each zone
Forty-eight hour timelines are presented for each of the potential spill zones outlining how much oil could be recovered in the event of a spill, what equipment and how many people it would take.
For example, for zone 1 in Bellingham, Kinder Morgan estimates it could have 22 people on site within two hours of a spill. In addition it figures that within two hours, it could have 4,000 feet of oil boom for oil spilled in water and the capacity to store 381 barrels of recovered oil. Within six hours, the company estimates 137 people would be on site, with a total of 41,150 feet of oil boom and the capacity to hold 2,953 barrels of recovered oil.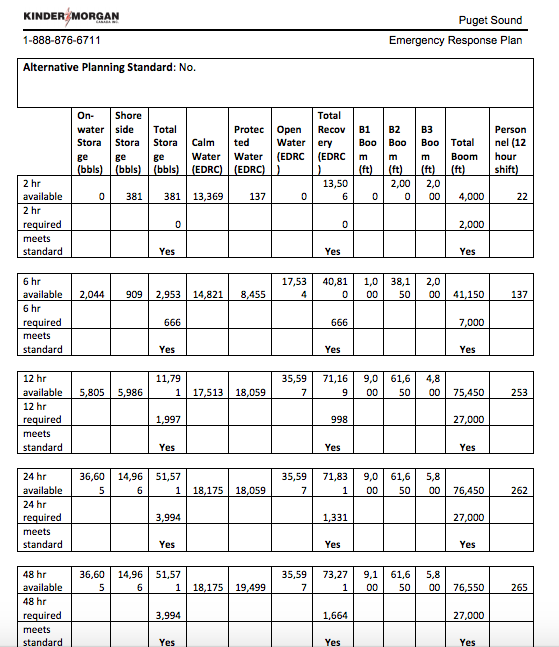 Excerpt from detailed spill response plans released to Washington State regulators by Kinder Morgan. No similar documents were released for spill response plans in B.C.
Kinder Morgan redactions "excessive, unjustified and prohibitive"
Despite providing this information to regulators in Washington State, Kinder Morgan argued that for personal, commercial or security reasons the company would not disclose similar details to B.C.
In a motion the province of B.C. told the National Energy Board that Kinder Morgan's redactions are "excessive, unjustified and prohibitive." The province added that the withheld information "thwarts" their review of the project and "precludes a thorough understanding of Trans Mountain's EMP by the [National Energy] Board and all intervenors."
The province also argues that disclosure of emergency plans south of the border "renders inexplicable" the company's insistence that it keep the information secret in B.C.
"That fact calls into serious question the legitimacy of Trans Mountain's claim that what is presumably almost identical information ought, for 'personal,' 'security,' or 'commercial' reasons, not to be disclosed."
Kinder Morgan Trans Mountain Puget Sound Field Guide by DeSmog Canada
Image Credit: Trans Mountain