After two televised debates and several manifesto launches, the 2015 general election is well and truly underway.
Promises, pledges and plans are being churned out by political parties on an industrial scale. However, what does each of the party's manifestos say it will do about fracking, if elected?
Fracking will likely be a key issue for people living in constituencies with permit applications for shale oil and gas sites.
Voters can check Friends of the Earth and Greenpeace's 'Frack Free Promise' interactive map to see whether the candidates in their constituency have pledged to oppose fracking or not. But, with party lines more likely to dictate future government policy, we take a look at where each party stands on fracking.
Conservatives and Lib Dems
Firstly, the Conservatives' and Liberal Democrats' manifestos support the idea of a regulated fracking industry and ensuring community benefits. The Conservatives also emphasised the generous tax cuts they had introduced to help get the industry going.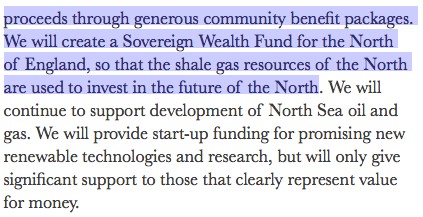 Conservative manifesto excerpt
Following last week's news of the deal between Geothermal Engineering Ltd and Cuadrilla Resources (backed by government financial support), the Liberal Democrats are now insisting that every fracking site must be offered up to the possibility of geothermal energy extraction.
However, the results of the technology are unknown and are still in the early stages of development.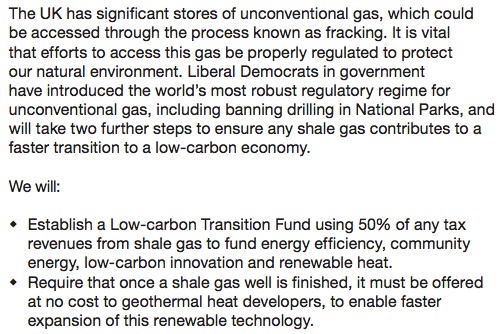 Lib Dem manifesto excerpt
Labour on Fracking
Despite several Labour candidates opposing fracking, this is not the case for the party as a whole, as seen in their manifesto. They support a regulated fracking industry and, furthermore, want to provide political certainty to protect the longevity of the industry.


Labour manifesto excerpt
UKIP's Not-So-Green Manifesto
While UKIP want to scrap the Department for Energy and Climate Change (DECC), the Climate Change Act and green subsidies altogether, their insistence on protecting the green belt seems to be contradicted by their support for a regulated fracking industry.


UKIP manifest excerpt
Plaid Cymru's Moratorium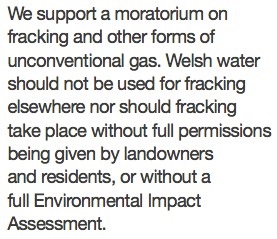 Plaid Cymru's manifesto offers support to the current moratorium on fracking that was passed by the Welsh Assembly this February. Labour also announced that they plan to devolve powers of responsibility on fracking to the Welsh government if they win the election.
Plaid Cymru manifesto excerpt
Green Party Fracking Ban
So far, the only party to offer an outright ban on fracking is the Green Party, along with bans on coal bed methane extraction and underground coal gasification.


Green Party manifesto excerpt
The SNP are set to launch their manifesto next week and, even though they have also introduced a moratorium on fracking, the party's absolute position on fracking is not clear from their website.
According to DECC, powers have already been devolved to Scotland to make its own decision on fracking.
According to a recent ComRes poll, the general public currently, marginally, support fracking (42 percent) rather than oppose it (35 percent). This gives 42 percent of the public a choice of four political parties to choose from.
And even though Plaid Cymru supports the Welsh government's moratorium, the 35 percent of the population that oppose fracking only have one clear option: the Green Party.
Photo: James Will Dennis via Creative Commons