The West Coast of the United States and Canada is facing an imminent tar sands oil invasion, according to a new report from the Natural Resources Defense Council (NRDC).
"The West Coast is about to fall victim to a tar sands invasion, unless our leaders choose to protect the health and safety of our communities and say no to Big Oil," said Anthony Swift, deputy director of NRDC's Canada Project. "At a time when the nation is moving toward a clean energy future, there is no reason to welcome the dirtiest oil on the planet into our communities."
While the West Coast is not currently the destination for much tar sands oil, the area's heavy oil refining capacity and deepwater port access make it a likely destination for large amounts of Canadian tar sands oil in the future.
The Canadian Association of Petroleum Producers (CAPP) forecasts that tar sands supply will increase from 2.4 million barrels per day (bpd) in 2013 to 6.2 million bpd by 2030. To achieve those volumes, a significant portion of that oil would have to go to the West Coast by a combination of pipelines, rail and tanker.
The new report notes that if current plans for infrastructure to handle tar sands oil transportation proceed, "tar sands refining on the West Coast could increase eightfold, from about 100,000 bpd in 2013 to nearly 800,000 bpd in coming decades." To put this in perspective, this is approximately the amount the proposed TransCanada KXL pipeline would transport to the U.S. Gulf Coast.
And while 800,000 bpd would be refined in the U.S., much of the tar sands oil headed to the West Coast would likely be exported to Asian markets where producers can receive higher prices. This point is currently made on the Markets page of Oil Sands Today, which states, "The West Coast is a critical outlet for Canadian oil to reach customers in Asian markets."
While there is currently a ban in the U.S. on exporting crude oil, the ban only applies to oil that is produced in the U.S. and thus Canadian tar sands oil can be exported from U.S. ports.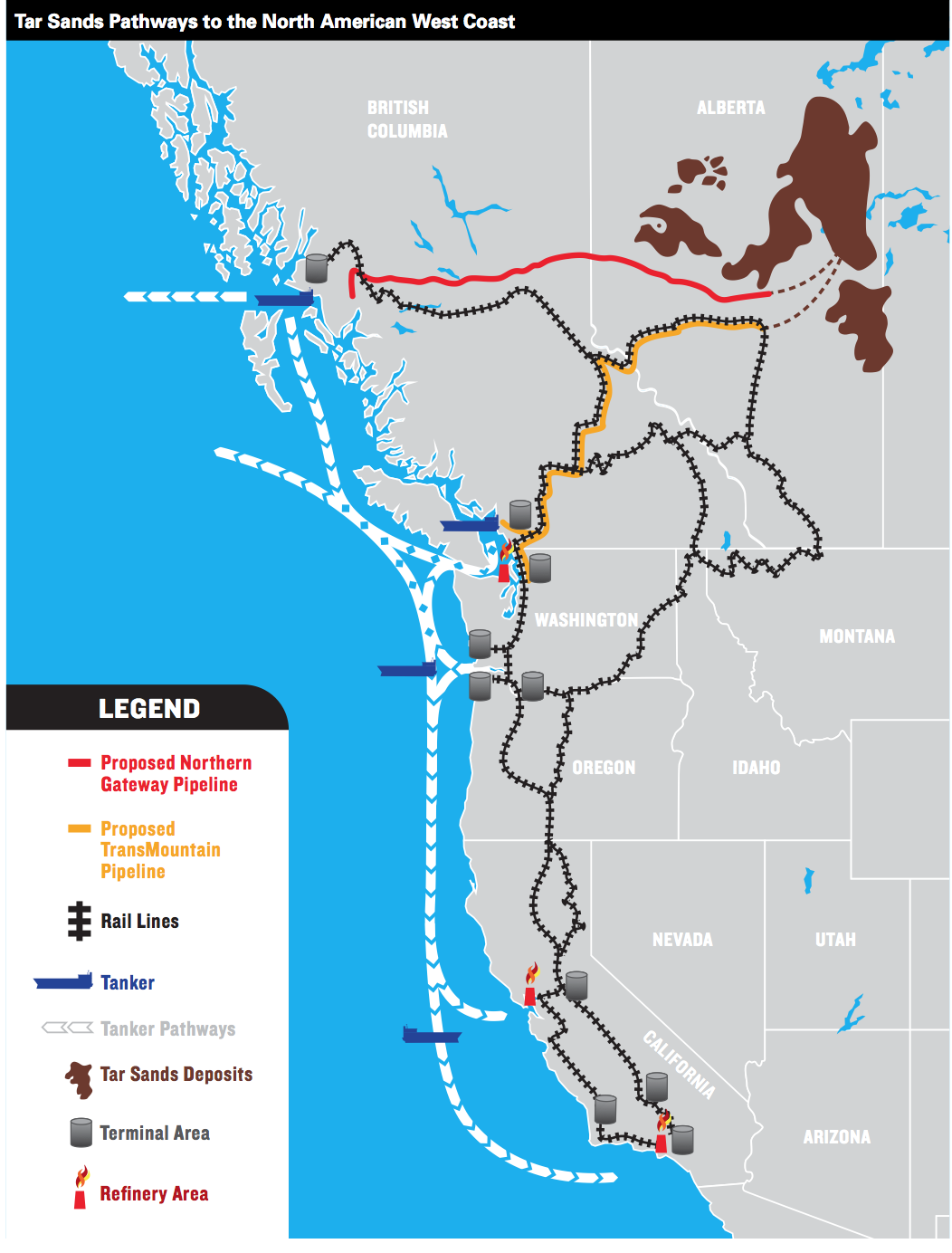 The new report also explains the dramatic impact on the climate that will result from this scale of expansion of the Canadian tar sands oil production. "Recent studies have shown that continued development of unconventional, high-carbon reserves like tar sands is not economical in a scenario where global warming is limited to two degrees Celsius," the NRDC states.
One recent study concluded that tar sands "production must fall to 'negligible' levels after 2020 if the 2C scenario is to be fulfilled." 
For anything approaching that scenario to occur, the West Coast would have to take a prominent role in stopping the proposed tar sands projects and providing alternatives to prevent both catastrophic climate change and risks to local residents and the environment.
The report highlights many of the dangers of moving tar sands oil, highlighting accidents like the Kalamazoo River pipeline spill, oil-by-rail spills and fires and barge and tanker accidents involving heavy oil.
It also points out that first responders are not well equipped to handle tar sands oil spills, especially in water, noting, "a 2013 finding that the U.S. Coast Guard does not have any appropriate equipment for addressing the cleanup of a tar sands oil spill."
DeSmogBlog has previously reported on the lack of understanding of how tar sands oil behaves in spills and how the regulatory environment has failed to address the potential unique risks and response requirements for tar sands products. Additionally, DeSmogBlog reported on how the two recent tar sands-by-rail accidents resulted in fires and explosions much like the many recent Bakken crude oil train accidents, highlighting the risk of moving tar sands by rail.
With the combination of climate threats, spill risks, air quality risks and train derailments and explosions, local communities have plenty of reasons to oppose the Canadian tar sands invasion. The report points out how many communities are fighting back to protect themselves and the environment.
One united front providing strong opposition to the tar sands expansion is the Canadian First Nations who, according to the report, "have significantly delayed planned projects, affirmed and expanded the legal force of aboriginal title, and inspired a broad coalition of indigenous people who have formalized their opposition to future tar sands expansion projects."
Additionally, there are multiple efforts along the West Coast to oppose efforts to expand oil transportation and refining capacity. Earthjustice is leading efforts against the proposed Tesoro-Savage facility at the Port of Vancouver in Washington that would have a capacity to receive 360,000 bpd of oil-by-rail which could then be loaded onto tankers for export. 
While Tesoro-Savage is the largest oil-by-rail offloading facility currently planned for the Pacific Coast, it is just one of 14 highlighted by this new report.
Due to its proximity to Alberta, where much of the tar sands oil is produced, and existing heavy oil refining infrastructure, the next battleground in the effort to halt the expansion of the Canadian tar sands oil appears to be spread out across the Western coasts of the U.S. and Canada.
"Tar sands threaten the safety of millions of Americans who live in the oil train blast zone, our drinking water supplies, and our coastlines," says Todd Paglia, ForestEthics executive director. "For oil companies with razor thin margins on this expensive oil, it's safety last. But we are organized to fight and stop the oil trains, pipelines, and tankers that carry this explosive, toxic, unnecessary crude oil."
This report offers a detailed warning about the risks involved with the rapid expansion of tar sands production and exports. With much of the infrastructure required to support this expansion still in the proposal or development stage, it is likely that many communities facing the prospect of tar sands oil moving through their communities will use this report as a rallying cry to start or expand efforts to stop the invasion before it starts.