April was a big month for us. Not only did we launch a new website that's mobile friendly but we also travelled to Rome to cover the Heartland Institute's two-day PR campaign against the Pope's much-anticipated climate change encyclical.
Reporting from Vatican City, DeSmog UK was one of just nine media organisations present for the first day of Heartland's press conference.
At the start of day two there were only four journalists in the room, including yours truly. Half way through, the others had all left (I hear the Pope and Ban Ki-moon were saying something about climate change that day too).
Not only did we cover the charade here but our reporting received international media pick-up from The Telegraph, The Independent, Carbon Brief, Slate, and La Presse in Canada.
Our photo documenting the press conference's lack of attendance also proved quite popular.
Another look at audience at #Koch-funded @HeartlandInst's Vatican press conf: http://t.co/ALVuNlP6jY (Via @DeSmogUK) pic.twitter.com/HGhb2xRBdC

— Michael E. Mann (@MichaelEMann) April 27, 2015
Heartland promised "team of climate scientists" https://t.co/OzU330H5IR I can see Monckton and Morano… https://t.co/8esWMBEsuu

— Leo Hickman (@LeoHickman) April 27, 2015
RT @DeSmogUK: These are the people sent by #Heartland to try and influence @Pontifex on his #climatechange encyclical pic.twitter.com/iikUhd051C

— DeSmogBlog (@DeSmogBlog) April 27, 2015
More Funders Exposed
Back in the UK, Lord Lawson's climate sceptic charity, the Global Warming Policy Foundation (GWPF), hit a slight speed bump as we revealed two more of its secret funders.
Both of these funders, at one point in their careers, have had ties to the energy industry. They are Bryan Bateman, a consultant with the Confederation of Paper Industries, and Lord Cavendish, a former energy minister.
Our story followed on the heels of the Guardian exposing climate denier Neil Record as a donor to Tory energy and climate change minister Matthew Hancock. Last September, DeSmog UK revealed that Record was a donor to Lawson's GWPF.
The Independent then followed up on our latest revelation with a piece on how Lord Cavendish was once a wind farm pioneer before adopting his sceptic views on climate change.
Documents Discovered
Last month we also broke news on Lawson's plan for how to deal with an oil worker's strike in the 1980s. The government briefing – released for the first time by DeSmog UK after being hidden away in the archives – shows Lawson's proposal (drafted just six weeks into his role as a cabinet minister) to mobilise troops should an all-out strike occur.
And finally, in the run up to the election, we revealed that climate 'lukewarmist' Peter Lilley has been receiving numerous letters from his constituents over the years urging him to act on climate change and renewable energy.
My personal favourite is the letter written by a pair of schoolchildren pleading for him to consider "the future we will be facing".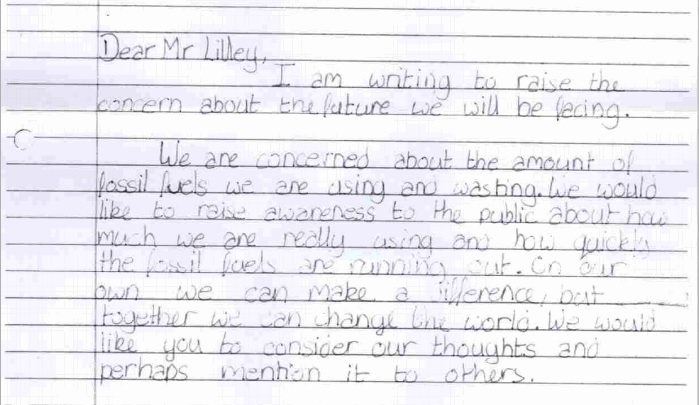 Do you have any questions or comments? Got any suggestions for investigations? Feel free to email me at [email protected]
Like us on Facebook, follow us on Twitter and check out our mailing list to stay up to date on our latest work!