Bloomberg recently declared the era of fossil fuels irrevocably in decline: "The world is now adding more capacity for renewable power each year than coal, natural gas, and oil combined. And there's no going back."
The sea change in how we power our economies officially occurred in 2013, Bloomberg's Tom Randall writes in "Fossil Fuels Just Lost the Race Against Renewables." That year, there were 143 gigawatts (GW) of renewable electricity capacity added globally, versus just 141 GW of new fossil-fueled capacity.
Despite low oil prices, the trend toward renewables is not going to slow down anytime soon, given that the cost of solar and wind power has steadily fallen to the point that it is now cheaper than grid electricity in some parts of the world, Randall argues. "The shift will continue to accelerate, and by 2030 more than four times as much renewable capacity will be added."
That's for electricity generation, of course, but before you can officially call the race in renewables' favor, you have to consider transport. Our cars and trucks and planes mostly run on fossil fuels, after all. As Vox's Brad Plumer points out, "Electricity and heat were only responsible for about 42 percent of global CO2 emissions from fuel combustion in 2012. For clean energy to truly win the race, it will have to make inroads in other sectors as well, particularly transportation."
An analysis by the International Energy Agency found that the amount of energy used for transport has doubled over the past three decades, and that slightly more than half of all oil is used for transport.
Light duty vehicles drove the growth in transport-sector fuel use, according to the IEA, and will continue to do so without further policies to promote fuel efficiency and low-carbon transportation alternatives, especially in developing countries, where individual car ownership is on the rise. Total energy use by the transport sector could increase by as much as 70% by 2050, the IEA found.
The figures that informed Randall's determination that fossil fuels are officially over came from Michael Liebreich's keynote address at the Bloomberg New Energy Finance Summit held last month in New York City. In his presentation, Liebreich predicted that we'll soon see battery storage and electric vehicles achieve the same sort of technological innovation and lower costs that solar and wind energy have enjoyed in recent years.
If so, expanded use of electric vehicles couldn't come at a better time, just as clean energy is increasingly a part of the mix that will be powering those zero emission cars.
It's not just that more clean energy is available, it's also that more and more coal is going offline. A recent report by BNEF predicted that 2015 "should prove to be a watershed year for the 'de-carbonization' of the US power sector, with record volumes of coal-fired capacity to be shuttered, renewables capacity to be built, and natural gas to be consumed," according to a press release.
As Vox's Plumer reminds us, however, looking at the broader picture is always instructive.
All told, fossil fuels made up 87 percent of the world's primary energy consumption in 2013. By contrast, low-carbon sources — including nuclear, hydropower, wind, solar, and biomass — made up just 13 percent.

That ratio hasn't changed since 1999, as the University of Colorado's Roger Pielke Jr. points out. In other words, the world's energy supply hasn't gotten any cleaner for 14 years.
Fossil fuels are hardly limping along, in other words, and we all know that fossil fuels interests will not go down without a fight.
It's probably premature to call the race in clean energy's favor at this point, for all that there are a number of encouraging signs that a transformation in how we power human civilization is at hand.
And that's without even considering one wild card in all this, the attempts by American coal companies like Peabody Energy to paint their product as a solution to global poverty while desperately pursuing overseas markets. Could US coal find enough new customers in the developing world to buy itself a longer lease on life? Time will tell.
But according to Gabe Elsner, executive director of the Energy & Policy Institute, there's reason to hope the developing world will refuse to get hooked on coal. "Leaders in Africa don't want coal, or they want it temporarily," Elsner tells DeSmog. "They don't see it as a solution to energy poverty."
Elsner points to a video from the Powering Africa Summit, in which "All but one person interviewed said that there was no role for Peabody's coal in Africa and many advocated for renewable energy as the right path forward for the nations of Africa."
In the meantime, Leibreich had a slide in his BNEF presentation that provides an interesting peak into the coal industry's own perception of the state of play: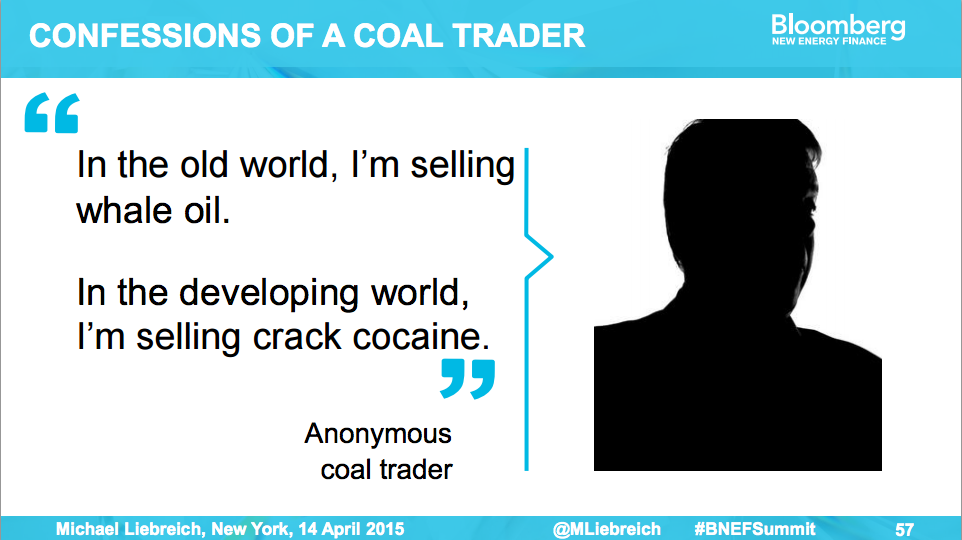 Image Credit: TTstudio / Shutterstock.com