Australian engineering and mining firm AJ Lucas's share price nearly doubled in the first week following the Conservative party's surprise election win on May 7. The dramatic jump in value coincided with the promotion of fracking-friendly Amber Rudd to energy and climate secretary.
On the day of the UK election, AJ Lucas was trading at AUD$0.30 (£0.15) on the London Stock Exchange. One week later, on Friday May 15, company shares were worth AUD$0.57 (£0.29).
With a majority government, the Conservative party has enthusiastically embraced the prospect of shale gas providing a domestic source of energy. Earlier this week Rudd confirmed the government would "kick-start" fracking by loosening rules regarding fracking under national parks.
AJ Lucas is a founding investor in Cuadrilla, the company leading the fracking initiative in Britain. While Cuadrilla is privately owned and not listed on the stock market, the fate of AJ Lucas may be indicative of its value.
The Sydney-based company is a 44 percent owner of Cuadrilla, which has remained at the forefront of fracking news in the past months as tensions continue to mount in anticipation of key planning decisions in Lancashire.
Delayed Decisions
Cuadrilla is currently waiting for a decision by Lancashire County Council on two planning applications for shale gas exploration: at Preston New Road and Roseacre Wood.
In January, the Council reported that the applications should be rejected due to concerns over noise.
But the final decision was first deferred until April, before it was then announced on April 23 that the decision would be delayed again until after the election. The final decision date is now set for June 23–26.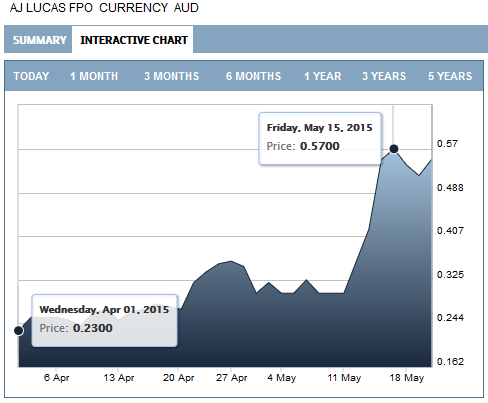 AJ Lucas, London Stock Exchange
At the beginning of April, AJ Lucas's share price had dropped to an all-time low of AUD$0.23. However, between April 22 and 27 – the same period that the Lancashire decision was delayed a second time – its share price jumped more than 50 percent from its April 1 price of AUD$0.23 to AUD$0.36 on April 27.
The company's post-election share price of AUD$0.57 represents a big boost for the firm; after suffering record low share prices over the past five months, this is the highest market value AJ Lucas has seen since January.
Community Opposition
"Government and industry want to see progress speed up and will regard next month's decisions on Cuadrilla's applications in Lancashire as key," Tony Bosworth, energy campaigner at Friends of the Earth, previously told DeSmog UK.
But he also noted that "community opposition remains very strong wherever fracking is proposed."
According to YouGov polling commissioned by the Times, public opposition to fracking continues to grow . Support for fracking has dropped 12 percentage points down to just 32 percent in the last 18 months while opposition rose to 43 percent, up from 29 percent.
Photo: Justin Woolford via Flickr