Is Shell finally "Arctic Ready" after its doomed 2012 campaign? The company is set to begin drilling in the Arctic within the week, and it's already not looking good.
The MSV Fennica, an icebreaker vessel bound for the Chukchi Sea, had barely left its berth in Dutch Harbor, Alaska last Friday when it had to immediately turn around. The crew discovered a 39-inch long, half-inch-wide breach in the Fennica's hull, FuelFix reports.
There is no word yet from Shell on how long the repairs are expected to take, or how the company intends to proceed in the event that the Fennica is taken out of service for a long period of time. Any significant change to Shell's Arctic drilling plans could force a new review by the US Department of the Interior.
The Fennica was not only tasked with keeping ice from collecting around the company's drill site, but also carrying the capping stack to be used in case of a well blowout or other emergency, in addition to the equipment for deploying it.
A Shell spokesperson told FuelFix that the incident does not "characterize the preparations we have made to operate exceptionally well."
But that's not going to stop comparisons to the company's accident-prone and ultimately aborted attempt to drill in the Arctic three years ago.
"Shell's terrible safety history around the world makes today's news no surprise, but is nonetheless disturbing," David Turnbull, campaigns director for Oil Change International, told DeSmog.
"For the sake of the Arctic and for our climate, the President should put a stop to Shell's dangerous experiment today, before an even greater mishap inevitably comes."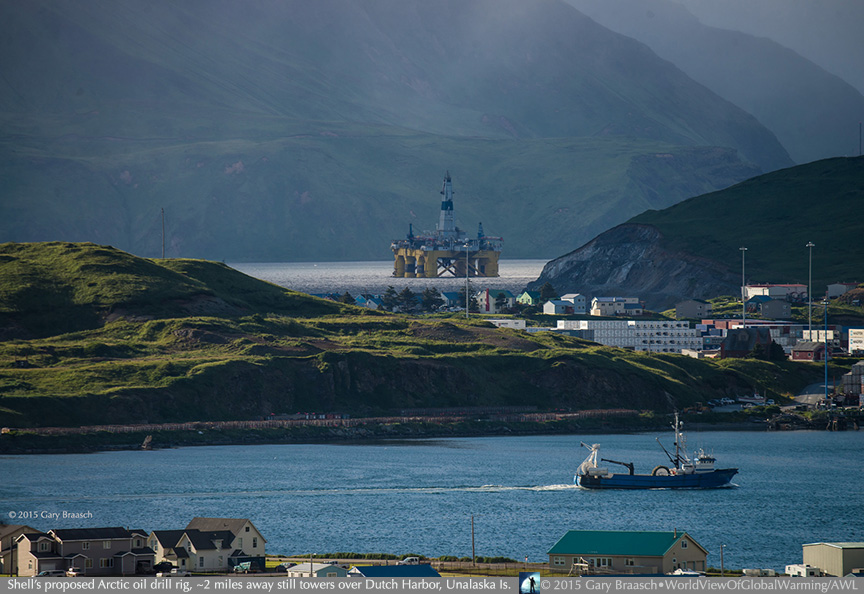 Shell's proposed Arctic oil drill rig, ~2 miles away, still towers over Dutch Harbor, Unalaska Is. © 2015 Gary Braasch
Perhaps the most memorable mishap of Shell's 2012 efforts was when its Kulluk drilling rig ran aground on Kodiak Island, an uninhabited island off of one of Alaska's most pristine coastlines. The Kulluk slipped its cables while being towed out of Alaska waters on an expedited timeline because Shell wanted to avoid paying Alaska taxes in 2013.
In December 2012, we learned just how "Arctic Ready" Shell had been. Brendan DeMelle wrote here on DeSmog that the company's oil spill response gear "failed spectacularly" in tests conducted in Puget Sound, a more hospitable environment than the Chukchi Sea, to say the least.
The containment dome — which Shell sought to assure federal regulators would be adequate to cap a blowout in the event of emergency at its Arctic operations — failed miserably in tests. The dome "breached like a whale" after malfunctioning, and then sank 120 feet. When the crew of the Arctic Challenger recovered the 20-foot-tall containment dome, they found that it had "crushed like a beer can" under pressure.
DeSmog put together a timeline of Shell's 2012 drilling debacle in the Arctic.
A three-foot breach in the hull of a critical ship in its Arctic drilling fleet is but the latest of Shell's current problems. "Kayaktivist" flotillas and other protests that greeted Shell's Polar Pioneer drilling rig when it arrived in Seattle earlier this year made headlines around the world. Seattle Mayor Ed Murray is against hosting Shell's drill rig in the Port of Seattle, along with many other city and state officials.
Last week, the US Fish & Wildlife Service informed Shell that it could not bore two wells into the floor of the Chukchi Sea simultaneously, as planned. Shell had selected two drill sites a little less than nine miles apart, but regulations require at least 15 miles between active drilling rigs.
Nonetheless, Shell has vowed to forge on with its Arctic drilling campaign, per FuelFix, which reports that the company has moved several major assets to Alaska and spent as much as $1 billion on this year's attempt.
 
Top Image Credit: "Shell oil recovery & support vessel Nanuq at drill rig Polar Pioneer, off Amaknak Is, Unalaska AK" © 2015 Gary Braasch