A document* marked "Confidential" and published a year ago today, on July 18, 2014, by the Federal Bureau of Investigation (FBI) concluded that "environmental extremists" could target oil-by-rail routes, as first reported on by McClatchy. But the Bureau also concedes upfront that it lacks "specific information" verifying this hunch.
Rail industry lobbying groups published the one-page FBI Private Sector Advisory as an exhibit to a jointly-submitted August 2014 comment sent to the U.S. Department of Transportation's (DOT), which has proposed "bomb trains" regulations currently under review by the White House Office of Information and Regulatory Affairs (OIRA).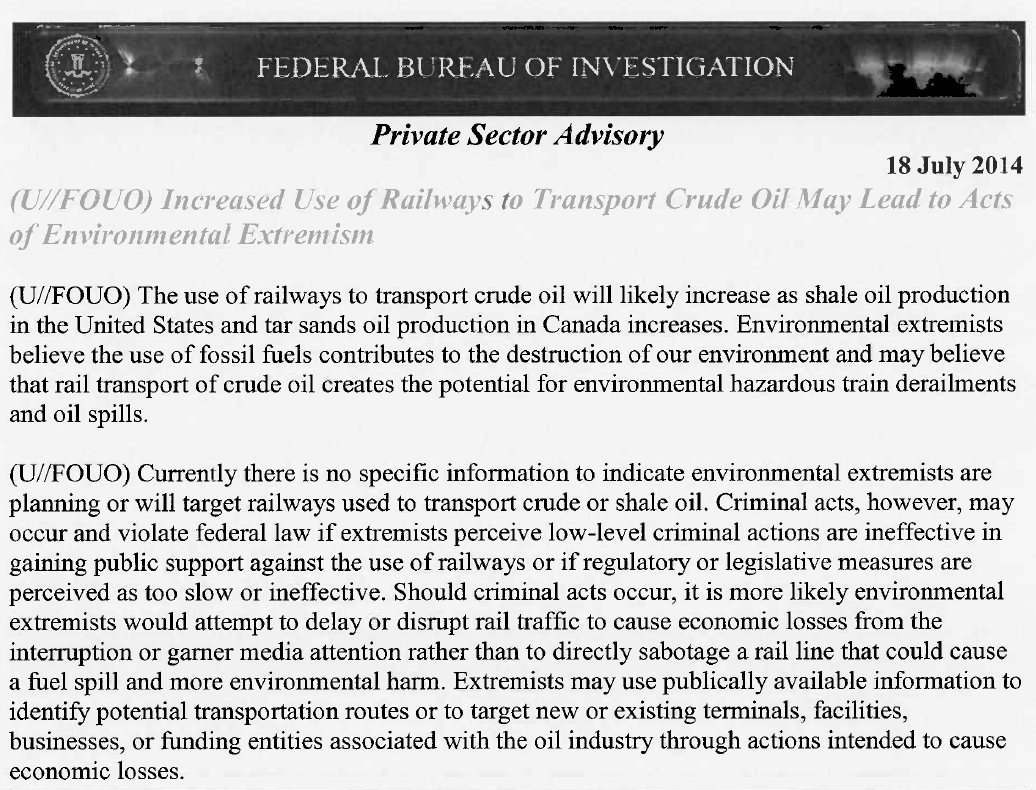 Image Credit: Federal Bureau of Investigation
We've heard overtures like this one before from the FBI, other agencies and from industry players themselves.
As reported here on DeSmog, the FBI worked alongside TransCanada to take photos and monitor Tar Sands Blockade-affiliated activists and other anti-Keystone XL pipeline activists back in 2012 and 2013. The Guardian, Bloomberg and Earth Island Journal have also recently published stories, based on documents obtained under the Freedom of Information Act, further confirming that the FBI worked closely alongside TransCanada to monitor and disrupt activists opposed to the pipeline.  
In August 2014, DeSmog also reported that in Maryland, rail company Norfolk Southern submitted a July 23, 2014 legal filing to the Maryland Department of the Environment citing Osama Bin Laden and Al Qaeda in its attempt to justify keeping oil-by-rail routes a trade secret. Norfolk submitted that filing merely five days after the FBI published its Private Sector Advisory.
And at a 2011 industry public relations conference in Houston, a communication manager at a major company involved in hydraulic fracturing ("fracking") for shale oil and gas told the audience his community affairs employees use psychological warfare (PSYOPs) techniques in local communities, while another compared fracking opponents to "insurgents" who should be fended off by PR campaigns modeled after counterinsurgency warfare.
ISIS

,

AQAP

, Bin Laden

While Norfolk Southern cited Biden Laden and Al Qaeda in its affidavit, the FBI honed in on the Islamic State (IS), also sometimes referred to as the Islamic State in Syria (ISIS) or the Islamic State in the Levant (ISIL). It also mentioned Al Qaeda in the Arabian Peninsula (AQAP) — and Osama Bin Laden.

Like Maryland, the rail industry lobbying groups cited the FBI Advisory as a way to argue against disclosing oil-by-rail routes to the public.

"It is not just environmental extremists who pose a threat to the transportation of crude by rail.  Foreign terrorists are also a risk," wrote the industry lobbying groups. "Two publications reportedly by Al Qaeda in the Arabian Peninsula contain threats against crude oil trains…Furthermore, information from Osama Bin Laden's compound indicates that Al-Qaeda has contemplated attacks on trains."

Louis Warchot, an attorney for the Association of American Railroads, co-authored the comment submitted to DOT.

Before working for the association, Warchot "served in the United States Armed Forces and retired in the rank of Colonel in the United States Army Reserve Judge Advocate General's Corps." On top of his law, business masters and undergraduate degrees from University of California-Berkeley, Warchot also has a masters from the U.S. Army War College in Strategic Studies.
"Extremism" or Peaceful Activism?
In the FBI's advisory, it never uses the term "activist" or "advocate," opting instead for the term "extremist." So what does an "extremist" do and what exactly constitutes an extremist? 
"Environmental extremists," explains the Bureau, "believe the use of fossil fuels contributes to the destruction of our environment and may believe that transport of crude oil creates the potential for environmental hazardous train derailments and oil spills."
It's a definition that almost anyone who understands the science of climate change or is concerned about oil train explosions could fall under. The FBI then lays out what these "extremists" do.
According to the FBI, they use social media to spread awareness of oil-by-rail routes (like sharing a link to the ForestEthics website "Oil Train Blast Zone") and make or send "threatening" phone calls or emails to industry, contractors or others associated with moving crude by rail.  
"[T]actics to disrupt, obstruct or interrupt rail traffic to delay crude oil transportation" also makes the FBI cut, which is an activity that anti-coal activists sometimes take part in as a means of delaying coal trains.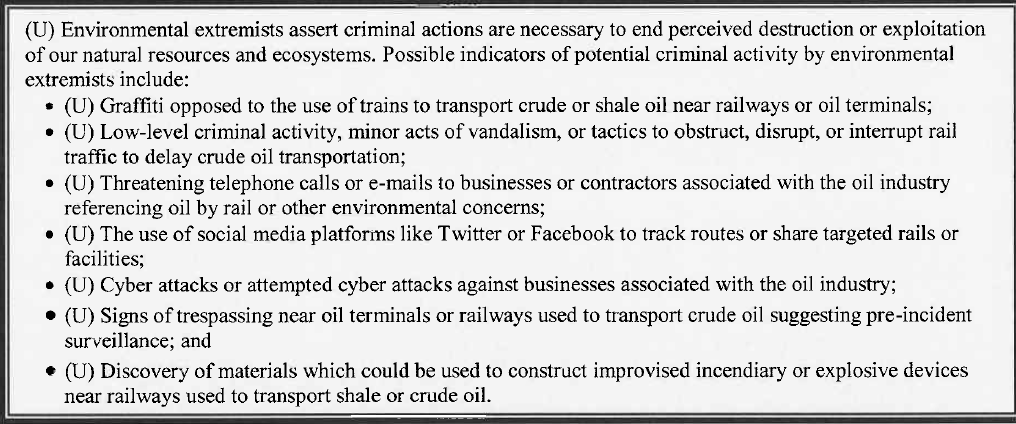 Image Credit: Federal Bureau of Investigation
"The FBI should be looking carefully at the imminent threat oil trains pose to millions of Americans living in the blast zone, but they should then turn their attention to the lax rules from the Department of Transportation and the oil and rail industry who fight common sense safety steps and hide train routes from emergency responders," Ross Hammond, US Campaigns Director for ForestEthics, told DeSmog. 
Speaking of threats, perhaps the FBI should concern itself with the explosive oil-by-rail trains that pass underneath West Point and right next to nuclear missile launch sites, rather than things that fall under the purview of First Amendment-protected speech threatening to industry profits.
*An earlier version of this article cited Chemical Security News as the first website to report on the FBI document. McClatchy DC was actually the first news outlet to report on the document's existence as part of the U.S. Department of Transportation oil-by-rail rulemaking docket back in October 2014. We regret the error.
Photo Credit: First responders in Lac Megantic via Transportation Board of Canada.