With all eyes on Shell's Arctic drilling these past weeks, many have failed to notice Norway's Arctic push. Italian energy company Eni has announced it is preparing to start drilling for oil at its Goliat field in the Barents Sea after years of delay.
This will be the first offshore oil development in Norway's Arctic region – the field is estimated to hold about 174 million barrels of oil. Production is set to start "in a few weeks" according to Eni.
It comes at the same time as Statoil announces that Europe's first subsea gas pipeline in the Arctic Circle is expected to be up and running this autumn, in order to create a "new gas highway" from the Norwegian Sea to Europe.
The 36-inch-wide Polarled pipeline is being laid 1,260 metres below the water's surface at Statoil's Aasta Hansteen field off the northwest coast of Norway. This is the first time such a wide pipe has been installed at this depth underwater.
Absolutely Crackers
Commenting on the news, Ben Ayliffe, head of Greenpeace's Arctic campaign, told DeSmog UK: "The science is unequivocal. Researchers in the UK recently concluded that in order to stave off the worst impacts of climate change, we need to keep most oil and gas we already know about in the ground.
"The Arctic is bearing the brunt of global warming, heating up faster than any other part of the planet and the amount of sea ice at the top of the world is in freefall, so starting to drill for more of the fossil fuels that have caused this melt is absolutely crackers."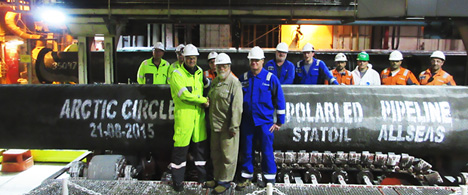 The Polarled's construction began in March and first crossed into the Arctic Circle on 21 August. With licensees including Shell, Total, ConocoPhilips and Statoil, the pipeline has a capacity of up to 70 million cubic metres of gas per day.
But Statoil is preparing for exports to increase further. "We have installed six connection points, call it future slip roads to the new gas highway," Håkon Ivarjord, Statoil's project venture manager for Polarled, said in a press release. "Polarled will open up for gas export to Europe from a completely new gas province, and with the infrastructure in place it will also be more attractive to explore the surrounding area."
Arctic Challenges
However, Ayliffe warned of the many challenges posed by Arctic drilling: "Companies like ExxonMobil, Chevron, ConocoPhillips and even Statoil itself have all shelved projects due to technical challenges, vast costs and increasing political uncertainty."
Ayliffe pointed to Shell's well-documented problems in Alaska this past summer as an example, along with operations in more remote waters such as the northern Barents Sea, Russia's Kara Sea and off the coast of Greenland where "the energy industry's Arctic ambitions are back in the deep freeze."
He added: "Whilst Eni may be congratulating themselves now that its Goliat project finally looks like starting, after spiralling costs and huge delays, we shouldn't lose sight of the fact that elsewhere, the so-called Arctic boom we were promised by the oil industry hasn't materialised."
Photo: Glenn Beltz via Flickr // Lars Chr. Henrichsen via Statoil