On October 1, I arrived at the Oklahoma City headquarters of the Interstate Oil and Gas Compact Commission (IOGCC) — a congressionally-chartered collective of oil and gas producing states — hoping for an interview.
There to ask IOGCC if it believed human activity (and specifically oil and gas drilling) causes climate change and greenhouse gas emissions, my plans that day came to a screeching halt when cops from the Oklahoma City Police Department rolled up and said that they had received a 9-1-1 call reporting me and my activity as "suspicious" (listen to the audio here). 
What IOGCC apparently didn't tell the cops, though, was that I had already told them via email that I would be in the area that day and would like to do an interview.
That initial email requested an opportunity to meet up in-person with IOGCC's upper-level personnel, a request coming in the immediate aftermath of its Oklahoma City-based annual meeting, which I attended. After the cops came to the scene and cleared me to leave, I sent a follow up email to IOGCC outlining the questions I would have asked if given the opportunity to do so.
Days later, IOGCC finally responded to those questions and told me its climate change stance. Well, as you'll see later, they kind of did.
"Closed Business"
I was no stranger to IOGCC to begin with, which exists due to an act of Congress in 1935.
Indeed, the compact had granted me a press pass to attend and cover its industry-funded extravaganza that took place in the days before. I also attended its 2014 annual meeting in Columbus, Ohio and did a 41-minute interview with Carol Booth, IOGCC's communications manager, while there. 
According to the Oklahoma City Police officer who arrived and held me for about seven minutes to ask me questions and do a background check on me, IOGCC had "closed business" that day, though that was neither posted on its front door nor anywhere online. It is also not listed as a state holiday on the Oklahoma Secretary of State's website and it is not a federal holiday.
Why'd they close business, then? I asked IOGCC.  
"Mike and I gave the staff a couple of days of R&R [rest and recovery] after a weekend and late nights associated with our Annual Meeting (and 80th Anniversary)," Gerry Baker, associate executive director of IOGCC, told DeSmog via email. "We'll be closed again tomorrow [Friday, October 2], but will work on a response to your questions next week."
Late Night Parties
Baker's response makes some sense, at least in so far as late nights go.
The IOGCC meeting agenda featured an opening night reception on the 50th and top floor of the Devon Energy Center, a second night industry-funded reception at the Skirvin Hilton Hotel located two buildings away from Continental Resources' corporate headquarters and across the street from that of SandRidge Energy, and a third night secretive dinner at Café Do Brasil that went unlisted on the public agenda and I found out about by hanging out on the sidelines of the annual meeting.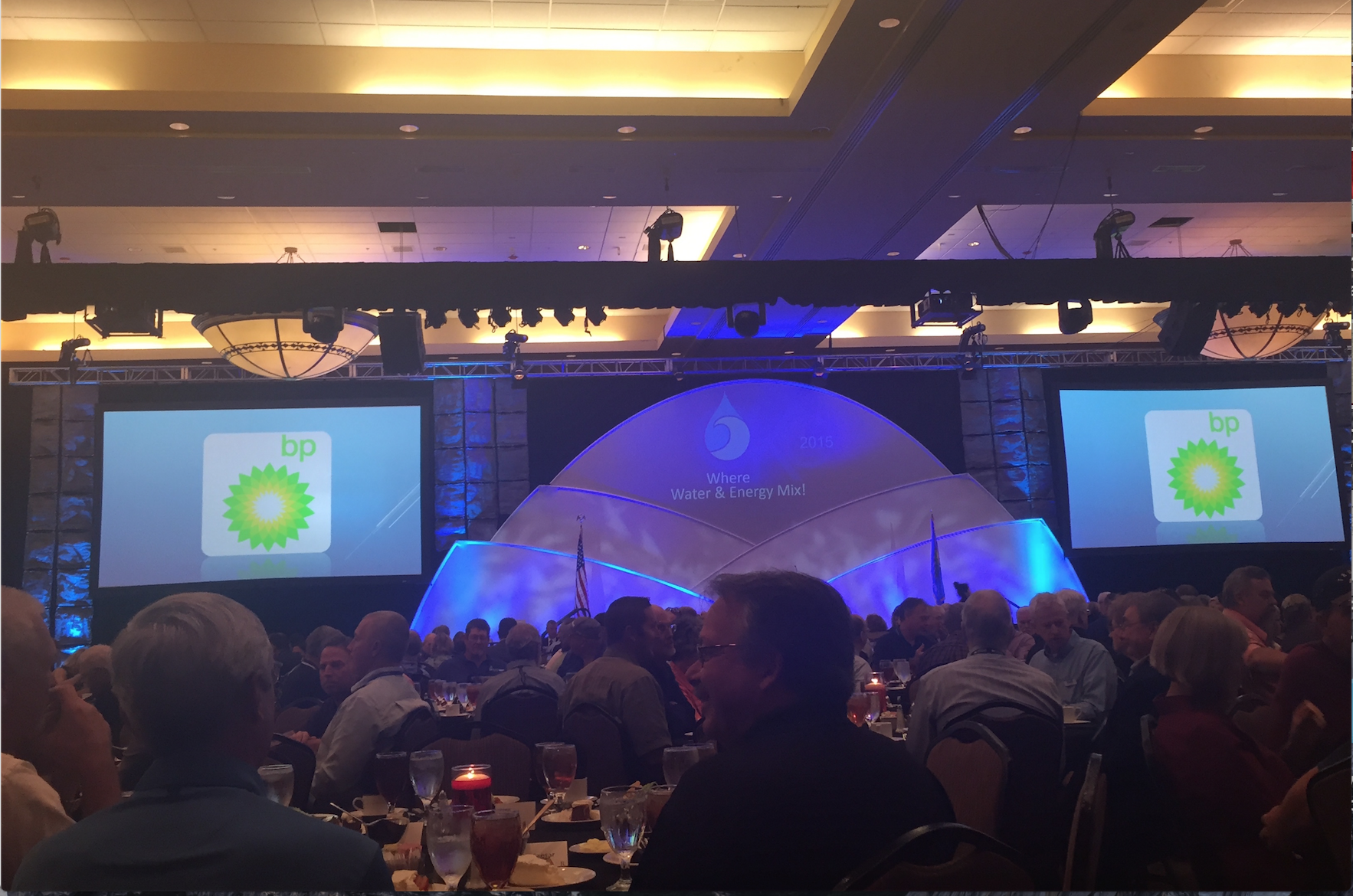 Closing Luncheon Ceremony; Photo Credit: Steve Horn | DeSmog
IOGCC's Oklahoma City meeting also featured industry-funded breakfasts and lunches.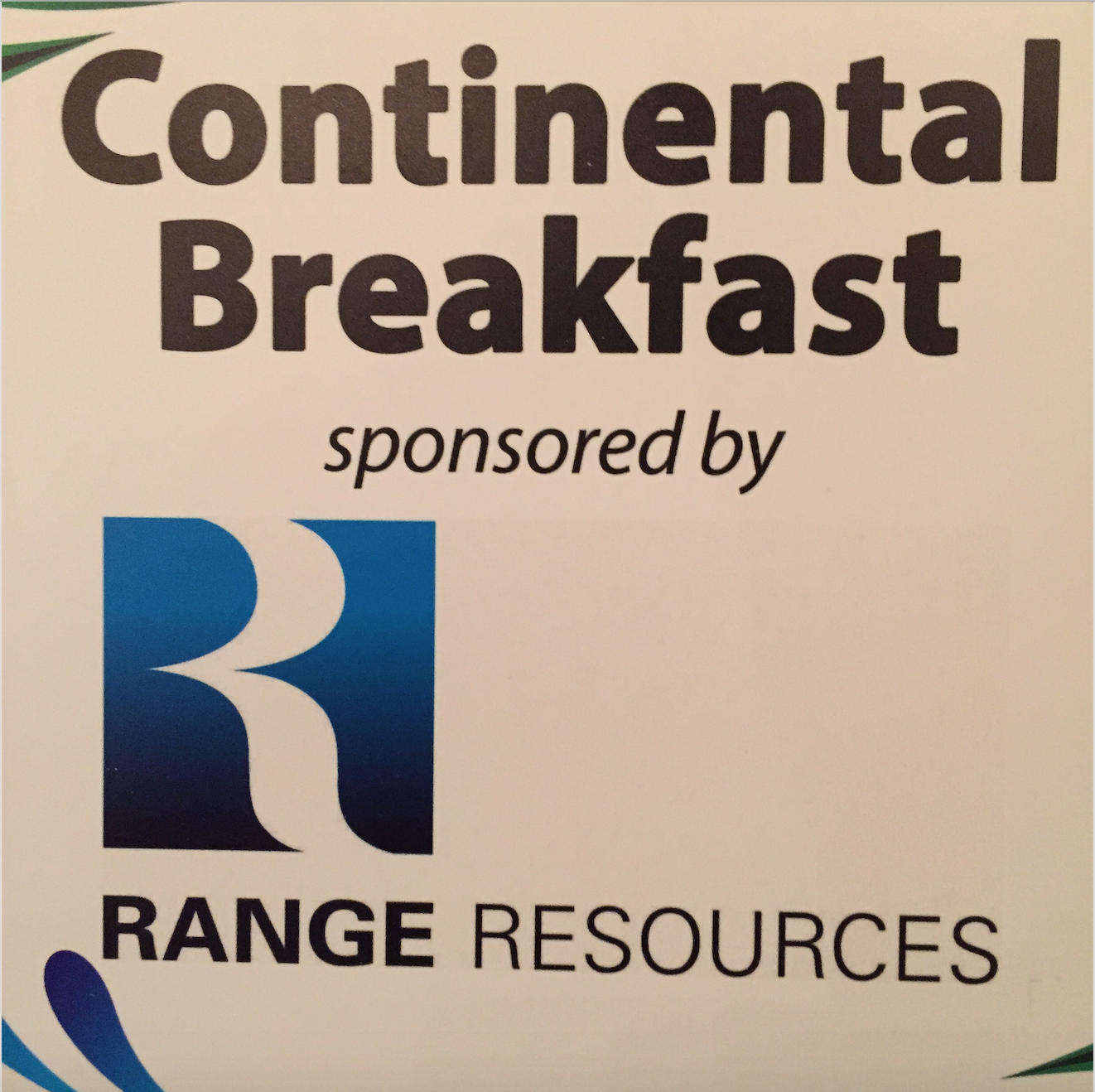 Photo Credit: Steve Horn | DeSmog
Fleeing the Scene
But Baker's claim that no one was in the office seems suspect for two reasons, both centering around the two cars parked at IOGCC's office when I arrived. Both of those cars, it turns out, were owned by IOGCC staff members I had emailed before showing up.
One of them was owned by Carl Michael ("Mike") Smith, IOGCC executive director, confirmed to me by the officer who held me temporarily.
"Mike called about you being suspicious out here," the officer told me. "I don't have a choice about what people call 9-1-1 about."
Smith was the assistant secretary of fossil energy for the Bush Administration Department of Energy from 2004-2006, as well as Oklahoma's former Secretary of Energy. He was also formerly a senior advisor for the lobbying firm Abraham Consulting LLC, owned and run by former Bush Secretary of Energy, Spencer Abraham.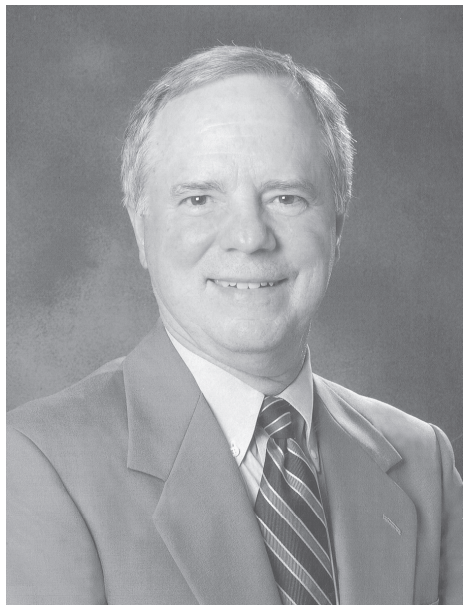 Carl Michael "Mike" Smith; Image Credit: IOGCC
The other car present was that of Carol Booth, the IOGCC communications manager. When I was held by the police officer, I overheard via his intercom system that it was her car parked in the back of IOGCC's office, which someone at the Oklahoma City Police Department's office confirmed to him by looking up her license plate in a database and reporting it back to him.
While Booth was still seemingly at the office when the officer arrived, Smith had already fled the scene in his car, doing so out of the side-door attached to his office while I stepped away from the building for a second to take a phone call before the cops arrived.
Baker told DeSmog that the cops came on their own volition and not because IOGCC called 9-1-1.
"Due to the location of the IOGCC office, which is adjacent to the Governor's Mansion property, there are sensitivities about who is in the area," said Baker. "Oklahoma City police officers often keep track of who's using the property for obvious reasons."
But I was told by both the officer and Oklahoma City Police Department staff members that the 9-1-1 call came from the IOGCC office address.
*Further, DeSmog has obtained the call log from the incident in question from the Department, which lists IOGCC's address as the location the call came from and a call type of "suspicious activity." And the receipt for the log, which we paid for, lists it as coming from a 9-1-1 call log.

Image Credit: Oklahoma City Police Department
IOGCC

and Climate

Smith also wrote us a letter on IOGCC's climate change stance, copying the IOGCC chairwoman and co-chairmen on it, explaining that it "does not have a position on climate change" and is "not part of conversations on climate change."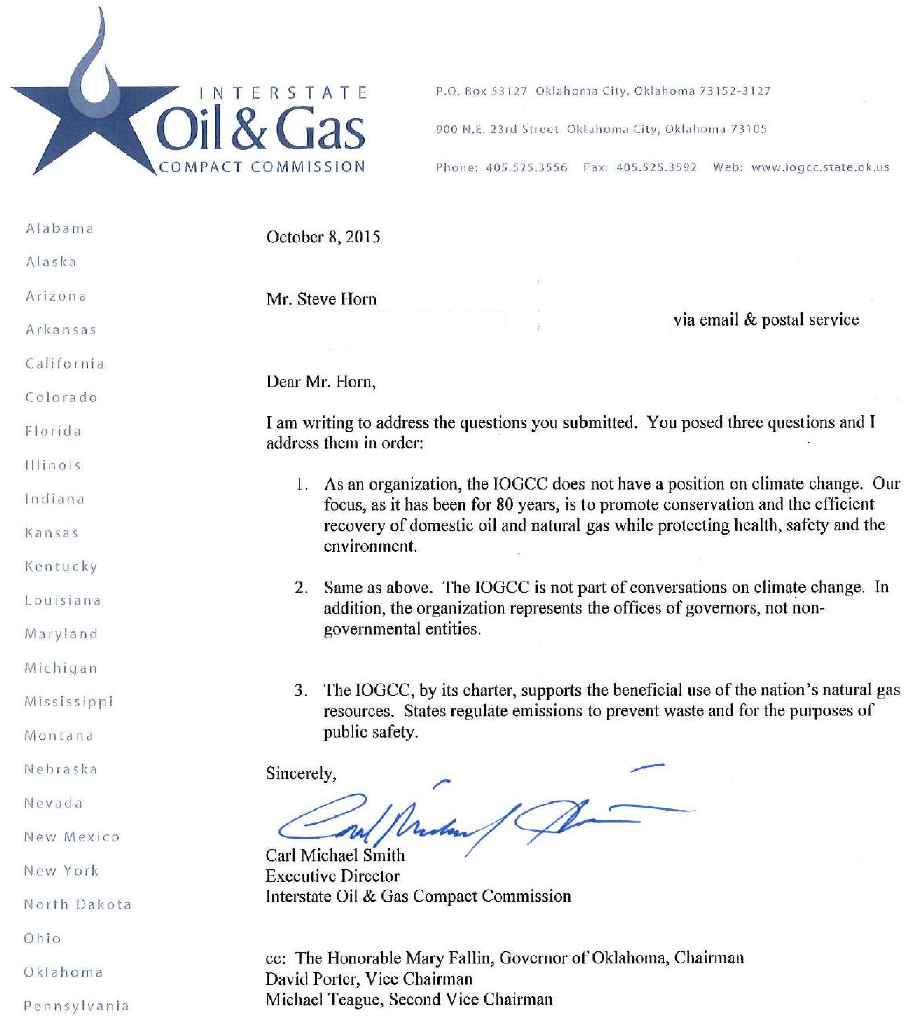 Image Credit: Interstate Oil and Gas Compact Commission
Historical records obtained by DeSmog, on the other hand, sing another tune about where IOGCC stands on climate change.
In 1998, IOGCC passed a climate change denial resolution stating that "there is continuing scientific debate as to what the impact of increasing contributions of greenhouse gases would be on the climate," even issuing a press release after it passed.
Then in 2002, IOGCC invited prominent climate change denier Bjørn Lomborg to speak at its annual meeting and sign autographs of his then-new book "The Skeptical Environmentalist."
IOGCC

 101
But what exactly is IOGCC and why do they — and their stance on climate change — matter anyway?
Officially, IOGCC is a collective body of top-level state-level oil and gas industry regulators and permitters, not to be confused with environmental regulators. Though in the case of some states, such as North Dakota, agencies have a dual mission of permitting oil and gas drilling, as well as protecting the environment. 
Chartered by Congress in 1935, IOGCC's existence has flown under the radar for 80 years by most.
Meanwhile, its meetings and the organization's existence serve as ground zero for industry influence-peddling. A case in point: 39-percent of attendees present at its Oklahoma City meeting worked for the industry, according to a roster obtained by DeSmog and the majority of its members at-large work for the industry. 
IOGCC, like the more well-known American Legislative Exchange Council (ALEC), passes model resolutions at its annual meetings. It also brings together regulators, industry executives and lobbyists under one roof to do networking and rub elbows with one another.
At its most recent meeting, IOGCC presented two draft model resolutions, one of which would leave regulating methane emissions ensuing as a result of shale oil and gas drilling to the states as "the proper authority to encourage capture of methane emissions." That resolution, published here for the first time, does not mention climate change a single time even though methane is a greenhouse gas 86-105 times more powerful than carbon dioxide.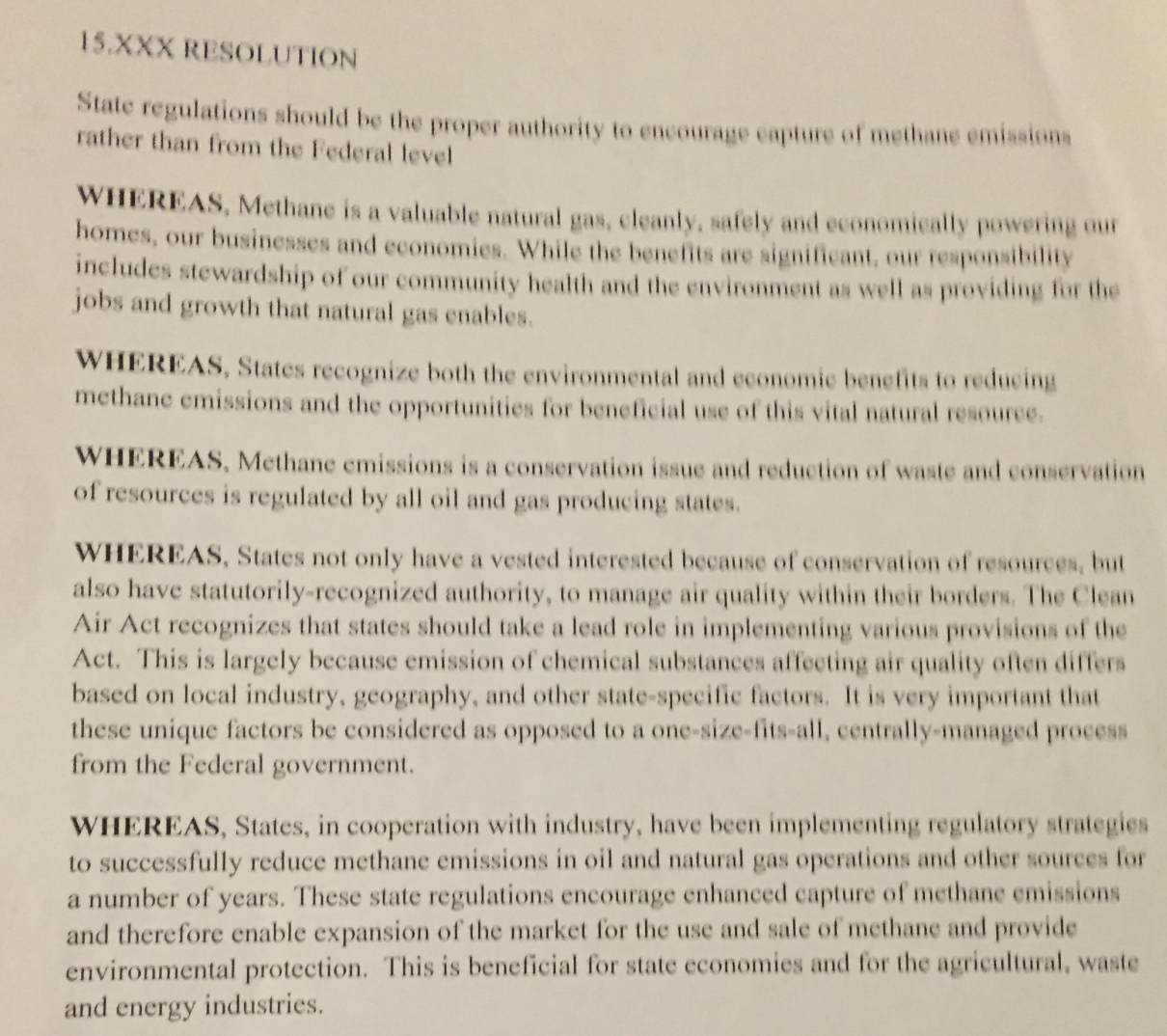 Image Credit: Steve Horn | DeSmog
Its other draft resolution introduced in Oklahoma City, which calls for states to have authority over federally-controlled conservation areas in order to do oil and gas drilling, also fits within its broader "States First Initiative" push.
Shadow Lobbying Organ?
IOGCC has a rich history of serving as a key apparatus through which the oil and gas industry flexes its muscles.
It has done such a good job of doing so, in fact, that in 1978 then-U.S. Department of Justice attorney Donald Flexner — now working as a namesake of the powerful firm Boies, Schiller & Flexner LLP — wrote and testified in front of Congress that IOGCC should no longer exist as a compact because it does "essentially lobbying work." 

Three years later in 1981, instead of heeding Flexner's counsel, Congress decided to stop reauthorizing IOGCC every three years and instead introduced an amendment giving it de facto permanent reauthorization. 
For an entity of its clout, the public knows very little about IOGCC's inner-workings. And that's not without reason.
For example, IOGCC has responded to an open records request sent by DeSmog by claiming a wholesale exemption to both state-level and federal-level open records laws because they are an interstate compact and not a government agency, even though its own by-laws claim its records are open to the public.
Interstate compacts, over 200 of which currently exist, can exist due to a clause in the U.S. constitution reading, "No State shall, without the Consent of Congress, lay any duty of Tonnage, keep Troops, or Ships of War in time of Peace, enter into any Agreement or Compact with another State, or with a foreign Power, or engage in War, unless actually invaded, or in such imminent Danger as will not admit of delay." 
Meanwhile IOGCC's own website describes it as a "multi-state government agency," IOGCC staff members use "state.ok.us" email accounts, and its office is located on property given to them by the Oklahoma government and located adjacent to the Governor's Mansion. Current IOGCC chairwoman Mary Fallin, Oklahoma's Republican Governor, lives in said mansion. 
IOGCC office located next to Governor's Mansion; Image Credit: Google Maps
IOGCC tried — and failed — to use the cops as its private security service. It was a maneuver symbolic of the group's propensity for secrecy when it comes under scrutiny. 
Photo Credit: Steve Horn | DeSmog
*The article has been updated to reflect the fact that DeSmog has obtained a copy of the 9-1-1 call log that IOGCC made to the Oklahoma City Police Department, which is now published here.