They slipped into place under the cover of darkness. With bicycle D-locks around their necks chained to diggers in the middle of the UK's largest open-cast coal mine, and arms sealed inside concrete-laden, red-sequined tubes at the site's entrance, this was Matt Ridley's Conscience calling for the end of coal – the dirtiest fossil fuel of them all.
By dawn, mine workers and lorry drivers, unable to enter the site, turned away. After eight and a half hours of peaceful protest and nine arrests, victory was declared Monday afternoon for having successfully closed operations for the day.
This is what happens when a group of concerned individuals come together to act on climate change. But who exactly are these individuals and why are they calling themselves 'Matt Ridley's Conscience'?
From 20-something students to seasoned campaigners and a local parish councillor, this group united to call for an end to coal. And as for Matt Ridley, he just so happens to own the land upon which Britain's biggest open-cast coal mines sits half an hour north of Newcastle. He is also one of the country's most prominent climate change science deniers.
"Gone are the days when mining benefited millions," said protester Ellen Gibson. "Now opencast mining lines the pockets of millionaires like climate sceptic Lord Ridley, while destroying the English landscape and cooking the planet."
She added: "Ridley needs to stop denying the science of climate change and the government needs to end coal mining and shut the country's last few old, polluting coal power stations."
Local Issues
Emphasising the need to raise awareness of local issues, Rakesh Prashara, a climate campaigner who has lived in the area for 12 years, said: "We're burning too many fossil fuels and we need to stop it if we have any chance of stopping climate change… So we have to, as well as putting pressure abroad, we have to try and do it here."
In the past year, 1 million tonnes of coal were extracted from Shotton surface mine – operated by Banks Mining – which spans 845 acres (340 hectares). At least 8 percent of the coal mined across the UK comes from the site.
Prashara first became involved in the environmental movement by focusing on global campaigns, but as he explained, this action marks the importance of focusing on local issues: "It's more an understanding that you kind of have to do it at home as well trying to make sure there's not drilling in the Arctic. So it's kind of the realisation that, as well as you can point the finger you kind of have to make that stand at home."
He added that the protest is standing in solidarity with local people who are opposed to plans by Banks Mining for a new open-cast mine next to Druridge Bay in Northumberland (on land not owned by Ridley). Prashara also hopes the protest will raise awareness about an underground coal gasification project set to take place off the coast of Northumberland.
Malcolm Reid, a parish councillor who lives in nearby Rising Mill, was among those blocking the gates. Campaigning on the environment for a decade, Reid stood as a councillor in Wandsbeck in 2005 "strictly on the issue of coal" he said.
"Open cast coal mining is a big problem in the local community," he explained. "This [area] has got a history of deep coal mining and the authorities try and convey the message that this is about jobs. Well, it isn't.
"There are far fewer people working in an open-cast coal mine and there's far bigger environmental impacts… The southeast Northumberland is devastated and [open-cast coal mining] is an environmental blight… this is a beautiful area for tourism."
Another campaigner, who wishes to remain unnamed, agreed: "Mining used to be so beneficial to so many people, it used to be a real core industry for the UK, and jobs for millions, and that's just not the case anymore. There are so many good arguments – health, air pollution, and climate change – for why we just shouldn't do it anymore. We'd love more people to get on board and be like 'yeah, times have changed now and we should just stop'."
Arm of Friendship
However, those who turned up for work that day were left frustrated and concerned. One unnamed worker said: "I am surprised by what's happened today. It's the first time we have had protesters. I don't think there's much point in it, the job's nearly finished. It may be because we have applied for an application for another job.
"We are not working, they have chained themselves to the machines. Do they know how much coal goes into making steel chains? They charge their mobile phones up with coal… It will delay the production and the outgoings today. We are deeply frustrated about it. We have to go to work to make money. We don't know if we will get paid."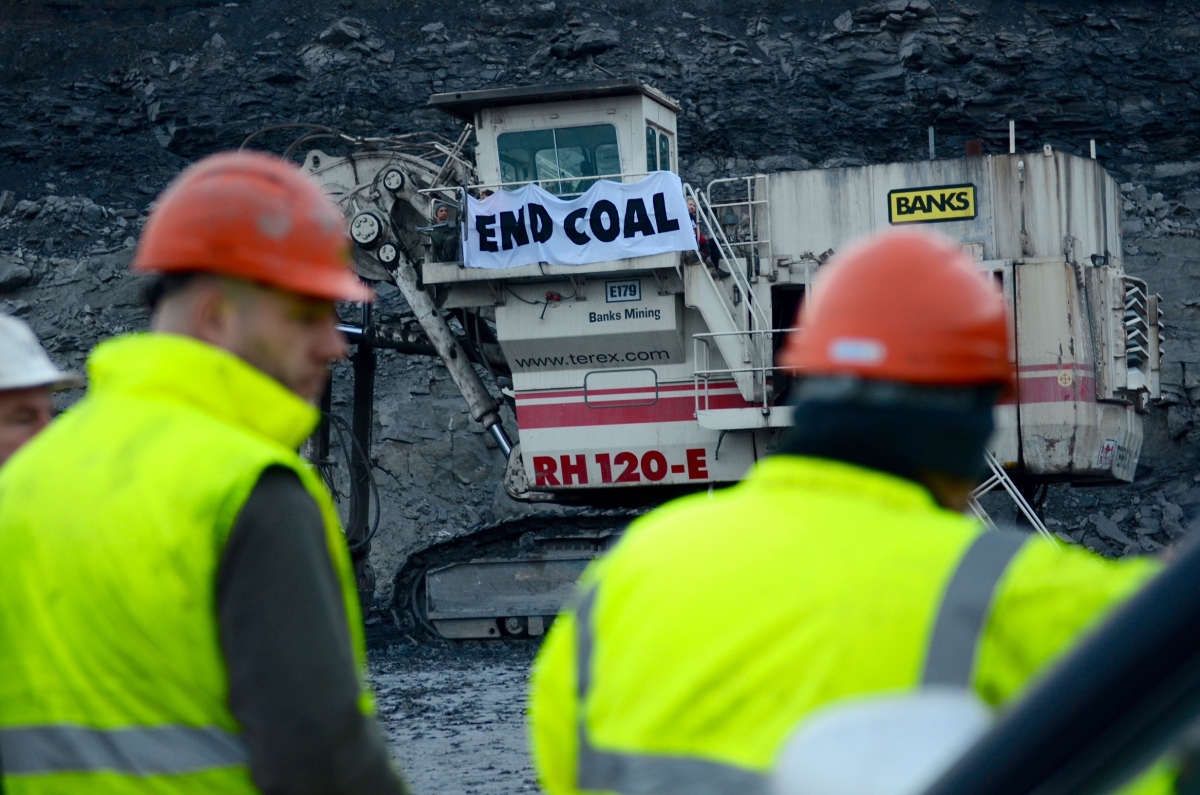 Anticipating their frustration, the protesters wrote a letter to the mine workers hoping to "extend an arm of friendship," and explained "we are here to protest against the actions of this mine's owner, Matt Ridley, not against you."
It continued: "Climate change is an enormous, era-defining challenge and we need to start talking about it. We, as workers and students of many different sectors, need to understand the problem, confront it and plan for it rather than letting the politicians, aristocrats and bosses stick to their denial until crisis becomes inevitable."
Guy Shrubsole (pictured), who works for Friends of the Earth in London, travelled up to Northumberland to take part in the protest on his personal time, not on behalf of the green NGO. As one of the four protesters who chained themselves to the excavator inside the mine, Shrubsole said: "It is important because this is a massive coal mine. We have got to stop burning coal in the UK and around the world. It's causing climate change.
"I want to stop operations and stop coal being dug out. We are protesting against the fact we don't think there is any need to mine coal in the UK especially when it is to line the pockets of millionaires.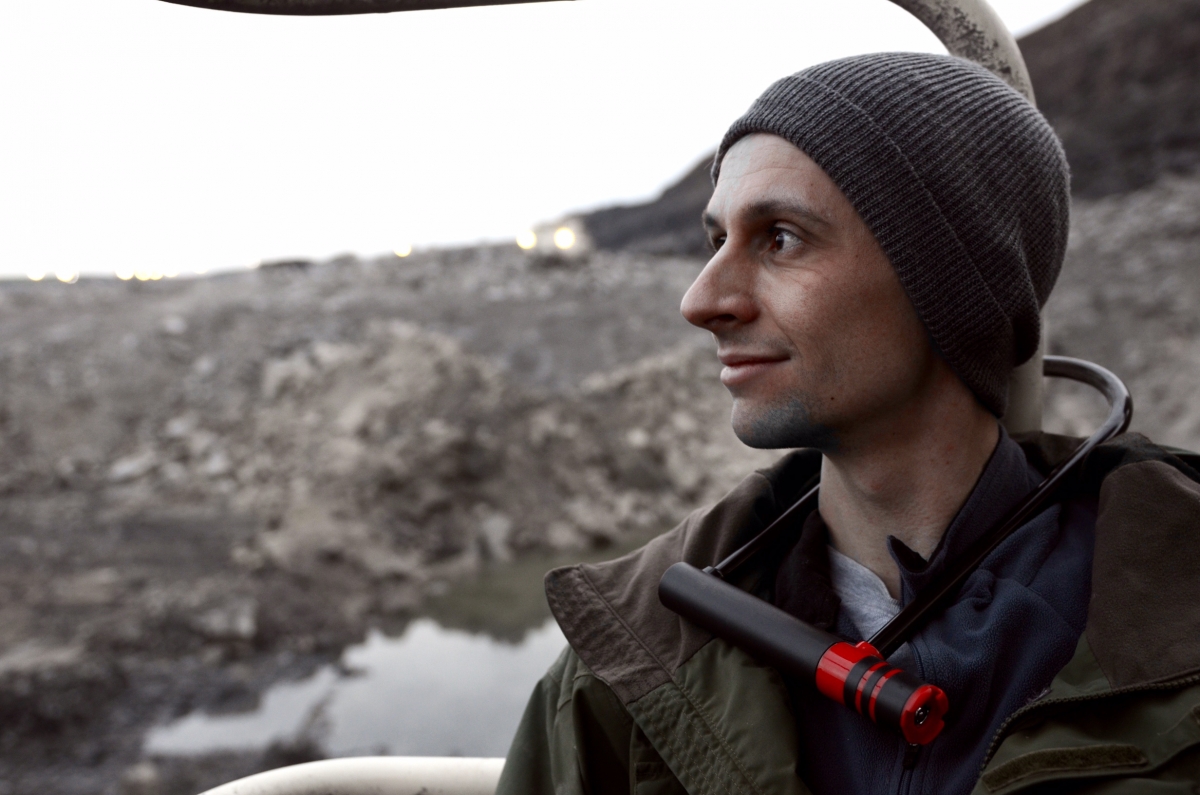 He continued: "We have achieved one of our aims of stopping coal mining for now. We want to draw attention to the fact we are still digging up fossil fuels and we really need to stop doing this. It is really horrific. The government are allowing this to happen and should be investing in clean energy; that is what we want to see more of."
Paris Climate Negotiations
And with just four weeks before the Paris climate conference it's an important message to send. As the group explained: "If we're going to stop catastrophic climate change, there are lines that we can't cross, and one of those things is we cannot open any more coal mines. That's a very clear target."
This is the symbolism behind the red arm-tubes the protesters chained themselves to at the front gate in order to block access to the mine. "In the run up to Paris we're all very aware that we need to set these new red lines. We need concrete action to happen," said Gibson.
The activists are therefore calling on international delegates to respect these 'red lines' in the amount of fossil fuels the world is burning, and the level of carbon emissions emitted. They also hope their success in Northumberland will spark a wave of action across Europe ahead of the international climate negotiations.
"We're at a very pivotal point in history where the action we take today can prevent or at least slow down the effects of catastrophic climate change," said one of the protesters blocking the gate, "so it's all about taking action now at this special point in history."
Message to Ridley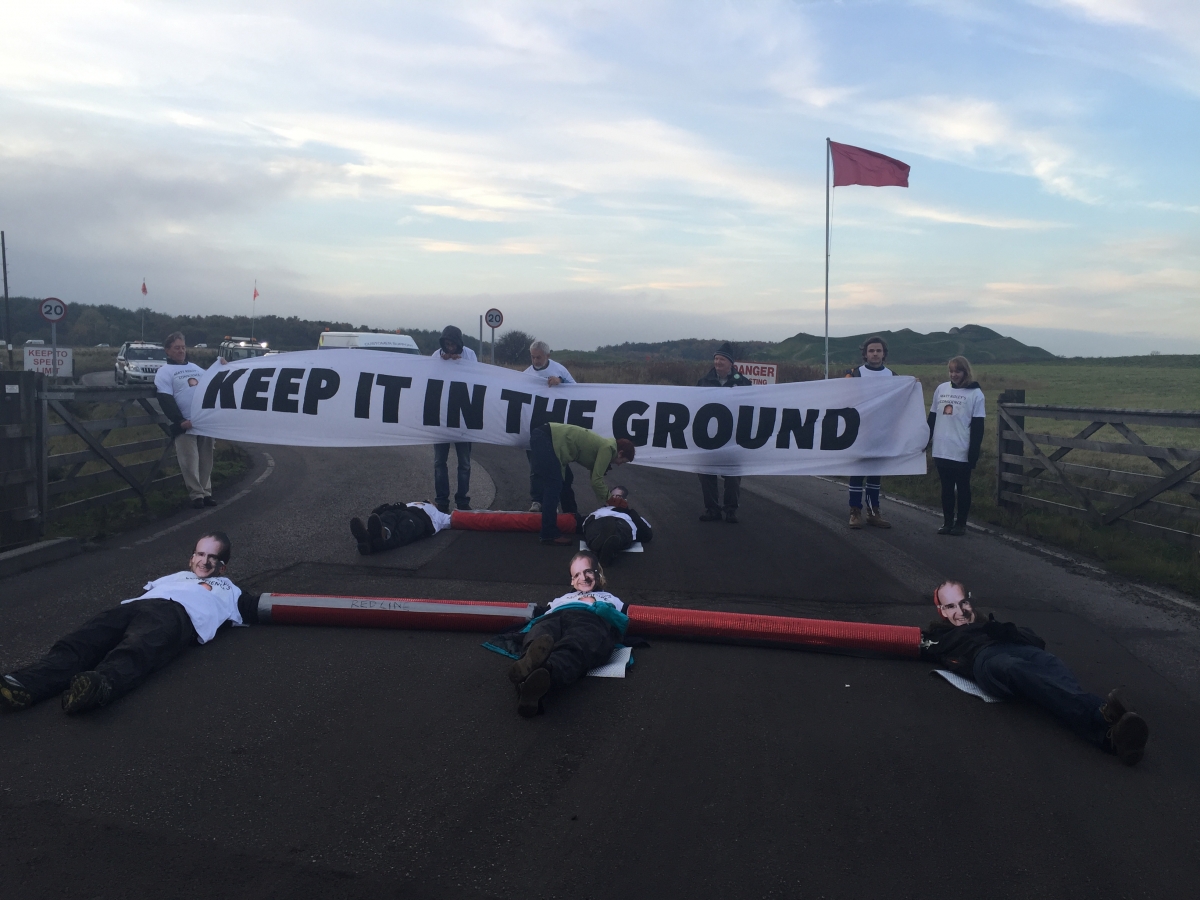 But wearing Matt Ridley masks and T-shirts stating 'Matt Ridley's Conscience' means there is also a very personal message they are sending to the Tory peer: "We are saying it's not too late for him to re-examine the actual science and use his considerable intellect to look at what's going on and to realise he needs to stop mining coal and stop obstructing climate action."
Pekka Piirainen, one of the protesters whose arm was inside the red tubes, said: "He's not a stupid guy, he must know what's going on and he's got enough intelligence to understand the science… but he's turned climate scepticism into a business model and it is something he's using for personal gain with added knowledge of how detrimental it will be to the existence of human civilisation."
Reid agreed: "People who are denying climate change for their own vested interest are threatening the planet."
While Reid hopes the protest will help shift perspectives, he questions whether the message will get through to climate deniers such as Ridley.
"It's in their financial vested interest, they don't think about anybody else," Reid said. "So, I don't think there's any message you can send to people who are that wicked, I suppose, or blinded. They just live in a different world, don't they?"