Lord Lawson is facing fresh embarrassment about the funding of his British climate denial charity as it emerged that he shares a donor with extremist US think tank the Heartland Institute.
David Herro, a US stockbroker, told the Financial Times he was a financial supporter of the Global Warming Policy Foundation (GWPF). Last week week, he publicly donated to the Heartland's rather desperate appeal to fund its attack on the Paris United Nations Conference on Climate Change in December.
Herro 'came out' as a GWPF funder in an article in the Financial Times in which he attacked corporate leaders who have signed a pledge with Barack Obama to meet the challenge of climate change for "appeasing environmental extremism".
The Republican donor wrote: "Our corporate leaders would rather cave in to political pressure that is based on pop science and emotion than focus on creating shareholder value? How sad."
Joe Bast, the exhausted boss of the Heartland Institute, posted an appeal for funders, titled Pandemonium in Paris', on the crowdsourcing website Indiegogo. Herro's $10,000 donation will bag him a free T-shirt and a Freedom Champions poster.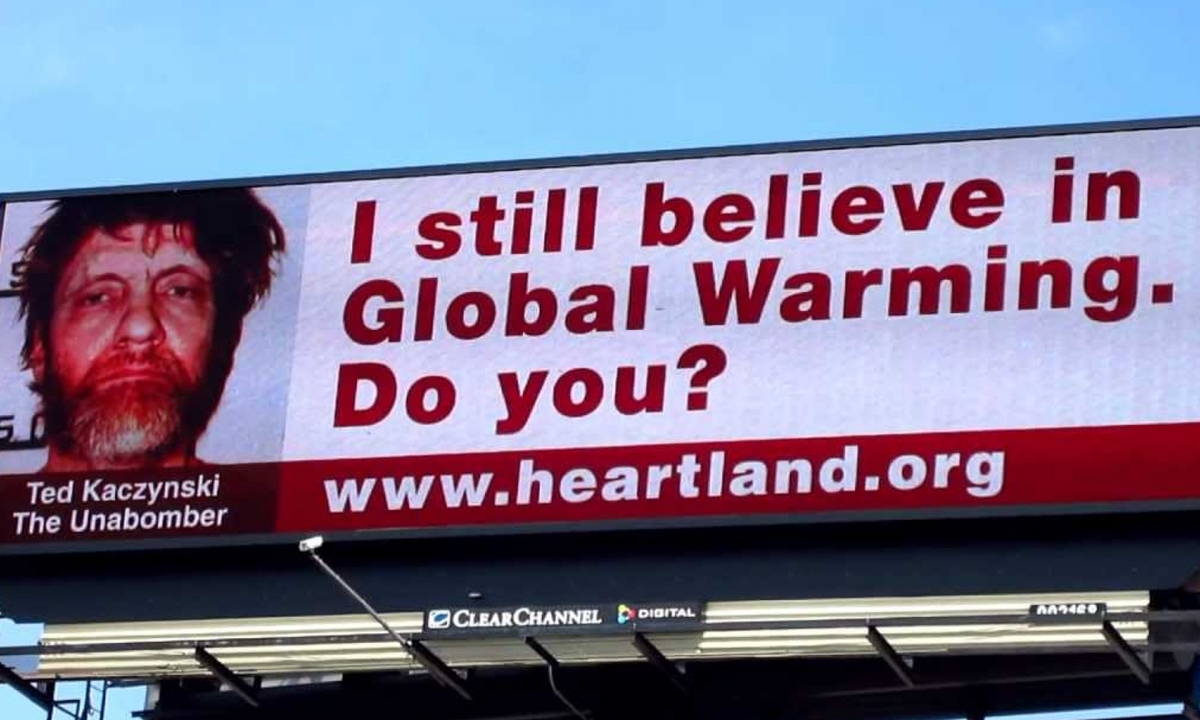 Billboards in Chicago paid for by The Heartland Institute along the Eisenhower Expressway in Maywood, Illinois compare belief in global warming to mass murder, 2012. Photograph: The Heartland Institute.
The investment chief at Harris Associates has ploughed £250 million of his client's cash into Swiss-based Glencore. The mining giant has suffered a haemorrhaging of value, in part because of the dramatic fall in prices for coal, oil and gas.
Ivan Glasenberg, the chief executive of Glencore, has denied climate policies may leave the company with "stranded assets".
"Although climate change issues are part of the political, societal and regulatory landscape, we do not believe that the global energy reality will economically support carbon measures that would prevent us from fully utilising our fossil fuel reserves," he has said.
Last night, Lord Lawson and Dr Benny Peiser both refused to comment on whether there was a conflict of interest between Herro investing his client's cash in a mining company while supporting two organisations attacking the science of climate change.
Herro and Lawson are also united by a common enemy. Herro led a shareholder revolt, which resulted in Charles Saatchi and his brother Maurice being removed from their Saatchi & Saatchi advertising firm in the 1990s.
Charles is now infamous after being photographed with his hands around the neck of his then wife Nigella Lawson during a heated row outside a Mayfair restaurant. Nigella is, of course, Lord Lawson's daughter.