ExxonMobil has invested more than £2.36 million in 15 top UK universities over the last five years, figures show.
The University of Cambridge, Imperial College London and Oxford University are the top three recipients of Exxon's fossil fuel funding. According to data recently released by a Greenpeace investigation, Cambridge received £660,088 from the oil giant, while Imperial got £602,567, and £382,000 was given to Oxford.
This comes as the New York Attorney General announced an official investigation into ExxonMobil to "determine whether the company lied to the public about the risks of climate change or to investors about how those risks might hurt the oil business".
Inquiry Impacts
DeSmog UK reached out for comment from all 15 universities. Only University College London (UCL), Leeds University, and Surrey University provided responses.
And for UCL at least, the investigation into Exxon's climate denial has not gone unnoticed.
"In the context of any future ExxonMobil funding, we have noted the recently announced investigation by the New York Attorney General," a spokesperson from UCL said.
"Research funding ethics consideration for any future projects would therefore take into account the findings of that – and any similar processes – as regards allegations of scientific, financial or other misconduct."
ExxonMobil Upstream Research Company provided UCL with £65,825 to partly fund a doctoral studentship in UCL Earth Sciences between October 2010 and June 2014. The other part of the funding was provided by UCL. This studentship researched the fracture toughness measurements of shale rocks.
"UCL has not received any further funding from ExxonMobil for sponsored research since this funding," the spokesperson said.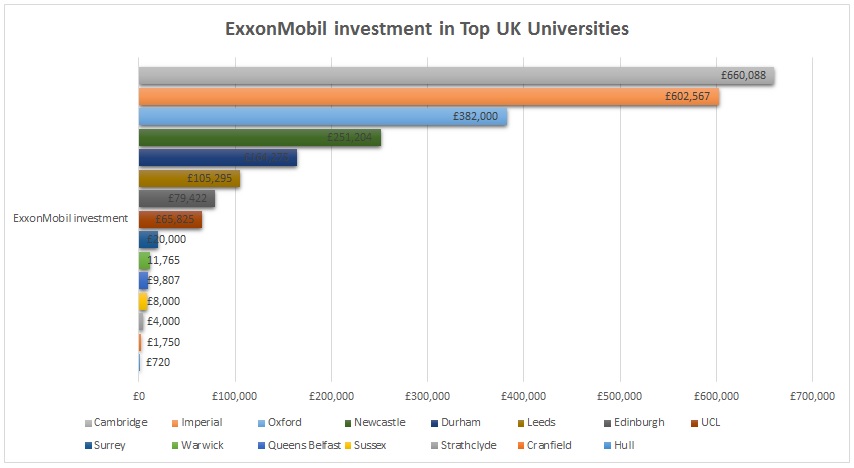 Data sourced from Greenpeace 
Surrey Funding
Exxon also provided the University of Surrey with £20,000 in investment. According to the university, £10,000 of this was a gift by the oil giant to support a centenary conference in 2011 "celebrating 100 years of chemical engineering… as well as a teaching assistant post within the Department of Chemical Engineering".
The other £10,000 was put towards research into molecular toxicology, "particularly the molecular modelling of cytochrome P450 enzymes that are involved in the metabolism of drugs and foreign compounds," the university told DeSmog UK.
"The University carries out research and teaching related to all aspects of energy generation, and in doing so, interacts with a range of companies and industries," the university said.
"Solutions to world energy issues require a range of interventions, including energy demand management, development of renewables and more efficient use of fossil fuels. We research and teach in all of these areas," it continued, emphasising its work on solar and wind power.
Leeds Polymer Research
Leeds University meanwhile has received £105,295 from ExxonMobil over the past five years. However, according to the university, "it is unrelated to climate change science".
This investment went toward a single research project in polymer science involving the university's Department of Applied Mathematics.
According to the Leeds spokesperson: "The researchers investigated the molecular structure of polymers and ways of improving the flow of polymers during manufacture of plastic products. This research could reduce waste and inefficiency in plastic manufacturing and therefore could have environmental as well as economic benefits."
Cambridge, Imperial and Oxford
While the other universities have not confirmed what the Exxon investment went towards, a quick Google search may help to shed some light on the top recipients.
Since 2011, the oil giant has provided Oxford University with scholarship funding for a global health-focused master's degree. The ExxonMobil Global Health Scholars programme supports students from developing and emerging-market countries.
And according to the Oxford University website, the Exxon scholarship continues to support students for the 2015-16 academic year. The programme has a particular focus on malaria and other tropical diseases. As research has shown, climate change increases the risk of contracting diseases like malaria.
As for Cambridge, an archived 2014 edition of the university's 'Statutes and Ordinances' shows there is an ExxonMobil Chemical Engineering Prize awarded annually.
And, according to the university's website, its Cambridge Centre for Carbon Reduction in Chemical Technology at Singapore's National Research Foundation is partnered with ExxonMobil, along with other universities and companies.
Meanwhile, this summer Imperial College London, along with the University of Calgary and the Federal University of Pernambuco, launched a partnership to develop Rapid Reservoir Modelling software which will model hydrocarbon reservoirs. The programme is funded by four oil companies: BG Group, Statoil, Petrobras and ExxonMobil.
As a spokesperson from Imperial College London told Energydesk when the funding figures were first released that the university collaborates with "a wide range of partners".
An Oxford University spokesperson told Energydesk that donations did not affect the institution's independence. Cambridge did not respond to their request for comment.
Photo: Blaine O'Neill via Flickr