The Brussels 'revolving door' has allowed Big Energy to remain close to European climate and energy decision makers ahead of December's Paris COP21 climate talks, a new report shows.
The report, by transparency campaigning and research group Corporate Europe Observatory (CEO), highlights the easy and frequent flow of EU public servants and elected representatives into corporate jobs linked  to the fossil fuel industry, or those who represent them, and vice versa.
Major industry players such as Saudi Aramco, ExxonMobil, and energy lobby consultancy FleishmanHillard are linked to the latest revolving door cases this year.
Pointing to issues of conflict of interest, CEO states that the 'revolving door' is "allowing some of the world's biggest polluters to potentially benefit from the know-how and contact books of top Brussels insiders."
The report describes 16 "problematic" cases. Here, DeSmog UK summarizes five key examples: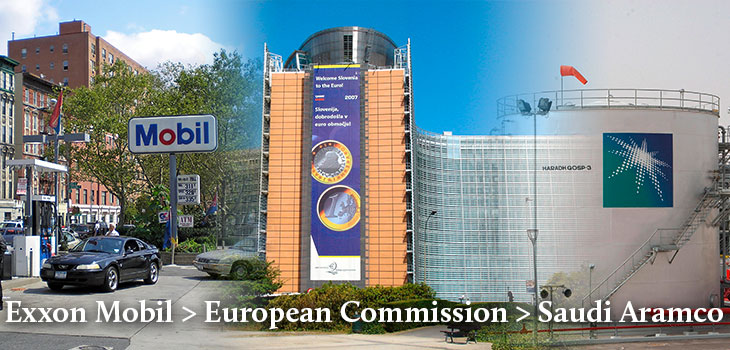 Marcus Lippold, Directorate-General (DG) Energy Commission official: Lippold used to work at ExxonMobil – a company well-known for funding climate denial and actively blocking climate change policies. Then, in 2008 he joined the European Commission where he currently works for DG Energy. However, at the moment, Lippold is enjoying an officially-authorised sabbatical with Saudi Aramco – the world's largest oil and gas company. Saudi Aramco is Saudi Arabia's state-owned oil company – the country does not have the best track record at UN climate talks.
Chris Davies, former MEP: Davies was a prominent UK Liberal Democrat MEP until he lost his seat in the 2014 European elections. During the 15 that years he worked at the EU Commission, he was a member of the committee on Environment, Public Health and Consumer Policy – this committee is where environmental regulations are developed. Davies is a strong supporter of climate action and carbon capture and storage (CCS). Shell and BP were among his advisers when developing CCS policy. After leaving the commission last year Davies set up his own consultancy. Among his client list is FleishmanHillard – one of Brussels' biggest lobby firms. Its energy-related clients include Total, Shell, Statoil, ExxonMobil, and BP.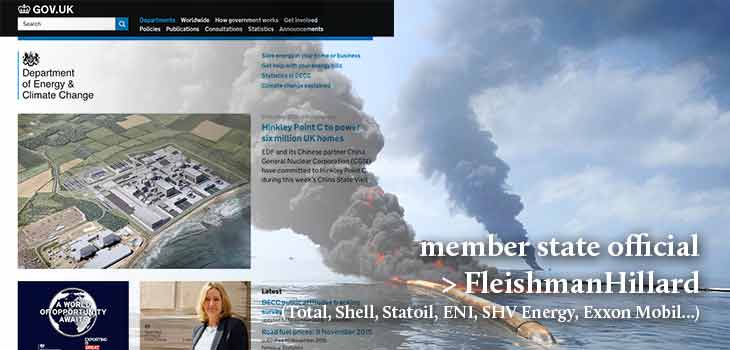 Matthew Hinde, former member state official: Hinde has been head of EU strategy at the UK Department of Energy and Climate Change for the past two years. But then in September he moved over to energy PR specialists, FleishmanHillard, where he is now their head of energy practice.
Guy Lentz, special advisor to climate action commissioner Cañete: Before entering the Commission Lentz worked for Shell between 1993 and 2000. Now, in addition to his position as special advisor, Lentz is a paid member of the board of Enovos Luxembourg and also works for Luxembourg's Economic Ministry as coordinator for EU and international energy issues. Enovos is Luxembourg's biggest energy distribution company and aims to become "one of the major players on select energy markets in Western Europe." A third of Enovos is owned by the Luxembourg state and city. More than 55 per cent is owned by the following energy companies and prominent EU lobbyists on climate and energy: E.ON, RWE Energy, GDF Suez (now Engie – a COP21 corporate sponsor) and Ardian.
Marten Westrup, DG Energy policy officer: Westrup first worked for DG Enterprise where he assisted in drafting motor vehicle regulations and helped with its work on competition policy and the automotive industry. From here, he moved on to become an advisor to the Industrial Affairs Committee (climate change) for BusinessEurope – the big business lobby group notorious for obstructing climate change policy and regulation. In 2011, Westrup then returned to the Commission where he now worked for DG Energy. Here, he handles "energy policy and monitoring of electricity, gas, coal and oil markets", including the Energy Roadmap 2015 – an issue of great interest to BusinessEurope.
CEO campaigner Vicky Cann said: "The close ties between Big Energy and senior decision-makers, facilitated by the revolving door, are extremely worrying.
"The fact that so many of these revolving door moves have been officially authorised shows the institutions' total lack of understanding of conflicts of interest and the risks generated by the revolving door.
"As the planet faces a looming catastrophic climate crisis, we need strict rules and a major change of culture to tackle the hothouse of energy industry lobbying, privileged access for polluters, and ever-spinning revolving doors that are so prevalent in key EU institutions."
Photos: Corporate Europe Observatory