Hand-painted standing alligators holding signs that read "Noel" on Tim Brown's lawn in Bayou Corne, LA, offer holiday cheer in an area where most of his neighbors moved away. 
Bayou Corne, 77 miles west of New Orleans, has joined the growing list of communities destroyed by industrial accidents.
Once known as a sportsman's paradise, Bayou Corne is now famous for a giant sinkhole that opened up on August 3, 2012, after a salt dome cavern, owned by Occidental Chemical Corp. and operated by Texas Brine Co. LLC, collapsed.

Tim Brown on Sportsman Drive with one of his dogs. ©2015 Julie Dermansky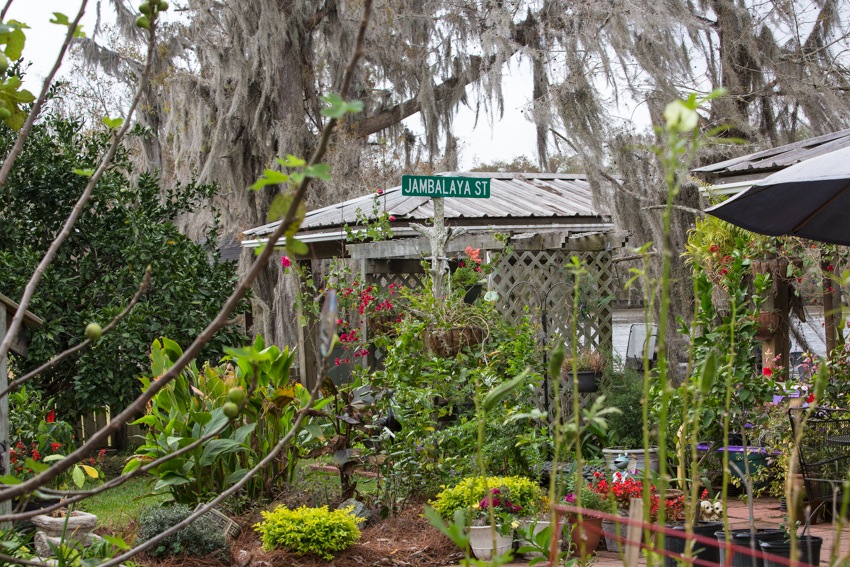 Street sign in Brown's backyard that he saved after the north side of Bayou Corne emptied out. ©2015 Julie Dermansky
Texas Brine, the petrochemical company held responsible for the giant sinkhole, has settled with most of the 350 residents, buying them out of their homes. Only ten homes remain occupied, including the Browns.
They are all on Sportsman's Drive on the south side of Bayou Corne. The north side's only remaining residents are dozens of stray cats. 
Brown's lawn art model of the sinkhole, photographed by DeSmog and many other media sources covering the story, is no longer on his front lawn, but a sign equating the sinkhole with a stink-hole remains behind his brightly painted alligators sculptures.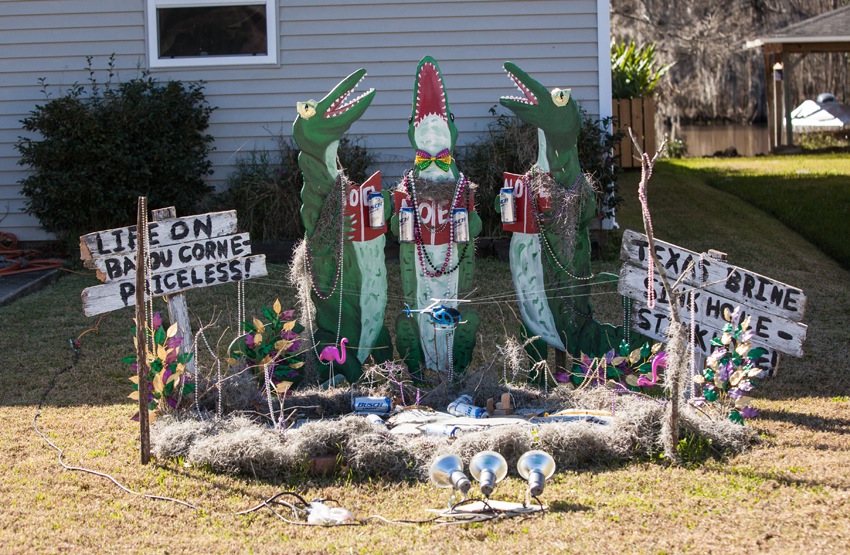 A model of the sinkhole by Tim Brown on his front lawn in 2013.
Brown and his wife chose not to heed the mandatory evacuation orders that came hours after the sinkhole was discovered. And they are glad they chose to stay because the area is still paradise to them. But both told DeSmog they are sad most of their neighbors are gone. 
"It is lonely back here," Brown said. 
Not everyone who joined the class action lawsuit realized they had to turn over their homes to get their share of the settlement. Though they got back the value of their homes in settlements, now that the sinkhole is thought to have stabilized and the explosive levels of methane gas released by the sinkhole no longer pose an imminent threat, some wish they could have stayed.
However, home values for those who did stay remain at zero dollars due to continued uncertainty about the situation. 
Mike Schaff, a former resident who moved out of his home on the north side of Bayou Corne, now deserted except for one fishing camp, is still saddened by the experience. He has been back a couple times and describes the area as a ghost town.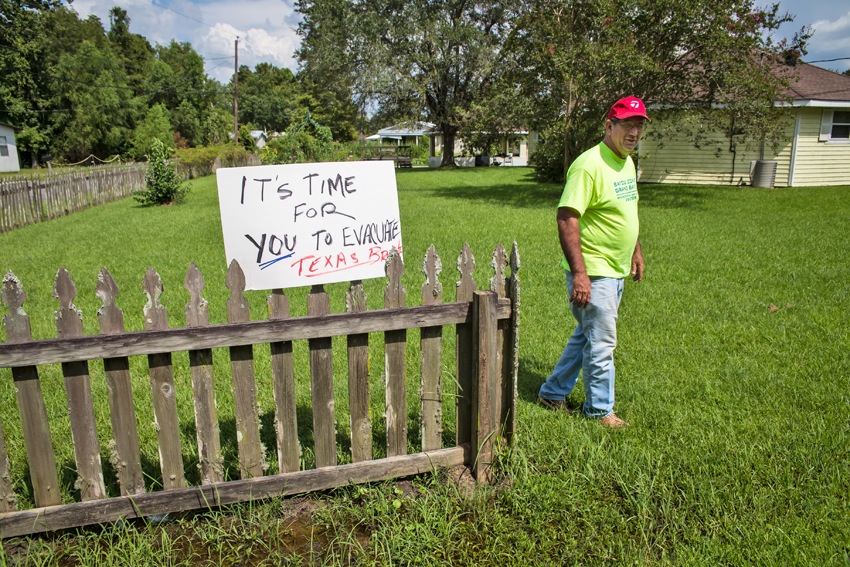 Mike Schaff at his home in Bayou Corne before he moved out. ©2014 Julie Dermansky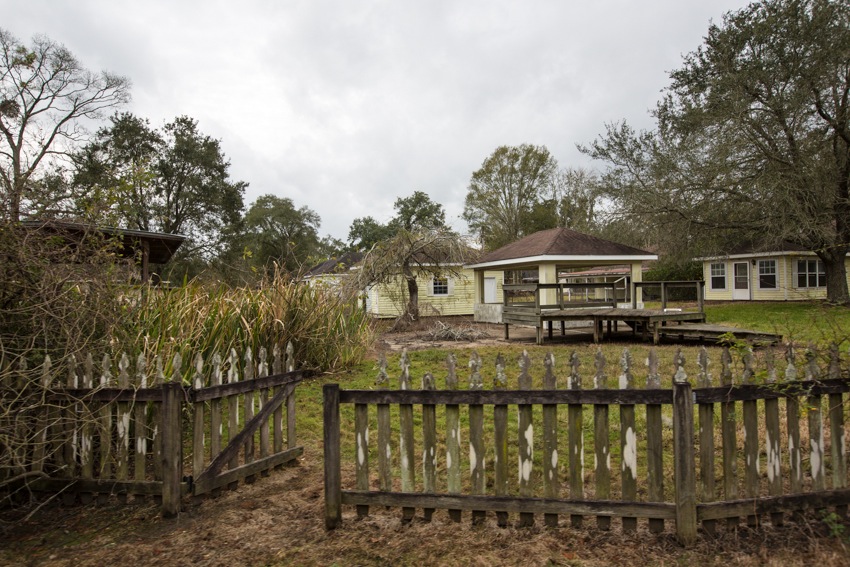 Mike Schaff's former home on December 13, 2015.  ©2015 Julie Dermansky
Since the last remaining residents cleared out of the North side earlier this year, the neighborhood started to decay. Vandals broke into many of the homes, leaving windows and doors ajar.
Sportsman's Drive is in much better shape. But the Browns worry whether Texas Brine will continue the upkeep of the unoccupied properties as promised. They have already had to push the company to make sure the yards are maintained.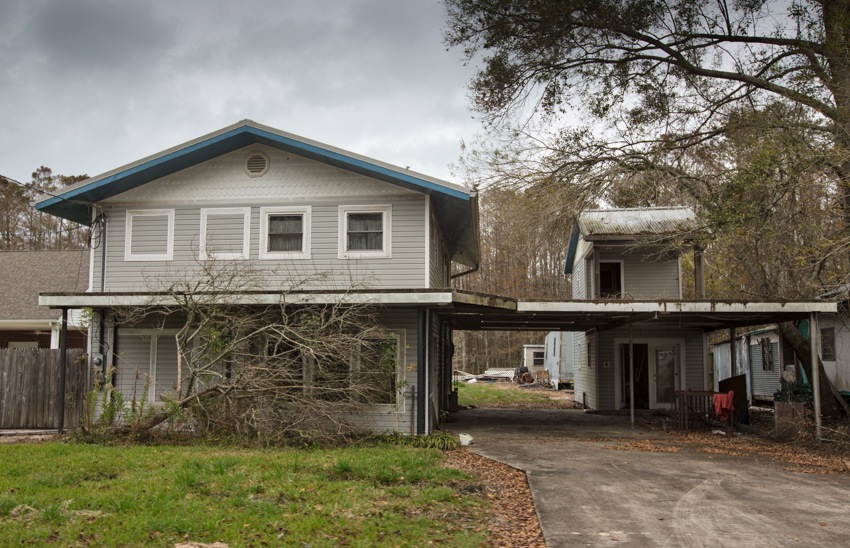 Empty home on the north side of Bayou Corne. ©2015 Julie Dermansky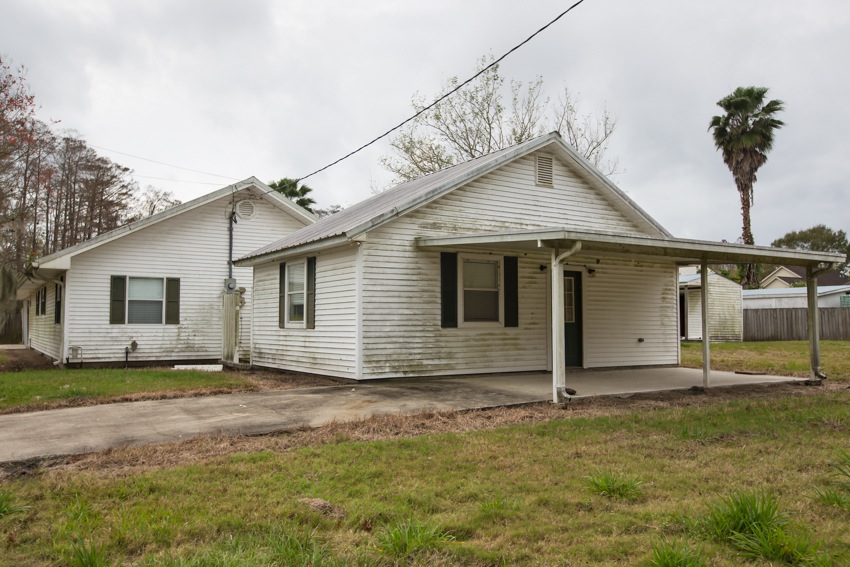 Empty home on the north side of Bayou Corne. ©2015 Julie Dermansky
"The area is still breathtakingly beautiful," Victoria Greene, a filmmaker wrapping up work on a documentary about Bayou Corne, told DeSmog.
Over the last couple of years she has grown to understand the saying used by many she interviewed for her film: "If you never lived on the bayou you can't understand what you missed."
Watch the trailer of Greene's upcoming film, Forgotten Bayou: Life on the Sinkhole.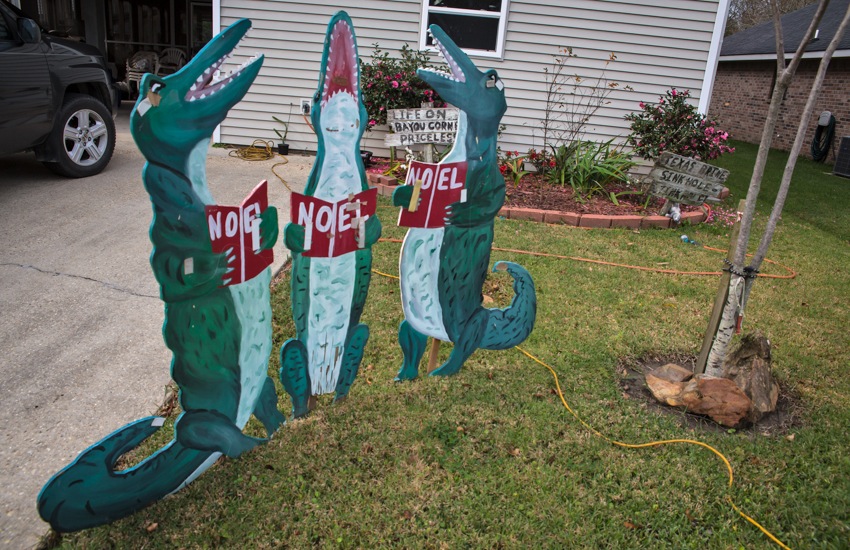 Tim Brown's Christmas decorations at his home in Bayou Corne. ©2015 Julie Dermansky