This is a guest post by Joe Smyth from Greenpeace, originally published at Medium.
Arch Coal, the second largest coal mining company in the US, filed for bankruptcy on Monday, raising questions about the company's reclamation obligations for its massive strip mines, its plans to export coal from the Powder River Basin to Asia, the future of its existing and pending federal coal leases, and more. While Arch Coal sold mines, cut wages, and stopped paying dividends as its fortunes fell, one area it didn't skimp was executive compensation.
In fact, while Arch Coal shareholders (or at least those who failed to divest from the company) have lost out, Arch CEO John Eaves somehow got a big raise as his company was failing — which seems to have earned the attention of the Securities and Exchange Commission (SEC).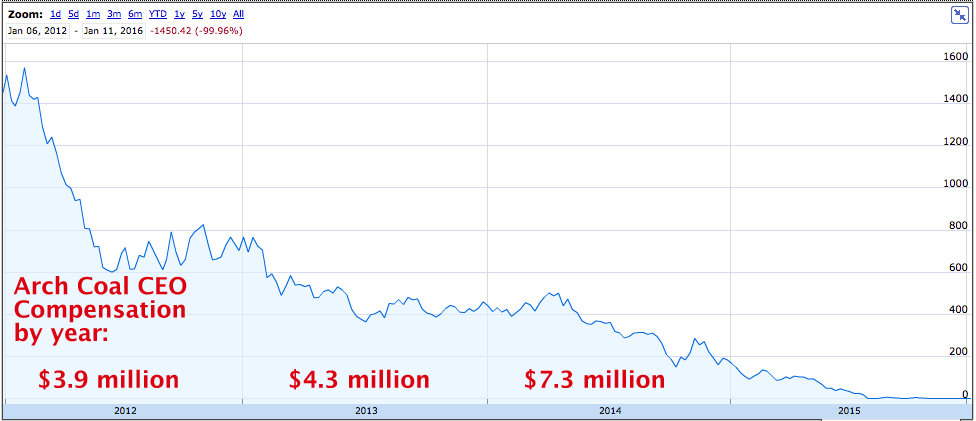 When Arch Coal reported how much its CEO made in 2014, the SEC responded with something like the official version of a raised eyebrow. In a March 31, 2015 letter to Arch Coal, the SEC wrote: "We also note the significant increase in your CEO's total compensation. In future filings, please revise your CD&A to separately discuss in greater detail your CEO's compensation."
Of course, obscene CEO pay is nothing new, but in this case it does seem particularly brazen. Arch Coal's CEO made $7.3 million in 2014, a full $3 million more than he made in 2013 — yet during that same time, the value of his coal company dropped precipitously. What possible explanation could there be for such a dramatic pay raise for the CEO of a company doing so poorly?
Arch Coal responded to the SEC, but without an explanation: "We acknowledge the Staff's comment. In future filings we will provide a more detailed discussion of our CEO's compensation."
That wasn't quite good enough for the SEC, which wrote back a week later: "We note your response to comment 4. Please show us how you propose to revise the discussion of your CEO's compensation." Arch Coal responded with more details, trying to show how "we attempt to align the long-term interests of our executives with those of our stockholders."
So how exactly are the interests of Arch Coal's CEO aligned with those of the company's shareholders? After John Eaves became CEO in 2012, Arch Coal increased his pay from $3.9 million to $4.3 million 2013, and then gave a major increase to $7.3 million in 2014. That included a $3.1 million bonus, and according to the Institute for Policy Studies report Executive Excess 2015: Money to Burn, the company covered his country club dues, "and $14,700 for his personal financial planning services" — clearly, planning how to use all that money is not cheap.
That means that over just the three years of 2012, 2013, and 2014, Arch Coal CEO John Eaves' compensation was over $15 million — not counting whatever he received in 2015, which has not yet been reported.
How could Arch Coal explain this big boost in CEO compensation as it lurched toward bankruptcy?
Arch Coal's explanation for its executives' compensation appears to rely heavily on the bizarre notion that CEOs should be paid more because their companies are failing — so executives don't ditch the company. Or as Arch's SEC filing puts it, "even though the coal industry is currently in a depressed market, it is important to offer competitive base salaries in order to attract and retain talent." (Arch appears to unironically consider its CEO's performance "talent.")
That's the same justification that another failing coal mining company, Alpha Natural Resources, used to explain the $2 million "retention bonuses" it offered to its CEO and President — because of the "particularly difficult market and regulatory conditions which could affect the company and the coal industry generally in the coming years." It didn't work — Alpha's President left anyway, and the company filed for bankruptcy soon after. After filing for bankruptcy, Alpha sought "permission to pay senior executives bonuses of up to $14.8 million," the Casper Star Tribune reported, even as the company moves to cut retiree health benefits that would save $3 million a year.
Given Eaves' history, there's little doubt that he'll continue to pay himself handsomely to oversee the company he helped drive to bankruptcy.
 
Image credit: Arch Coal's Black Thunder coal strip mine in the Powder River Basin, by Tim Aubry for Greenpeace.