A complaint is being investigated by the European Commission's lobby register secretariat into its failure to implement its transparency rules after an industry lobby group organised a meeting between the World Coal Association (WCA) and a Commission member last February.
The complaint was filed by transparency research and campaign group Corporate Europe Observatory (CEO). As the group explains, new transparency rules state that members of the Commission should not meet with any unregistered lobbyists. To this day the WCA has not registered its activities with the EU transparency register.
The meeting between the WCA and the Commission was organised by lobby consultancy firm Hume Brophy, one of Brussels' biggest lobby groups. Among its more controversial clients are Monsanto and U.S. coal giant Peabody Energy.
In this article re-post CEO explains in detail the coal industry's lobby efforts and the need for stronger transparency rules.
A Corporate Europe Observatory complaint to the lobby register secretariat is challenging the Commission to properly implement its own lobby transparency rules.
The CEO complaint focuses on lobby consultancy firm Hume Brophy which in February 2015 organised a meeting with a member of research commissioner Carlos Moedas' cabinet (Maria Da Graca Carvalho) for industry lobby group, the World Coal Association (WCA).
As the WCA was unregistered in the EU lobby register at the time of the meeting (and remains unregistered today), this meeting represents a breach of President Juncker's rules that members of the Commission, their cabinets and directors-general should not meet any unregistered lobbyists.
The Commission claims to have reached an historic deal in Paris, yet appears to be continuing with business as usual by meeting unregistered coal lobbyists.
 
---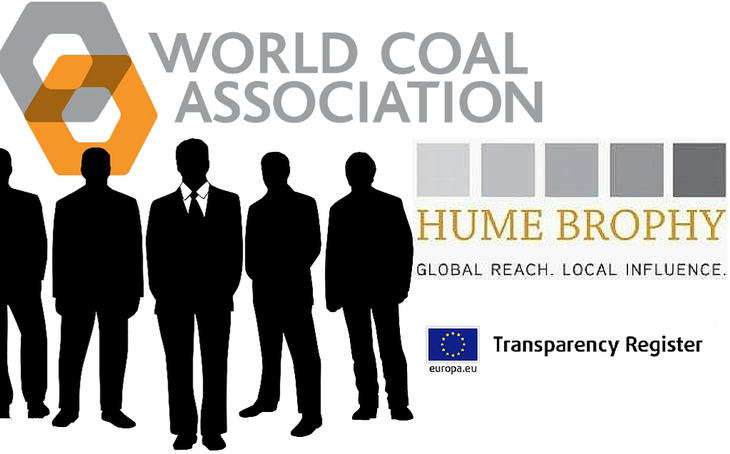 Hume Brophy is one of Brussels' biggest lobby consultancies, or lobby-guns-for-hire, with more than one million in revenue from lobby clients in the year to August 2014. It would likely figure in a (cleaned-up) list of Brussels' 15 biggest spending lobby consultancies. Its biggest lobby client is the European Travel Retail Council (ETRC) although it also represents a number of major financial corporations including Alternative Investment Management Association (AIMA), Bank of New York Mellon, European Fund & Asset Management Association (EFAMA) and others.
Among its more controversial clients are Monsanto and Trafigura, as well as Peabody Energy which calls itself, is the "world's largest private-sector coal company". It declares the equivalent of 17 full-time people lobbying on its behalf and also holds 17 European Parliament access passes which puts it 10th on the list of lobby consultancies holding the most EP passes.
---
As correspondence released via access to documents makes clear, in setting up the meeting with the Commission, Hume Brophy was acting on behalf of the WCA and the meeting was attended by the WCA's top staff member, its acting chief executive, as well as a senior representative from Hume Brophy.
According to the correspondence, before the February 2015 meeting took place, a Commission staffer asked Hume Brophy for the relevant ID number from the lobby register. However, Hume Brophy only provided its own registration number; it did not refer to the WCA in relation to the lobby register and regrettably the Commission did not make further enquiries.
Unregistered Lobbyists
In our view, this meeting is not only a breach of the Commission's rules on meeting with unregistered lobbyists, but also a breach of the code of conduct for the lobby register. This says that registered organisations should "respect, and avoid any obstruction to the implementation and application of, all rules, codes and good governance practices established by EU institutions". The lobby register secretariat has now told CEO that it will investigate our complaint.
Recently the Alliance for Lobbying Transparency and Ethics Regulation (ALTER–EU) wrote to Commission Vice President Frans Timmermans to ask what processes are in place to ensure that no member of the Commission elite meets with unregistered lobbyists. The reply said that the Commission applies the rule "not on the Register, no meeting", revealing a mismatch between Commission theory and Commission practice.
But this meeting has not been the only one held by the World Coal Association with the Commission. A further access to documents request told us that Marie Donnelly, director, renewables, research and innovation, energy efficiency at DG Energy met twice with the WCA (in February and October 2015) to discuss "clean coal technologies and carbon capture and storage".
The formal rule to not meet with unregistered lobbyists only applies to the elite top-layer of the Commission, although the Commission's Practical Guide to Staff Ethics and Conduct advises all staff to ensure that a lobbyist is registered.
Lobby Meetings
This voluntary approach to not meeting unregistered lobbyists clearly does not work. Recent ALTER–EU research shows that for DG Fisma alone, 20 per cent of lobby meetings held by mid-level officials in an eight month period were with unregistered lobbyists.
Such meetings make a mockery of Timmermans' vow to make the lobby register de facto mandatory by locking unregistered lobbyists out of the Berlaymont. Instead the reality appears to be that the Commission is fully open to lobbyists, registered or not.
And when those unregistered lobbyists represent the coal industry, this is especially worrying. At a time when Climate Commissioner Cañete claims the EU is leading the world in tackling climate change after the 'historic' Paris negotiations, entertaining the coal lobby is a return to business as usual, and is only going to lock in more fossil fuel use and divert funding away from sorely needed investments in renewables like wind, solar and tidal energy, and other real solutions to the climate crisis.
CEO's RevolvingDoorWatch recently profiled the case of a former WCA staffer who moved straight to become Policy coordinator, EU Coal in the Commission's DG Energy. Meanwhile Hume Brophy is also no stranger to RevolvingDoorWatch, having recruited a number of ex-MEPs to its ranks in recent times.
It is not known whether lobby firm Hume Brophy was involved in arranging the World Coal Association's other lobby meetings at the Commission. But it seems clear to us that there is a client-consultancy relationship between Hume Brophy and WCA.
As well as organising the above lobby meeting with Commissioner Moedas' cabinet member, Hume Brophy also appears to have provided (at least) organising support for the WCA event "A pathway to cleaner, low emission coal use" on 17 November 2015 which featured key note speakers Ian Duncan MEP and Paula Abreu Marques, head of the Commission's unit looking at renewable energy and carbon capture and storage policy.
Hume Brophy itself approached Commission officials to address the WCA event. Lobby register rules include these kinds of events dealing "with EU policies/processes, invitations to which have been sent to Commissioners, MEPs and their assistants or EU officials" as the kinds of activities which are covered by the register.
Strangely the WCA is not listed as a lobby client of Hume Brophy in its own registration, another matter which we have raised with the lobby register secretariat.
Inaccurate Data
Previous complaints to the lobby register by CEO, ALTER–EU and other groups have often received a disappointing response. Organisations which posted inaccurate or misleading lobby data have been able to maintain their lobby privileges and escape penalties, simply by making updates to their register entries.
Meanwhile, the register has no powers against those who refuse to sign up. Such approaches are not much of an inducement to take the register seriously.
This complaint could be an opportunity for the lobby register secretariat to start to get tough, while the upcoming review of the register must ensure that serious breaches of the rules lead to serious sanctions.
Photos via Freefoto and CEO