By Alex Kotch
 
When candidates run for president, they receive a slew of donations from across the business world, from sectors such as finance, insurance and real estate, health, communications and electronics, labor, and energy and natural resources. Some of these donations have come under scrutiny recently, particularly those from Wall Street and those from the fossil fuel industry.
 
Disturbed by current elected officials' inaction on climate change at least in part due to the powerful influence the fossil fuel industry has on policy, environmentalists and concerned citizens are pushing the 2016 presidential candidates to reject campaign contributions from industry political action committees (PACs) and people who work in the industry.
 
Last July, The Nation and 350 Action called on the candidates to sign their pledge to refuse donations from oil, gas or coal companies; however, direct federal contributions from companies are illegal. Sen. Bernie Sanders (I-VT), former Maryland Gov. Martin O'Malley (D), who recently dropped out of the presidential contest, and Green Party candidate Jill Stein have signed the pledge.
 
In December, Greenpeace and 19 other organizations asked the candidates to sign on to their Pledge to Fix Democracy, a pledge to defend voting rights, overturn the U.S. Supreme Court's Citizens United v. Federal Elections Commission decision, and to refuse "money from fossil fuel interests." These interests, as defined by Greenpeace, mean fossil fuel company PACs, registered lobbyists that work on behalf of such a company, or top executives. Only Sen. Sanders has signed this pledge.
 
A look into the financial support that the fossil fuel industry has given presidential contenders may shed light on their resistance to these anti-fossil fuel pledges.
Millions of dollars tied to the fossil fuel industry in the form of campaign contributions, bundled campaign donations by lobbyists, donations to super PACs, and details in the candidate's financial disclosures link many of these candidates to oil, gas, and coal mining companies.
 
In this presidential election alone, oil, gas and coal mining company PACs and employees have given over $1.8 million directly to the campaigns of the eight remaining Democratic and Republican candidates, according to the Center for Responsive Politics.
 
The top beneficiaries of the fossil fuel industry's largesse this year are GOP Sen. Ted Cruz (R-TX), former Republican governor of Florida Jeb Bush, former Secretary of State and Democratic candidate Hillary Clinton, and GOP Sen. Marco Rubio (R-FL). Still more, including GOP governor of Ohio John Kasich and former Hewlett Packard CEO Carly Fiorina, a Republican candidate who dropped out last week, have received considerable campaign contributions in past elections tied to oil, gas and coal mining companies.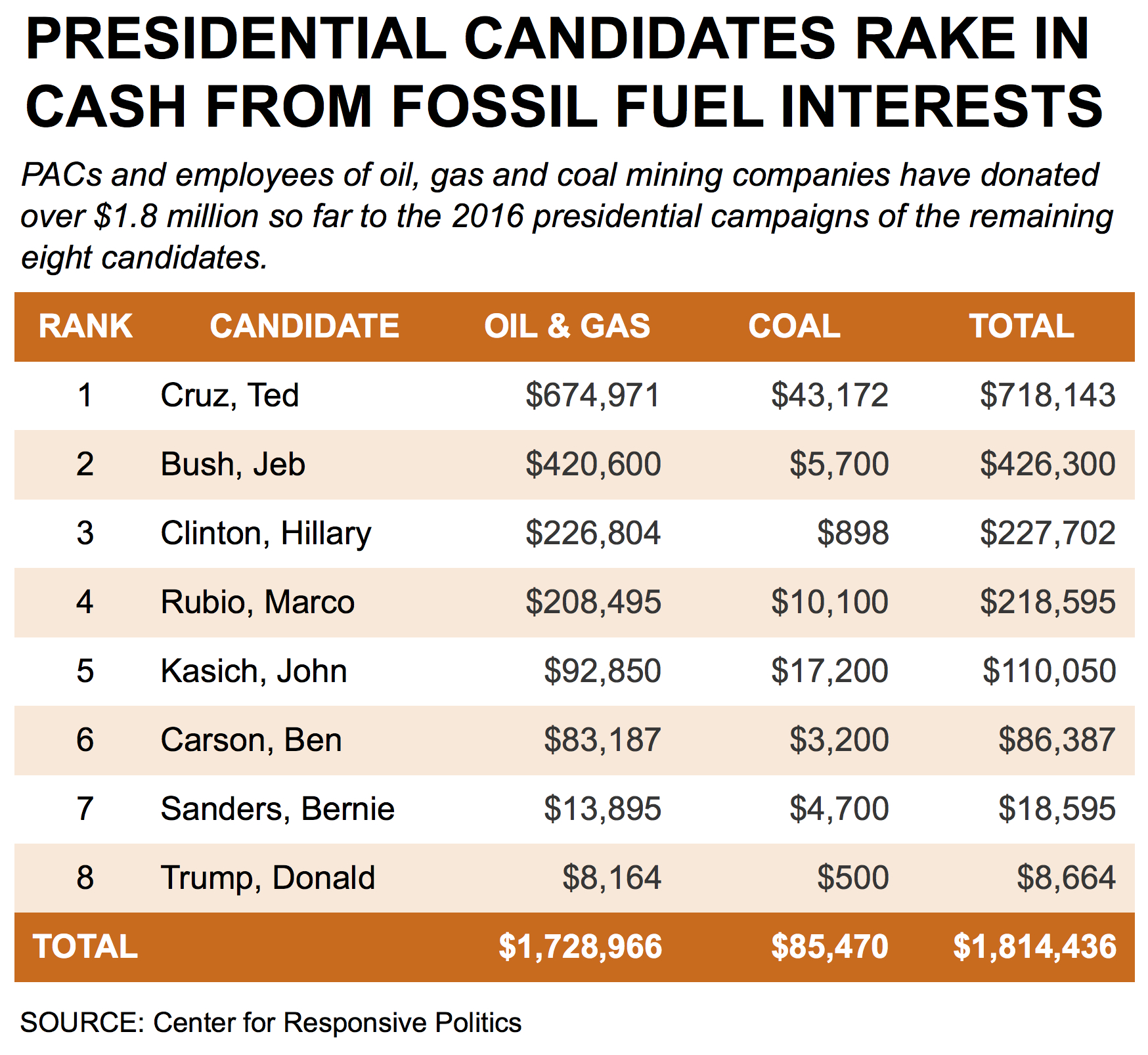 Including previous federal and state elections, over $4.9 million has flowed directly into the campaigns of the current presidential candidates from oil, gas, and coal mining company PACs and employees.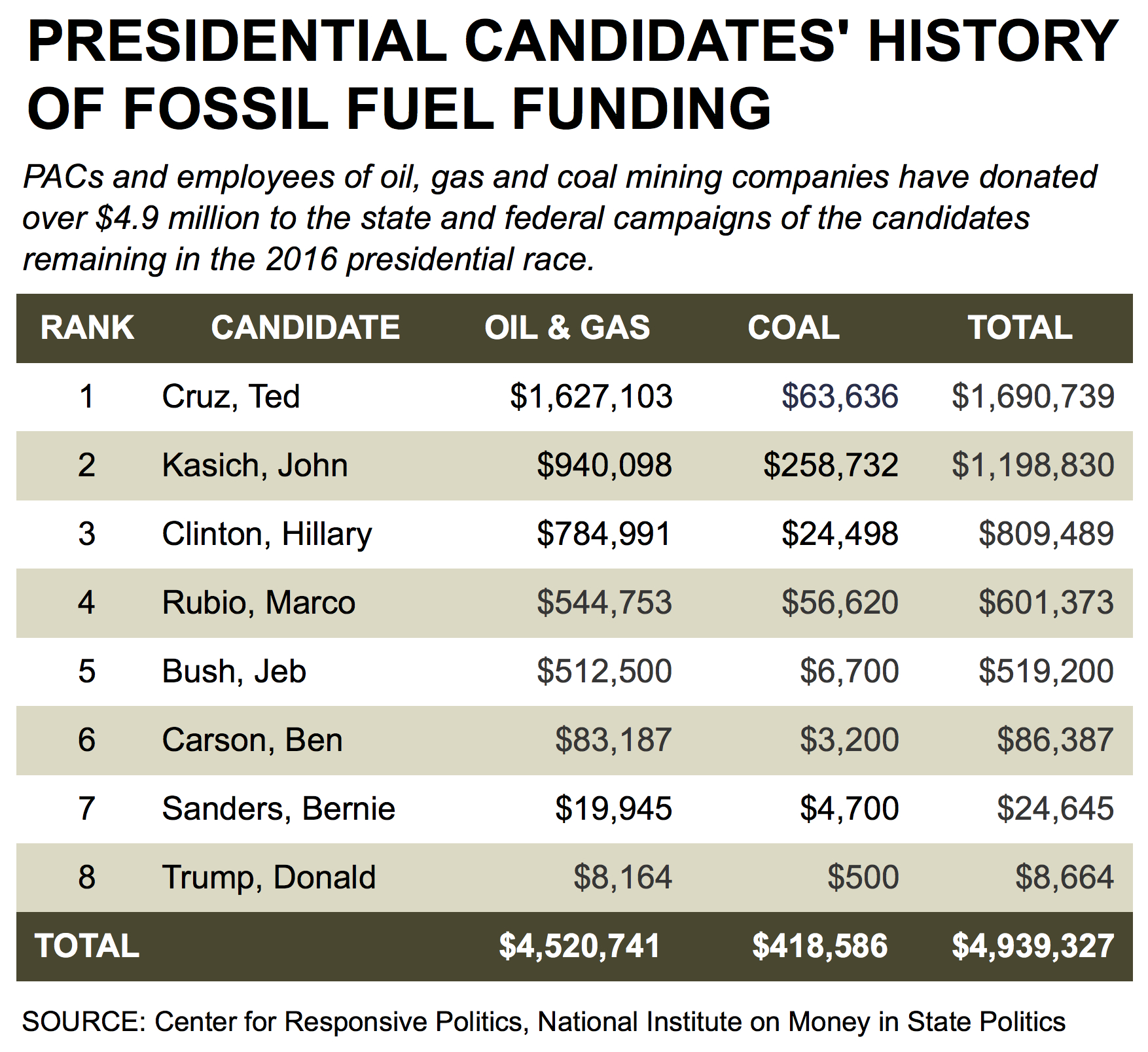 Let's dig into the candidates' financial ties to the fossil fuel industry.
 
TED

CRUZ
 
A climate-change denier from oil-rich Texas, GOP Sen. Ted Cruz leads the pack in campaign donations from the fossil fuel industry. Between his 2012 Senate bid and his current presidential campaign, Cruz has raked in nearly $1.7 million from oil, gas, and coal mining company PACs and employees—including over $718,000 in the presidential contest—according to the Center for Responsive Politics.
 
Although Cruz has said he'll release information regarding campaign bundlers—lobbyists who collect donations for his campaign—he has yet to do so.
 
Wealthy mega-donors who made their fortunes in the fossil fuel industry have forked over millions to many of the eight super PACs supporting Cruz. Oil and gas investor Toby Neugebauer funded Keep The Promise II with $10 million last April; hydraulic fracturing technology billionaire brothers Farris and Dan Wilks along with their wives Joann and Staci Wilks gave a combined $15 million to Keep The Promise III last year, the most by any family. Robert McNair, whose Cogen Technologies business created electricity with natural gas and other means, gave $500,000 to Keep the Promise PAC.
 
Cruz's financial disclosure reveals his personal investments in fossil fuels. The senator has between $365,000 and $850,000 invested in oil and natural gas companies, including oil corporations Chevron and ExxonMobil, natural gas processing and transportation business Oneok (owned by Koch Industries), natural gas distributor One Gas, oil and gas pipeline company Enterprise Products Partners, and oil and gas transportation investor Plains GP Holdings.
 
In light of Cruz's deep ties to the fossil fuel industry, his anti-environmental policies are no surprise. He's a fierce supporter of offshore drilling, crude oil exports, ending the mandate that requires corn-based ethanol to be blended with gasoline, and the controversial Keystone XL tar sands oil pipeline. A senator from the state with by far the most carbon emissions, he wants to gut the Clean Air Act.
 
HILLARY

CLINTON
 
Clinton's two Senate campaigns and two presidential bids have netted her nearly $810,000 from fossil fuel interests, including close to $228,000 in this year's race.
 
She has disclosed her lobbyist bundlers, and Huffington Post's Paul Blumenthal and Kate Sheppard were the first to report that most of them either currently or formerly worked for the fossil fuel industry. According to unpublished research by Greenpeace, 11 bundlers tied to oil, gas or coal companies have brought in over $1.1 million for her campaign. Of these lobbyists, Theresa Fariello works exclusively for Exxon and Ankit Desai works for liquefied natural gas company Cheniere Energy. Other bundlers currently lobby or previously lobbied for Chevron, Sempra Energy, BP, Royal Dutch Shell, Marathon, and Noble Energy, among others.
 
Additionally, according to Greenpeace, 48 fossil fuel lobbyists have donated a total of over $117,000 directly to Clinton's campaign.
 
Clinton doesn't appear to have any direct investments in fossil fuels, nor has she given paid speeches in front of fossil fuel companies in the past two years, but her husband, former President Bill Clinton, earned $250,000 for speaking to Entergy Corporation, a southern energy company that works with natural gas, oil and coal.
 
ExxonMobil has given at least $1 million to the Clinton Foundation and $2 million to the Clinton Global Initiative.
 
The Democratic candidate has downplayed the role of the fossil fuel industry in her campaign, telling a member of 350 Action that $150,000 in campaign contributions from oil and gas industry PACs and employees (a number that has since increased) is "not very much." In December, she said she didn't know if she'd ever accepted money from the fossil fuel industry.
 
But some of her policy positions indicate at least some willingness to indulge Big Oil, documented by International Business Times' David Sirota and Andrew Perez. While Secretary of State, she approved a tar sands oil pipeline similar to Keystone XL and said she was "inclined" to approve Keystone XL's permit. She also supported expanded offshore drilling while a senator. Clinton came out against offshore drilling in the Arctic, but only after Shell decided to halt its Arctic drilling campaign, notes Greenpeace media officer Cassady Sharp.
 
JEB

BUSH
 
With the legacy of his father George H.W. Bush, who made his fortune from the oil industry in Texas before entering politics, it wasn't hard for Jeb Bush to cozy up with oil and gas companies. His two gubernatorial campaigns in Florida netted him close to $93,000 in contributions from the fossil fuel industry, most of it from oil and gas company PACs and employees, according to the National Institute for Money in State Politics. With hundreds of thousands more during the presidential race, Bush's campaigns have taken in over $519,000 from oil, gas, and coal mining company PACs and employees.
 
Additionally, one of Bush's lobbyist bundlers, the self-employed Richard Hohlt, has lobbied for Chevron since 2006 and formerly lobbied for Peabody Energy. Hohlt has brought in over $65,000 for Bush's presidential campaign.
 
Bush's super PAC, Right to Rise, is where the bulk of the fossil fuel cash comes in. In the first half of 2015, the PAC received eight $1-million donations from wealthy oil men and their wives, $1 million from a shell company set up by a coal baron, and another million from Florida's leading electric utility, NextEra Energy, as well as more cash in sub-$1 million donations from fossil fuel executives. During the second half of the year, as his campaign struggled, he pulled in far less by comparison, close to $1 million from executives of oil or oil-related businesses. 
 
And Bush has held positions in the fossil fuel industry and is personally invested in it. From 2012-2014, he was on the board of managers of Geo Fossil Fuels, and from 2011-2014 he was a member of the senior strategy committee of The Mitchell Group, an energy investment firm. He helped form Britton Hill Holdings, based in Coral Gables, Florida, a private equity firm that invests in oil and shale gas; he is listed on his financial disclosure as a "manager-member" of "Britton Hill Partners" from 2011-2015.
 
Bush is invested in numerous fossil fuel companies, with between $136,000 and $351,000 in stock from Anadarko Petroleum Corporation, Chevron, Duke Energy, Dril-Quip, Pioneer Natural Resources, QEP Resources, Questar Corporation, Superior Energy Services, Canadian Natural Resources, Seadrill Limited, Seadrill Partners, and Repsol.
 
Despite a record that includes opposing oil drilling off the coast of Florida, Bush's presidential energy platform "reads like a Big Oil wish list" according to Clinton's campaign chair, and includes expanded drilling, reduced regulations and approval of the Keystone XL pipeline.
 
MARCO

RUBIO
 
In this election, Florida GOP Sen. Marco Rubio has received more than $218,000 linked to the fossil fuel industry, the third-highest total among presidential contenders. Along with over $18,000 in state house races and hundreds of thousands more to his U.S. Senate campaign committee, Rubio has received over $601,000 from oil, gas, and coal mining company PACs and employees.
 
The senator has benefited from one in-house lobbyist of the American Petroleum Institute, Brian Johnson, who brought in $19,600 in bundled contributions towards the end of last year.
 
The major donors to super PACs supporting Rubio tend to be financial and real estate executives, not fossil fuel industry leaders, but Houston businessman and power plant owner Robert McNair gave Conservative Solutions PAC $500,000.
 
Rubio's energy plan is much like that of other Republican candidates. It would increase oil exports, approve the Keystone XL pipeline, oppose President Obama's Clean Power Plan, increase offshore drilling, deregulate the industry, and oppose a carbon tax.
 
Rubio told ABC News in 2014 that he does "not believe that human activity is causing these dramatic changes to our climate the way these scientists are portraying it … and I do not believe that the laws that they propose we pass will do anything about it, except it will destroy our economy."
 
JOHN

KASICH
 
While his campaign has taken in the fifth-highest amount tied to fossil fuel companies in this year's race, Republican John Kasich, a long-time member of the House and now governor of Ohio, has racked up a total of nearly $1.2 million in contributions from oil, gas, and coal mining PACs and employees, the majority—$940,000—during his two gubernatorial bids, according to The National Institute on Money in State Politics. Ohio is a state that relies heavily on coal and natural gas for its electricity generation, and accordingly, it's one of the nation's top carbon-emitting states.
 
None of the major donors to two super PACs supporting Kasich, New Day for America and New Day Independent Media Committee, are fossil fuel industry executives.
 
Kasich has not revealed his lobbyist bundlers, and his financial disclosure report has not yet become available from the Office of Government Ethics. His wife, Karen, is invested in American Electric Power, which operates coal and other power plants and has attacked rooftop solar energy generation.
 
By acknowledging the existence of climate change, the governor stands out among a GOP field filled with deniers, but he doesn't want the Environmental Protection Agency to regulate carbon emissions. He's opposed President Obama's Clean Power Plan and signed a bill that delayed his own state's renewable energy standards.
 
THE
REST
OF
THE
PACK
 
Some other candidates still in the running have received less, but still substantial, dirty energy support.
 
Republican Donald Trump has received only $8,664 tied to the industry. Trump, a multi-billionaire, has major investments in such companies as Chevron (between $600,001 and $1,250,000), Energy Transfer Partners ($500,001-$1 million), ConocoPhillips ($500,001-$1 million), Shell ($500,001-$1 million), and TransCanada Pipelines ($250,001-$500,000).
Republican surgeon Ben Carson's campaign has taken in over $86,000 from fossil fuel industry PACs and employees, mostly from oil and gas.
 
Bernie Sanders has received $24,645 over his career as a U.S. Representative, senator, and presidential candidate from oil, gas and coal mining interests.
 
PRESIDENTIAL
HOPEFULS
WHO
RECENTLY
DROPPED
OUT
 
A few candidates who have recently dropped out of this year's race have been major beneficiaries of fossil fuel-linked money, primarily former Republican Sen. Rick Santorum. Hailing from Pennsylvania, the nation's second-biggest natural gas producer (2014) and fourth-largest coal producer (2013), Santorum has received over $1,060,000 tied to the industry.
 
Republican former CEO of Hewlett Packard Carly Fiorina has taken in close to $54,000 during this election cycle from fossil fuel industry PACs and employees, but in her 2010 bid for U.S. Senate in California, her campaign received over $429,000 from the industry. Fiorina has considerable investments in energy companies and funds such as Energy Investment Opportunities Onshore Fund (between $250,001 and $500,000), Chevron ($50,001-$100,000), BP ($50,001-$100,000), Energy Transfer Equity ($50,0001-$100,000), Royal Dutch Shell ($30,001-$100,000), Sunoco Logistics and Sunoco LP (both between $30,001 and $100,000), and Devon Energy ($15,001-$50,000).
 
In his gubernatorial campaigns in 2009 and 2013, Republican governor of New Jersey Chris Christie took in over $109,000 from fossil fuel industry PACs and employees. His financial disclosure statement is unavailable from the Office of Government Ethics. 
 
Sen. Rand Paul, a Republican representing major coal producer Kentucky, has taken in almost $328,000 from fossil fuel industry PACs and employees between his presidential and Senate campaigns.
 
And Republican former governor of Virginia Jim Gilmore has received close to $68,000 over the course of a Senate campaign and two presidential bids. Data on his attorney general and governor's races is not readily accessible. 
 
Former Democratic candidate for president Martin O'Malley, also the former governor of Maryland, received nearly $60,000 from oil and gas industry PACs and employees during his two gubernatorial campaigns.
 
ENERGY
INTERESTS
NOT
THE
BIGGEST
SPENDERS
 
To put the fossil fuel donations in context, oil and gas's $9.1 million to current members of Congress (including presidential candidates) during the 2015-2016 election cycle is eighth in the list of top interest groups, with interests such as securities and investments ($20.7 million), lawyers and law firms ($20 million) and real estate ($17 million) way ahead. As a business sector, energy and natural resources also lands at eighth on that list, with $55 million given to parties, candidates and outside spending groups during the present election cycle, with the finance, insurance and real estate sector vanquishing the rest at $316 million.
 
Nonetheless, fossil fuel-linked donations are considerable, and they may pay off if a fossil fuel-friendly candidate moves into the White House next year.
 
WHAT

'S

NEXT

?
 
Cassady Sharp of Greenpeace isn't optimistic about the prospects of those in the Republican field signing on to her group's pledge, as few have acknowledged the reality of climate change, she says.
 
The group's main focus now is Hillary Clinton, who hasn't signed either pledge.
 
"In general, we will push the candidates and criticize GOP policies."
 
Email requests to the Sanders campaign asking whether it will return the money it has received linked to the fossil fuel industry were not returned.
Image credit: Money in politics, via Shutterstock.