A record US$367 billion was invested in renewable energy in 2015, according to a new report out today by the Clean Energy Canada initiative of the Centre for Dialogue at Simon Fraser University.
Renewables investment increased by seven percent since 2014, with China, the US, and Japan representing more than half of the total investment last year, shows the report.
The report also finds that for the first time, more money was invested in clean energy than in new power from fossil fuel ($253bn).
This unprecedented scale of investment is particularly remarkable given the significant drop in oil prices over the last year.
"Turmoil in fossil fuel markets led many analysts to suggest clean energy investment would similarly stall out. How could renewable energy possibly compete with cheap oil, gas and coal?" asks the report.
As it explains: "New clean energy deals were widely expected to stall last year as the price of oil and other fossil fuels declined around the world. Instead, growth in the clean energy sector beat expectations, delivering the best year yet."
Lower Costs
According to the report, declining technology and financing costs have helped to spur growth in renewable energy. For example, between 2009 and 2015 the cost of wind power in the US dropped 61 percent, while the cost of solar power fell 82 percent.
Much of the speculation was the result of a lack of understanding of renewable energy technology, trends and markets, explained Dan Woynillowicz, policy director at Clean Energy Canada.
While renewable energy competes head to head with natural gas (unlike with oil) "it has a range of attributes that make it attractive," said Woynillowicz, "energy security, zero air pollution, price certainty, zero carbon, etc."
Woynillowicz continued: "Renewable energy costs keep falling – and will keep falling – and the long-view suggests they will outcompete natural gas."
"It's also worth noting," he added, "that as the costs fall, it means we get more energy for every dollar invested. So if investment remains stable or increases, we'll see greater amounts of renewable energy actually deployed."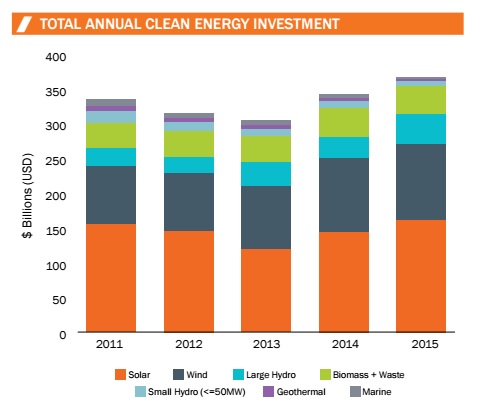 Globally, wind power deployment led the way last year, up 31 percent since 2014 with nearly 64 GW installed, with deployment in solar power growing 23 percent.
"The fuel – sun, wind, water – is free," Merran Smith, executive director of Clean Energy Canada, said in a statement. "There's no wonder clean energy is gaining momentum around the world."
"Clean energy is taking off because it offers value that can't be beat – it's local, so it offers energy security. It's a climate solution. It reduces health issues from smog. It's increasingly competitive, and there's big money to be made."
Developing Countries
Last year also marked the first time that developing countries saw more investment in renewable energy ($167bn) than developed nations ($162bn).
India took fifth place for the most clean energy investment in 2015 ($10.9bn) behind China ($110.5bn), the US ($56bn), Japan ($43.bn), and the UK ($23.4bn). Meanwhile, renewable investment in Canada dropped 46 percent from $7.4bn in 2014 to $4bn last year.
As the report describes, 2015 saw a "geographical broadening of clean energy as more developing countries got in on the action."
Between 2014 and 2015 investment in clean energy in Africa and the Middle East grew 54 percent, up £13.4bn.
Going forward, the report predicts that both of these regions have "significant" potential for clean energy growth due to their growing populations and abundance of wind and solar resources.
Woynillowicz also expects the "staggering rate of investment and deployment" in China to continue. Meanwhile India, which has set aggressive renewable energy targets, will also be one to watch, but Woynillowicz asks: "Will they prove effective and efficient in attracting and deploying capital?"
Going Mainstream
With more than a third of a trillion dollars invested worldwide in renewables last year, Clean Energy Canada is optimistic, stating that "clean energy is going mainstream."
"That's serious money," Smith writes in the report. "Clean energy has real momentum and the commitments underpinning the Paris Agreement on climate change will keep that momentum going."
The report's findings are "very encouraging" agreed Woynillowicz, "especially recognising that we saw a third of a trillion invested before the Paris agreement."
We should expect to see more money being driven into renewables over the next few years Woynillowicz predicts, due to the continued increase in cost competitiveness of renewables and progress in reducing costs of energy storage technologies, combined with the climate benefits of renewables and goals set in the Paris Agreement.
Photo: Tony Webster via Flickr