Oil and gas industry giants gathered this week in Pau, an historic city in southwest France, to discuss the future of deepwater drilling.
Over the course of the three-day MCE Deepwater Development (MCEDD) conference hosted by Total and sponsored by Shell, hundreds of industry professionals focused on how to cut costs during a time of record-low oil prices.
As Total described in a letter announcing the annual conference: "Our common objective is to reduce costs significantly in order for deepwater to remain competitive."  
The conference was opened Tuesday morning with a keynote speech by the Mayor of Pau, François Bayrou, and included a Wednesday evening soirée complete with a Michelin Star chef and magicians.

Speakers from BP, Haliburton, Shell, Total, and Maersk Drilling all attended the conference along with 29 industry sponsors and exhibitors including the Wood Group, founded by Sir Ian Wood who is responsible for developing the UK's policy to maximise oil and gas extraction in the North Sea.
Drilling Costs
Deepwater drilling however, is extremely capital-intensive. As conventional oil and gas resources dry up the industry has gone in search of new deposits in unconventional locations including in the Arctic and the depths of the ocean.
Not only does it cost more to extract the oil and gas from these hard-to-reach places but the operations come with significant risk to the environment, as seen with the 2010 BP Deepwater Horizon disaster. Earlier this week a judge confirmed that BP must pay a $20 billion settlement for the Gulf of Mexico disaster.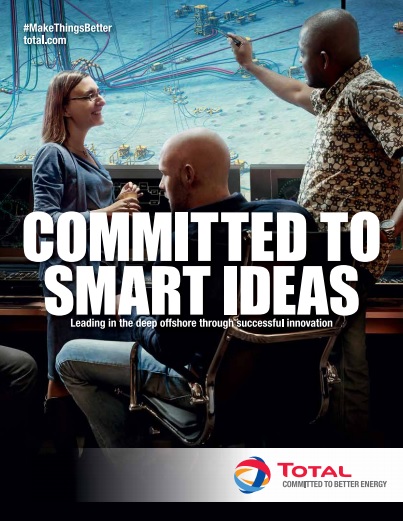 And with persistent low oil prices these types of projects are becoming increasingly unfeasible – recently we've seen companies such as Total cutting investments and Shell pulling out of both an Arctic-focused oil licencing round and its North Sea oil operations along with ConocoPhillips.
Given this context, a conference dedicated to exploiting unconventional deepwater oil and gas reserves seems a tad out-of-touch.
This is made even more contradictory considering the world is poised to sign the Paris Agreement later this month – a deal which MCEDD conference attendees BP, Shell and Total publicly supported in the lead up to COP21.
If the world hopes to limit global temperature rise to "well below" 2C, 80 percent of known fossil fuel reserves must stay in the ground, never mind any reserves we have yet to find in these unconventional locations.
But despite countries agreeing less than four months ago to achieve peak emissions as soon as possible and reach net-zero emissions after 2050, there appeared to be no mention of climate change or the implications of the Paris Agreement for the industry on the event's agenda.
Instead, Total executive Arnaud Breuillac told industry experts that despite progress in renewable energy, oil and gas was still needed. 
Discussion panels emphasised industry collaboration, technological innovation, and case studies on offshore drilling in Africa and the North Sea.
Climate Protest 
But all was not smooth sailing. As the conference opened, attendees were met by up to 300 environmental activists from Action Non-Violente COP21, Alternatiba, Friends of the Earth France, Attac France, le Village Emmaus Lescar Pau, Nation Océan, Surfrider Foundation and 350.org, along with more than 100 police officers surrounding the area.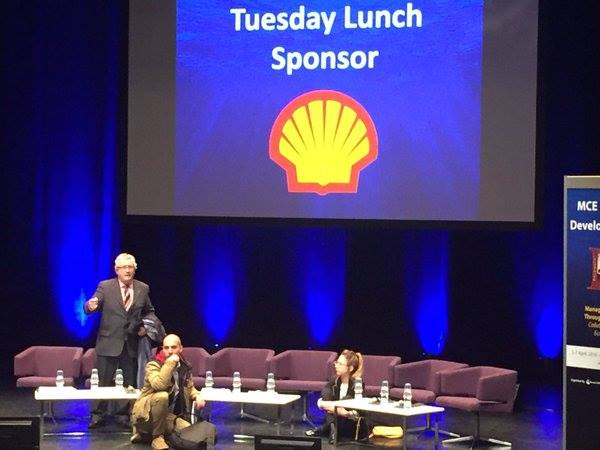 Photo via ANV COP21 / Facebook
In the run up to the conference, the coalition of environmental groups had called for the event to be cancelled due it it contradicting the commitments made at the Paris COP21 climate summit last December.
Three protesters managed to make their way into the venue and on to the main stage, delaying the conference opening as they explained to the room why it went against the world's commitment to tackle climate change.
"After COP21, events such as MCEDD can no longer be tolerated," said Cécile Marchand of d'ANV–COP21. "As the big multinationals continue with their criminal extractive policies, and as the authorities both allow and protect them to do so, citizens have come to show their opposition and enforce the commitments laid out in the Paris Accord."
Photo: 350.org via Flickr