The largest development bank in the world is still pouring millions of dollars into oil, gas, and coal projects every year, despite repeated calls by its president to end global subsidies of dirty energy.
 
The World Bank Group, which provides loans to developing countries, stumped up $313 million just for fossil fuel exploration projects in the 2015 fiscal year alone, according to research by Oil Change International (OCI).
 
The organisation shelled out over $1.7bn in total in investments for exploration, or projects that included an exploration component, between the fiscal years 2011 – 2015.
"Nobody in their right mind should be funding fossil fuel exploration projects," said Alex Doukas, senior campaigner at OCI. "It's time for the World Bank to stop."
 
Major threat
 
The finances fly in the face of repeated calls by the World Bank head to end fossil fuel subsidies.
 
As the World Trade Organisation defines it, a subsidy is a "financial contribution by a government or any public body", including loans and loan guarantees.
 
In fact, on the same day the OCI analysis was published, the World Bank's president, Jim Kim, warned that climate change rivals migration and pandemics as the major threat to global economy.
 
He urged that current plans to build hundreds of carbon-intensive energy plants must be stopped urgently.
 
"We are working with countries to make renewables cheaper than coal and push forward efforts to mitigate the effects of climate change," Kim told a press conference on 14 April.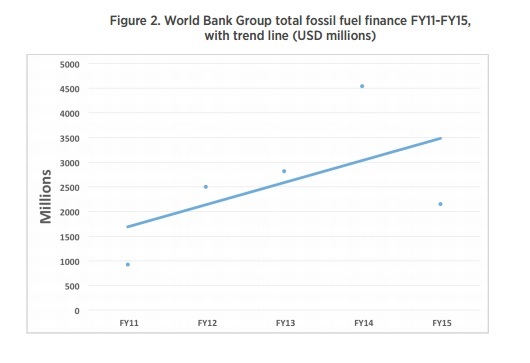 Yet over the last five years, the World Bank Group's total fossil fuel finance has trended upwards, pushing billions of dollars nearly every year, the OCI research found.
 
Doukas pointed out that governments around the world agreed under the Paris climate agreement – also known as COP21 – that shifting finance away from dirty fossil fuels and toward renewable energy is an urgent priority.
 
"Yet public finance institutions like the World Bank are using our tax money to bankroll dirty energy investments," he added.
 
Of the 180+ countries that submitted national pledges for climate action before and during COP21, more than 130 work with the World Bank Group.
 
Doukas said: "The Asian Development Bank has had a ban on financing fossil fuel exploration projects for years. There's no reason the World Bank couldn't adopt a similar policy as a first step toward phasing out all finance for polluting fossil fuel projects."
In 2013, the World Bank urged the "$1,000,000,000,000 in harmful subsidies" to be cut to prevent the fatal effects of global warming in this YouTube video.
Photo: World Bank Photo Collection via Flickr