The cloak of denial, an anti-science shield, the Koch Brothers' chest full of money, and James Inhofe's weapon of choice, a spiked snowball.
These are some of the accessories that come with the newly announced Climate Inaction Figures: Toy-sized likenesses of prominent political figures who claim, despite overwhelming evidence to the contrary, that there is no reason to act on climate change. 
The figures and the campaign are the work of the team behind the Emmy-Award winning documentary series, Years of Living Dangerously.
Besides offering a much-needed laugh during these days of convention craziness, the project hopes to inspire people to learn more about — and take action — on carbon pricing policy work.
The campaign directs people to theclimatesolution.com, a website that explores the benefits and practicality of putting a price on carbon.
Because if you're not part of the solution, well… then the Climate Inaction Figures win. 
UPDATE: Here is the new TV commercial featuring the Climate Inaction Figures. Share it on Facebook with this link.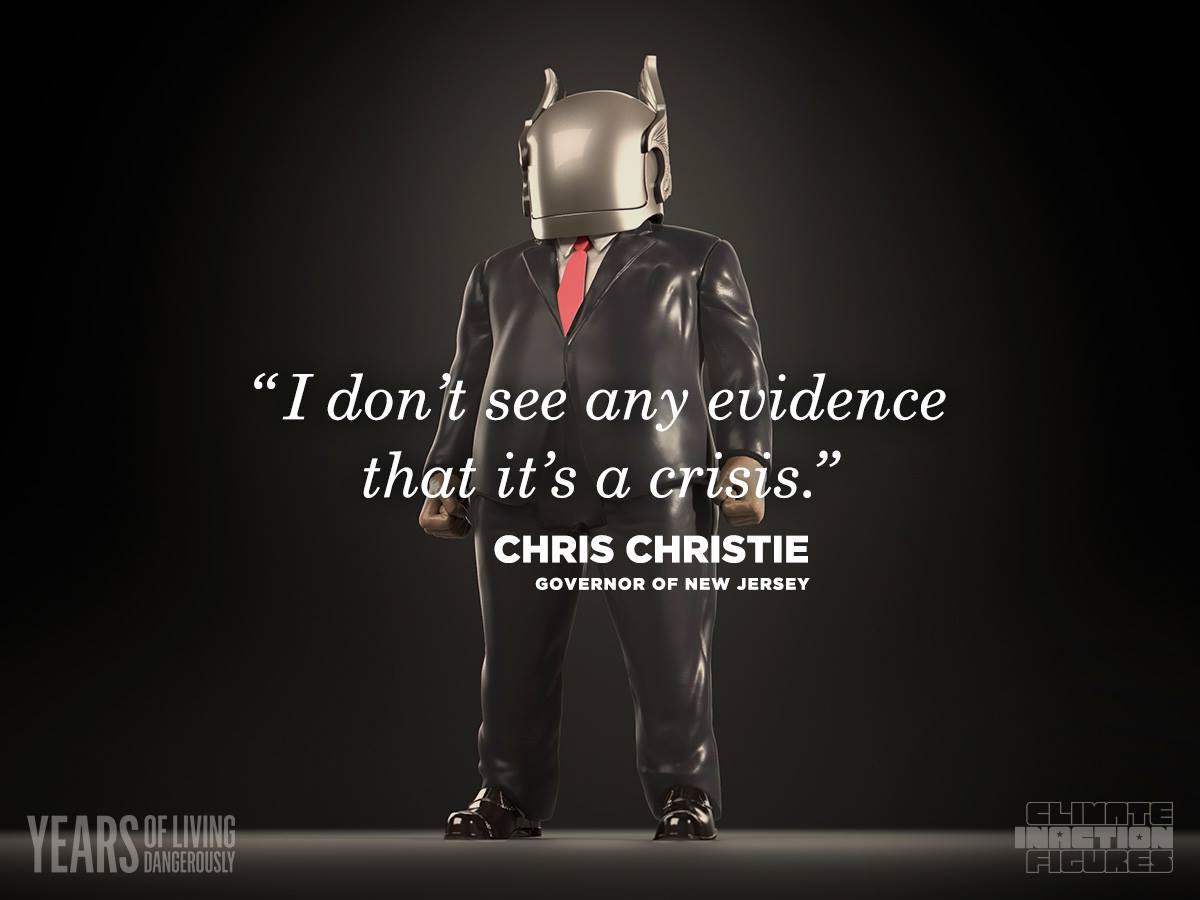 As Years of Living Dangerously producer James Cameron says, "Unless we put a price on carbon we are subsidizing those who pollute."
Inspired by classic action figure collections, each figure comes with its own special fact-defying accessory. 
James Inhofe, Chairman of the Senate Environment and Public Works Committee (accessory: Spiked Snowball)
Mitch McConnell, Senate Majority Leader (accessory: Coal Gauntlet)
John Boehner, Former Speaker of the House of Representatives (accessory: Cloak of Denial)
Chris Christie, Governor of New Jersey (accessory: Selective Vision Helmet)
Ted Cruz, Texas Senator (accessory: Anti-Science Shield)
Sarah Palin, Former Governor of Alaska (accessory: Drill Sword)
The Koch Brothers, Industrialists (accessory: Chest Full of Money)
Donald Trump, Presumptive Republican Candidate for President (accessory: Twitter)
One notable difference from regular action figures: the arms and legs and heads don't move on these figures. Why? Because they don't do anything to stop climate change!
Each of these figures was selected for their outspoken denunciation of climate science, their distortion of the facts, and their continued attempts to obstruct meaningful action. 
The website will go live on Wednesday. In the meantime, you can get some sneak peeks by following the campaign on social media:
FACEBOOK: https://www.facebook.com/climateinaction/
INSTAGRAM: https://www.instagram.com/climateinaction/
TWITTER: https://twitter.com/ClimateInaction
TUMBLR: http://climateinaction.tumblr.com/
PINTEREST: https://www.pinterest.com/climateinac0650/climate-inaction-figures/
They distort facts, twist logic & reject science → Climate Inaction Figures
Here are a couple of the figures in their complete glory: