In the span of just six minutes the government's independent climate change advisor Lord Deben swiftly and eloquently burst the Global Warming Policy Foundation's climate science denial bubble.
Speaking in the House of Lords on the UK's fifth carbon budget last night, Deben dealt a decisive debunking of Lord Lawson and Matt Ridley's claims that the country's Climate Change Act – and the carbon budgets set under it – is a case of "economic" and "manifest self-harm".
The GWPF has been doubling-down in its effort to call for the scrapping of the 2008 Climate Change Act ever since the Brexit vote to leave the European Union last month. But it doesn't seem to be going very well.
First, they failed in their attempt to criticise the Paris Agreement when they couldn't figure out how to open the correct PDF, and now this scathing shut-down from Lord Deben.
"I would remind your Lordships that the Climate Change Committee has the statutory requirement to provide the most cost-effective way of reaching the statutory commitment of cutting our emissions by 80 percent by the year 2050," Lord Deben began.
"I will also remind your Lordships that that is actually not as ambitious an end as the climate change agreement in Paris demands.
"So, far from being ahead of other people, we actually have a sensible programme to reach somewhat less than what is going to have to be reached under the climate agreement.
"I do think that my noble friend Lord Lawson and my noble friend Viscount Ridley do their selves a disservice when they suggest that because Britain has so small amount of emissions, we really don't count. And yet, in their arguments for Brexit their whole point was that Britain did count on its own.
"And I'm merely suggesting that if we say 'well, other people can get on with it but we are not' then we are letting down future generations in a way which I really do hope my noble friends will sometimes concern, because what they are seeking to do is to stop this generation protecting the next generation.
"Which is why the Climate Change Act has been supported by all parties, and why it remains supported by all parties. And why it's so much more important to have a system as we do have of budgets so that everyone understands where we are going, and the speed with which we hope to go there.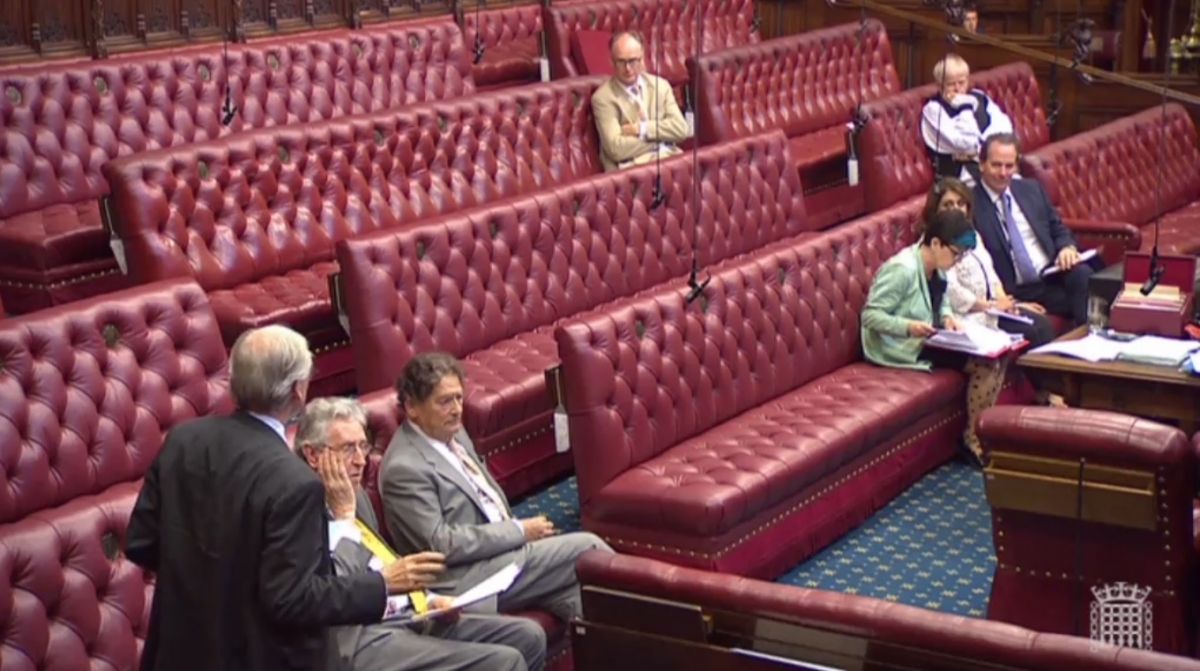 In the sparsely attended House of Lords debate on the fifth carbon budget, Lawson and Ridley were left arms folded, shaking their heads as Lord Deben spoke
"Now I have no idea whether the new arrangements are going to be better than the last as far as ministers are concerned, but I warn my noble friend Lord Lawson that I think he's underestimated both the commitment of Greg Clark as the Secretary of State, I don't think he has read what Greg Clark has said about his commitment to climate change, nor the commitment to oppose climate change which is very clearly on the record from our new Prime Minister.
"As the independent chairman of the Climate Change Committee I shall be keeping both of them down to their words, but I merely remark that there is no way of dealing with these situations unless business is part of it. So I'm not instinctively opposed [to recent changes], particularly as infrastructure too has got to deal with these issues, and I'm pleased to see that the chairman of the Infrastructure Commission has made it clear that he will be seeking to deal with infrastructure within the context of the carbon budget.
"I would remind the House that we have reduced our emissions very significantly, largely in the power sector. These are not exported jobs going somewhere else. We've done it.
"And I do wish sometimes that my noble friends would appear at the presentations from the Climate Change Committee because they'd find that many of the things that they've said are just not true.
"We have shown that there is no offshoring. We have shown that the poor are much more damaged by climate change than any other section of the community. And when my noble friend Lord Lawson refers to the poor, I would remind him, I've looked very carefully at his budgets, the poor did not feature large in those budgets.
"But those who do care about the poor, the people who talk about the poor because they work for the poor, all those international organisations from Save the Children right the way through to CAFOD and Oxfam, are quite clear that climate change is the biggest danger to poor people that exists and therefore we have to deal with it in a cost-effective way.
"Now there is of course a bit of an argument about whether we should have this little bit of flexibility, but it's flexibility based upon the principle that some of the forecasts may not be as accurate because it's a long way ahead and in those terms the Climate Change Committee has accepted that that should be so.
"So I just want to finish by saying this, Brexit is important but it is not central. This is our Act, our Climate Change Act.
"The Act which leads the world, the Act which makes Britain the sort of leader that my noble friends thought we ought to be when they talked in the Brexit debates.
"I think Brexit is a terrible mistake but what I do know is that the Climate Change Act puts us in a position for us genuinely to make a proper contribution to the next generation and it is there that the jobs will be.
"So I end with a very simple thing. It's this: economic self-harm would be to not have the Climate Change Act.
"That's what you do if you don't want the new jobs. If you don't want the green jobs. If you don't want to sell abroad because you've got green products. If you don't want to be the kind of country which leads the world. That's what you do.
"Self-harm is to deny the Climate Change Act, and I'm proud that the all-party support has enabled the government to implement today the fifth carbon budget as proposed by the Climate Change Committee."