The government has faced a barrage of criticism in the wake of its decision to overturn Lancashire County Council's refusal of Cuadrilla's fracking proposals.
Communities Secretary Sajid Javid ruled last Thursday in favour of the appeal by shale gas company Cuadrilla. This will allow fracking to now go ahead at the Preston New Road site. No final decision has been made on Cuadrilla's second site at Roseacre wood.
And what's raised particular concern is the fact that in his decision Javid pushes the issue of climate change into the long grass, arguing the job of determining whether fracking is compatible with our climate targets is "a matter for future national policy".
Many argue this ignores recent warnings from the government's own climate change advisors and goes against the landmark Paris climate deal which is set to come into effect next month.
Tougher Regulation
In July, a report by the independent Committee on Climate Change was released which said fracking will stop the UK from meeting its climate change targets under the Paris Agreement unless tougher regulation is introduced.
This included regulations to limit emissions from the fracking process and from overall gas use (such as implementing carbon capture and storage technology, the funding for which was cut last year).
Large scale shale gas production would also be incompatible with the UK's own carbon budgets, the report found. The implications of UK shale gas exploitation for greenhouse gas emissions are subject to "considerable uncertainty" the government's advisors warned.
But as Javid's Lancashire ruling reads: "the issues raised as to how shale gas relates to the obligations such as those set out in the Paris Agreement and the Intergovernmental Panel on Climate Change carbon budgets are a matter for future national policy and not for these appeals."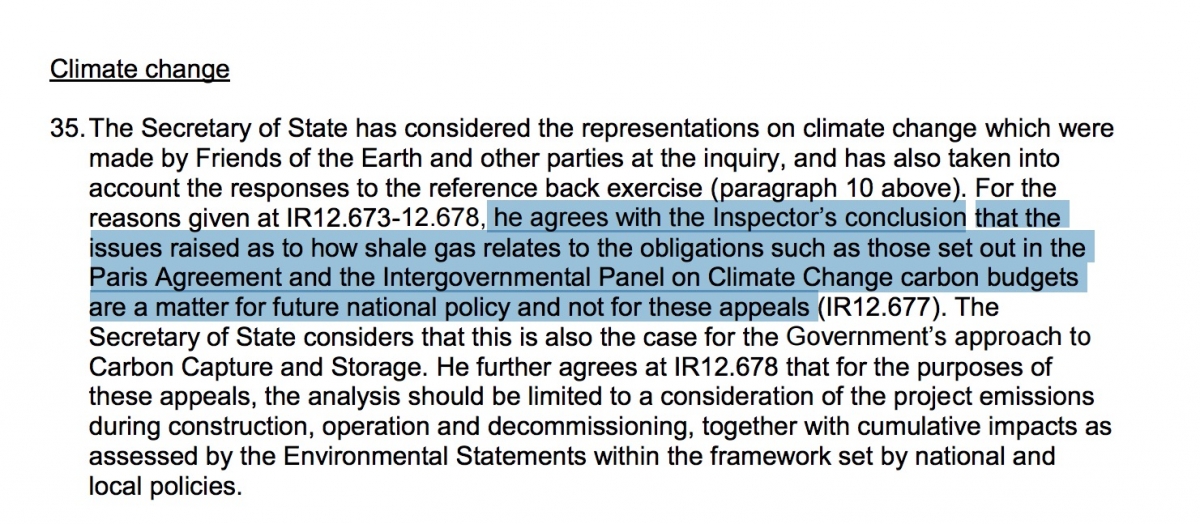 The government's decision instead argues that "shale gas has an important role to play in the transition of the UK to a low carbon economy" and concludes that "the projects represent a positive contribution towards the reduction of carbon".
Javid's planning report says he believes fracking "could help to achieve lower carbon emissions and help meet [the UK's] climate change target".
The report argues that "the need for shale gas exploration is set out in very strong terms in national policy, and the potential benefits that shale gas can bring in terms of national economic, energy and climate change and should be given very great weight."
It concludes: "The emissions likely to arise [from the Lancashire fracking wells] would be entirely reasonable and fully justified".

Unanswered Questions
As Professor Jim Watson, director of the UK Energy Research Centre, told the Independent in analysing the ruling, there is a big difference between if fracking "could" be versus it "would" be beneficial to meeting climate targets.
"If gas replaces a more high carbon source of energy, there will be a net reduction in emissions. But most of the coal-to-gas switching has already been done in the UK," Watson said.
"In principle, shale gas could have lower emissions on a life-cycle basis than other sources of gas … if it is tightly regulated – but that is not the same as gas in general being a good route for reducing emissions."
There are many unanswered questions as to how or if the government will bring in stricter regulation to address the climate implications of fracking, such as investing in carbon capture and storage (which the Task Force on Shale Gas has argued is essential for 'climate friendly' fracking).
But as Kevin Anderson, professor of energy and climate change at the University of Manchester, has previously argued: "There is no emissions space for shale gas in the UK's national carbon budgets and emission pathways – and consequently, the only appropriate place for shale gas remains in the ground."
He notes that "by the time significant shale gas reserves are developed (assuming they exist) there is a real risk that the accompanying infrastructure could rapidly become a stranded asset – even under the UK's weak (i.e. not 2°C) domestic carbon budgets."
Climate Considerations
The Lancashire ruling isn't the only decision to recently raise these larger questions of the compatibility of such planning applications with the UK's climate commitments.
The decision by North Yorkshire County Council to approve plans by Third Energy to frack at Kirby Misperton will be challenged in court by Friends of the Earth and local anti-fracking group Frack Free Ryedale which applied for a judicial review in July.
They argue the council's decision was unlawful in part because it failed to properly assess climate change by not considering the environmental impact of burning the fracked gas.
This was followed by an unprecedented decision by government last month to 'call in' plans for an opencast coal mine near Druridge Bay on climate change grounds.
Photo: Pixabay via Creative Commons CC0 Public Domain