There are no good guys or bad guys in the documentary Konelīne and that extraordinary lack of judgement is what rivets attention as the film examines the changing landscape and lifestyles of northwestern British Columbia.
As massive machinery moves into the wild landscape, first to build the Northwest Transmission Line and then to work on the Brucejack gold mine and the Red Chris copper mine, lives are disrupted or changed and, whether it is a lineman, miner, guide outfitter, First Nations elder or Tahltan language student, director Nettie Wild captures the love that all the characters have for the wilderness.
What some call progress, others see as the end of a way of life. Some hunt on the land, some mine it and they all love it.
Perhaps the heart of the film is expressed by a young Tahltan man, working for the mining company, who explains, with a slightly wry smile, that he is putting food on the table by mining what his grandparents are fighting to protect.
Konelīne (pronounced Koe-ne-lee-neh) is the Tahltan word for "our land beautiful" and that is what the film depicts, with stunning footage of a guide outfitter swimming her horses across the swollen Stikine River, a "pillow of blood" draining from a newly killed moose and startling scenes of one of the biggest helicopters in the world lowering a 16,000-pound transmission tower while linemen on the ground struggle to stand in the whirlwind created by the rotors as they wrestle the base into place.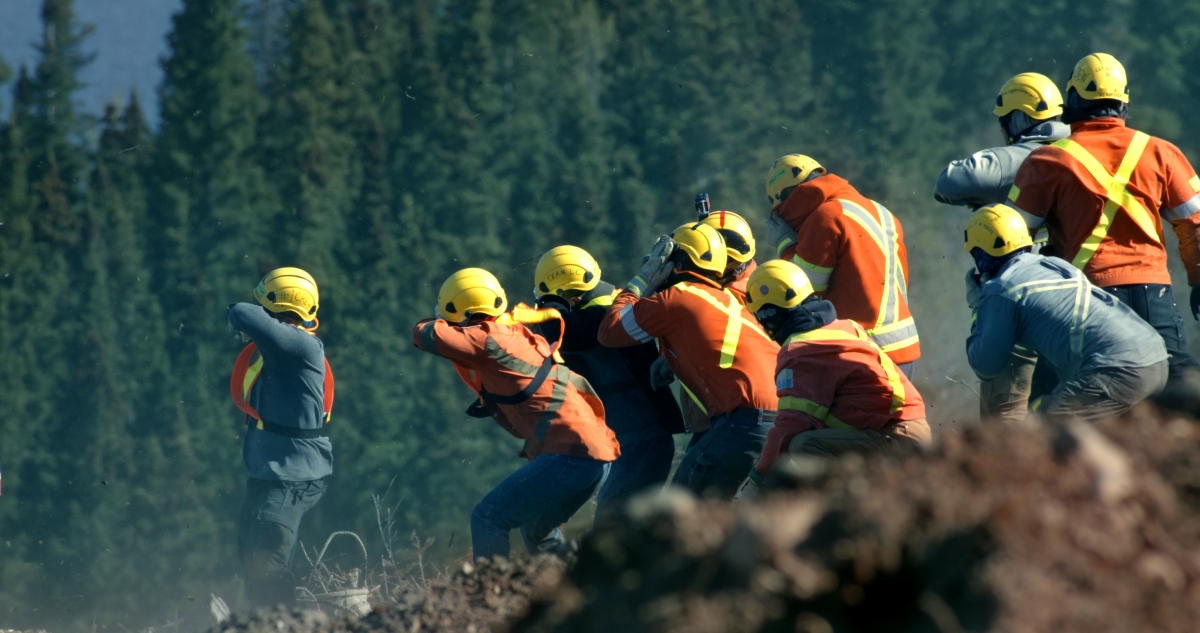 Caught in a chopper down wash, linemen build the Northwest Transmission Line in a scene from Konelīne.
The helicopter scene incorporates the essential elements of the film, Wild said.
"It had the elegance of engineering, it had the beauty of the landscape, the brawn and dexterity of the linemen and the environmental devastation of the clearcuts. It was all there," she said.
"It's complex and full of contradictions and has a beauty to it even if people can't stand the Northwest Transmission Line and everything it represents."

The film does not lecture and does not tell the audience what to think, Wild emphasized.
"Instead, we have sought to find poetry in every person in front of our lens."
That meant being able to look at the humanity and complexity of people working in the mining industry, at a time when it is often vilified, she said.
"I have been able to look in that world where the word environmentalist is often seen as a swear word," Wild said.
KONELINE TRAILER 2.0 from Canada Wild Productions on Vimeo.
In other twists, a big game hunter comes across as one of the biggest environmentalists in the movie and non-native hunters shoot with a bow and arrow, while First Nations hunters kill a moose with a high-powered rifle.
The documentary, which won the Best Canadian Feature award at the Hot Docs Film Festival in Toronto, has three showings left in Vancouver at the Vancity Theatre, will show in Victoria at the Cinecenta Theatre on Dec. 2 to 5 and will be in Calgary in early December, Courtenay in February and Maple Ridge in April.
In a question and answer session with DeSmog Canada, Wild, whose previous films took a more traditional, conflict-driven approach, explained how she came to make Konelīne and why she believes it is important to "cut through the din of rhetoric" and find common ground.
Q. Tell me a little about your background.
A. I am known for making political feature documentaries. I call them high-stakes, real-life dramas, so my work has taken me all around the world filming revolutions really. Revolutions of thought or armed revolutions… . I made a little deal with myself when I started in this game — which is a hard one — I made myself two promises. First, that with each project I would try and change the form of my art as far as possible and secondly I would work with different people who would help twist my head a bit and I have done that.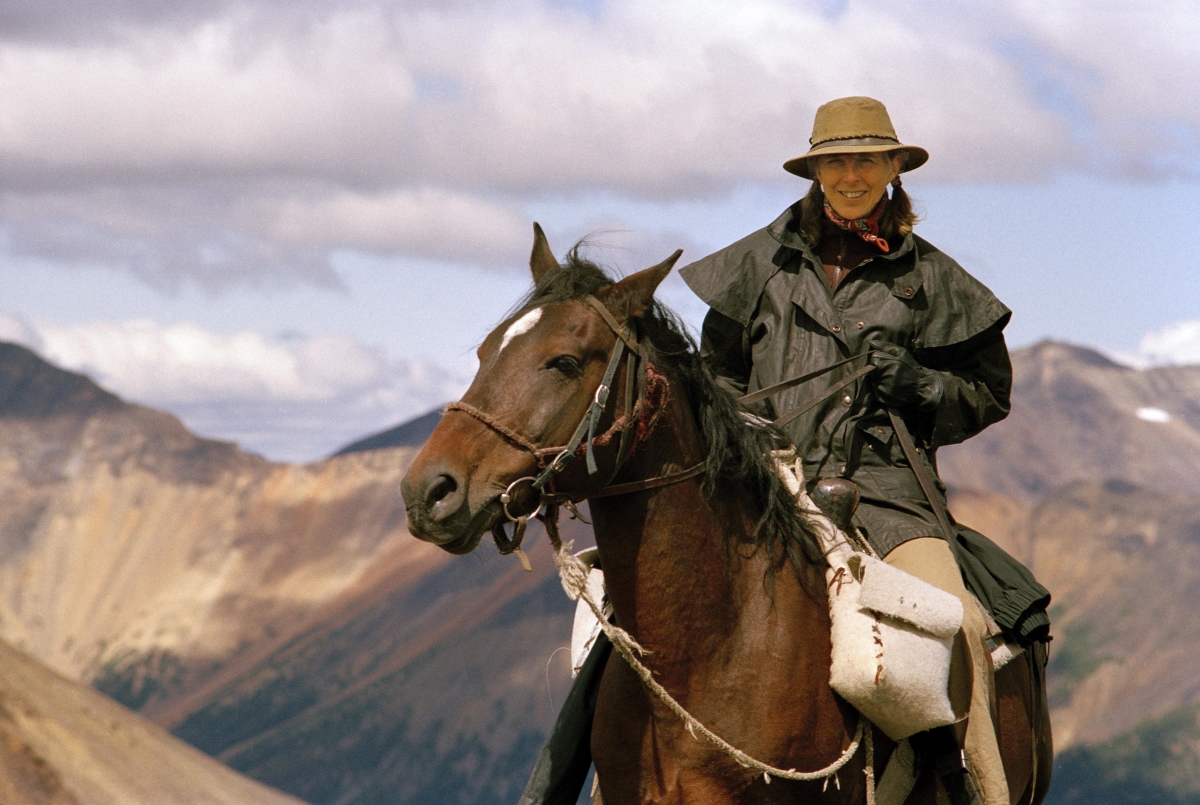 Nettie Wild, riding in the mountains of B.C., is the director of Konelīne: Our Land Beautiful.
Q. Why did you decide to make this film?
A.  Two reasons. I have had the very real privilege of exploring northwestern B.C. on foot and by horseback over the last 20 years and I love it and I am aware it is on the cusp of huge change. The time was ripe for a snapshot in time of this magnificent landscape and the very real forces of change that were rolling out across it. I knew there was a clock ticking.
The other reason is I felt really strongly that there is a roar of rhetoric around the development issue. People are screaming at each other and I'm not sure that too many people are actually listening and I think that is dangerous because, as a larger community, we are all involved in a mutual project which is trying to dialogue with each other and trying to build a more sustainable planet and, if we are screaming at each other, it is dangerous. So I thought what is it that I can bring, at this time, to this landscape that I love so much? I am not Tahltan and I am not from the industry. I am from away. What can I bring? Then I thought — art. I can bring the best film crew I can find and our mutual objective was to find the poetry in every person in front of our lens. Park our judgement and look for that poetry and complexity in everyone.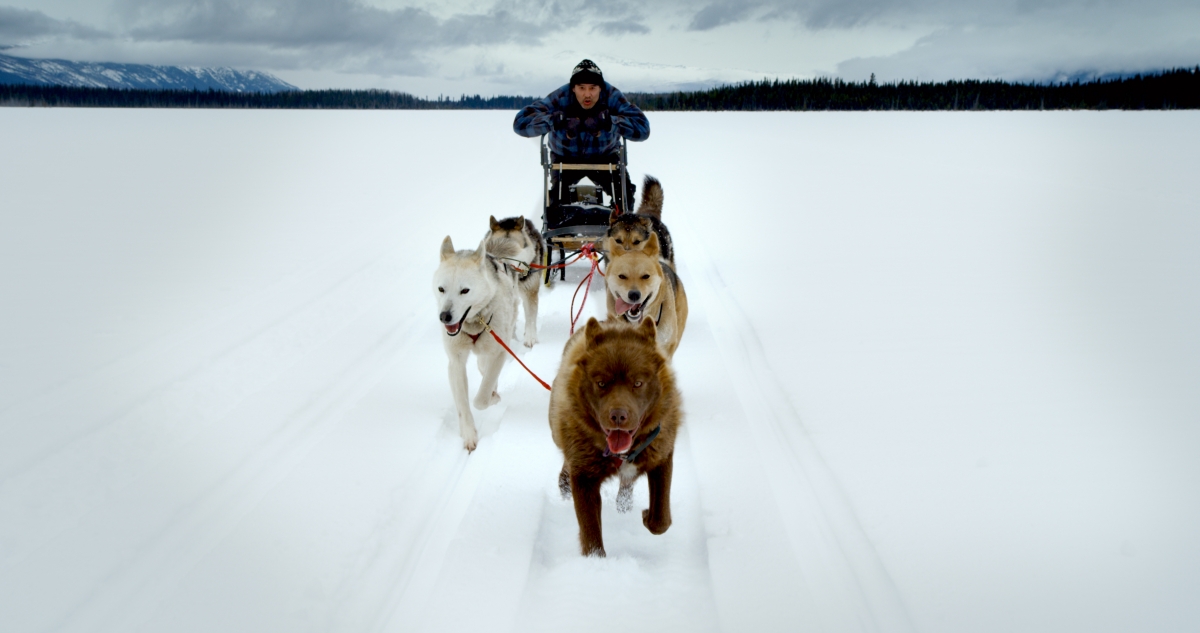 Oscar Dennis runs his dogs across Tahltan territory.
Q. How did you manage not to be judgemental?
A. It wasn't so much a matter of trying to find middle ground, it was more that, when things came up, and it was something you might be judgemental about — park it. A lot of times we had absolutely no idea where the scenes were going. They completely surprised us. It was more keep the door open, keep curious and park the judgemental heart… . . It was more being aware of my own assumptions and just putting them aside and then finding that, when you do that, people open up. They will make themselves vulnerable if they have that sense, but it's like if someone senses something is sexist or racist they close down. If they think deep down that you think they shouldn't be doing that job, they just clam up, but the opposite happens when you say "really, what are you doing there? Is that frightening or is it dangerous?" It's that curiosity that people respond to and then you will find that people often offer up the vulnerabilities that they face.
Every single person that I talked to when I began the research, I asked "why is it you are doing what you are doing?" and every single person without exception said "I am here because of a love of the bush." So I thought that is where the film is going to start.
Q. What reaction do you get from audiences?
A. That's why the film is controversial in a weird sort of way. Most people come up to me afterwards and say thanks for not telling us what they think. Other people are really upset that I didn't give the gears to the mining industry. It's very intriguing and I am saying bring it on, let's talk about it. If we are addressing the mining industry or any resource-extraction industry with a voice full of vitriol there is no room for another sort of conversation that maybe will lead to light rather than dark. I am not saying people don't have well-earned anger, but in these 96 minutes maybe we can go to another place.
Q. What was the hardest scene to shoot, either for you personally or because of technical problems?
A. Physically, filming the horse going across the river and then going across the glacier was really tough … . . It's hell to film from horseback so we had to ditch our horses and run ahead … . .One moment I became aware of that kind of movement that you know is full of danger — you catch it out of the corner of your eye — and I looked over at (the cameraman) holding the huge camera and he's cradling it in his arms sitting down, except he's sliding down and picking up speed. His feet were wind-milling trying to get purchase. .  . .  Finally he gets purchase on a rock.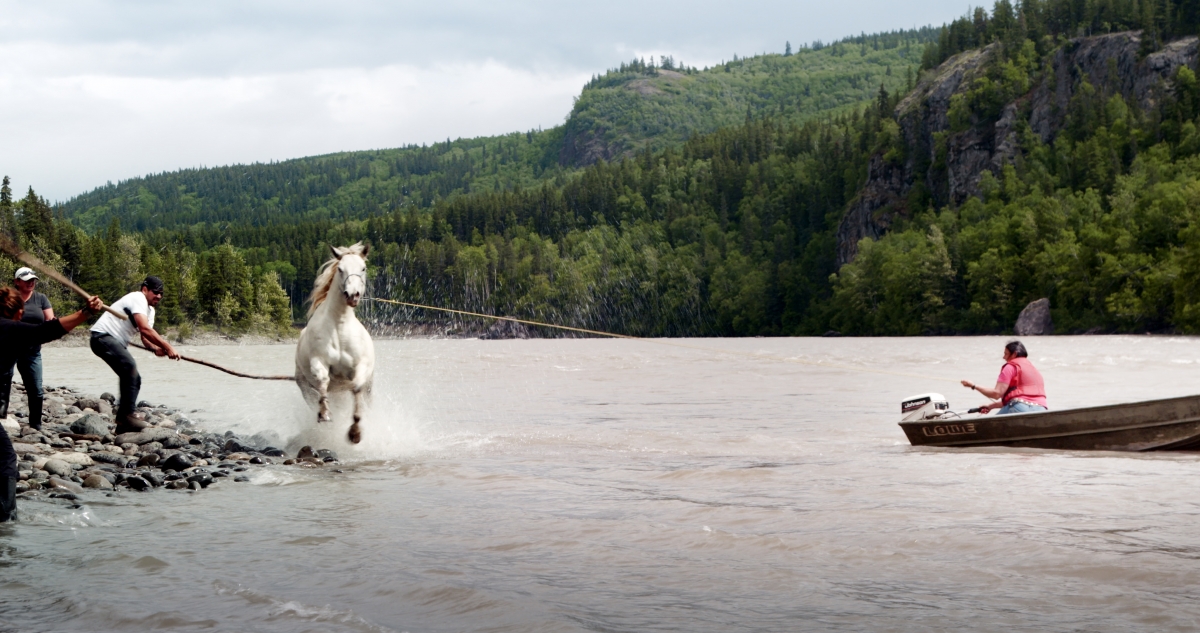 Guide outfitter Heidi Gutfrucht (in boat) swimming her horses across the Stikine River.
For me, personally, I found myself at one point when I couldn't get anywhere near Imperial Metals and the Red Chris Mine and then, on the First Nations side, the woman who was leading the blockade told me one night that I had to contribute my truck to the blockade or lose access. I tried to convince her that my camera was more useful to her than my truck, but she wouldn't have it, so, at that point I was excluded from everything and it was really a lonely place… … My editor and cinematographer took me aside and said "you said you wanted to make a different film than you have ever made before — walk away from the blockade. Leave it. We have seen them before and it's old time conflict and we are talking about digging deeper in more surprising areas and this is forcing you to do that." So that's what we did and focused on the transmission line more than the mine and look what we got… . It's funny how life does that. On the one hand it feels like it's defeating you and, on the other hand, when you make art like this, you just have to immerse yourself even deeper. When you know you are in trouble, it usually means you are on to something.
Q. What did you learn from this film?
A. I think what this film has really, really taught me is that there is a real role for art in the heart of controversy. When we go in and say we are trying to find the poetry, a lot of time we are trying to shoot in the abstract rather than the concrete. That doesn't mean we are trying to be arty for the sake of being ambiguous, but we are trying to find things that maybe seem familiar in an unfamiliar way and that allows us to chisel away at stereotypes… . . It's almost like the story comes in through your skin, rather than someone wagging their finger at you. As an artist, that has been extraordinary and I have turned a huge corner in terms of the way we have shot this and cut it. We shot it in the abstract and cut it like a piece of music… . You still have to deliver a story, but you do it in a different way.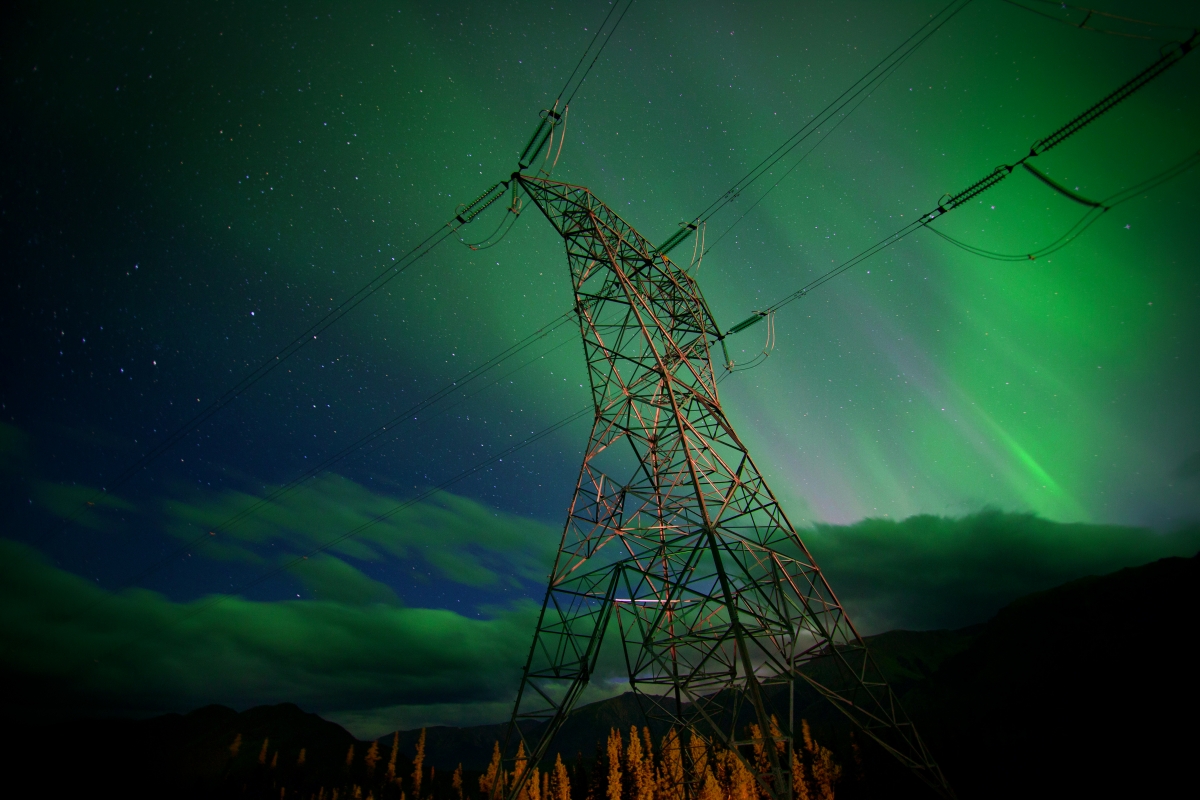 The northern lights on the Northwest Transmission Line.
Q. How long did it take to make this movie?
A. Four years. That's starting from research and getting money together and shooting for a year — although we weren't shooting every single day. Then we were 65 weeks in the edit room. It was the hardest edit ever. Because we were making that piece of music instead of a character-driven story that I was so used to doing and have done all my life. I am very proud of the films I have made in the past — don't get me wrong — but this one is different… . .The main character is the land and in saying that, you are putting together a very different story structure than following one person through a challenge that he or she has to face.
– Find additional screening information on the Koneline website
This interview has been condensed.
Main Image: Diamond driller and sunrise over Northwest B.C.