A new report from a group chaired by Tory MP Grant Shapps today claimed that the lights could go out next Christmas due to the UK's commitment to phasing out coal. The analysis has received widespread media coverage, but has been quickly discredited.
The claims are found in a report from the British Infrastructure Group.
It says that the UK's capacity margin – the amount of spare power it always has on hand in case there is a spike in demand or drop in supply – could be down to as little as one percent, due to "interventionist policies".
Shapps was this morning quoted as saying, "it is clear that a perfect coincidence of numerous policies designed to reduce Britain's carbon dioxide emissions has had the unintended effect of hollowing out the reliability of the electricity generating sector".
This is simply not true, according to Sussex University Professor Jim Watson, who is director of the UK Energy Research Centre (UKERC).
Watson took to twitter to express his frustration with the report's claims:


Watson told DeSmog UK:
"The British Infrastructure Group claim that capacity margins are only 1% this winter is misleading. If the additional security measures put in place by National Grid are taken into account, the actual margin is expected to be 6.6% this winter, which is slightly higher than last winter.
"Whilst there are always risks to electricity security, the measures that have been put in place by National Grid are designed to minimise these. The report also focuses on electricity generation, a part of the electricity system that does not cause the majority of electricity supply interruptions. Most interruptions are local and are due to faults on electricity distribution networks – and not a lack of generation."
Climate Denier Network
Further doubt is cast on the report's reliability when you look at the author list.
The report's lead researcher is Tim Philpott, who is currently an aide to Grant Shapps.
Philpott used to work for Business for Britain, an organisation that claims it "formed the basis for Vote Leave".
Business for Britain was at the heart of a cosy Euro-sceptic climate denier network that pushed for Brexit and getting rid of regulations that would clean up the UK's energy system based out of Westminster offices at 55 Tufton Street. 
Philpott also co-authored a UKIP report on the UK's energy system in early 2016 with climate denier MEP Roger Helmer.
Also quoted at the end of the report is coal baron Matt Ridley, who said in support of the report that the UK's policies are "a self-inflicted harm to the British economy from policies that have put decarbonisation at any price ahead of security and affordability of supply".
Ridley was a 'supporting business leader' to Business for Britain. He is also an adviser to the climate denying Global Warming Policy Foundation, founded by Nigel Lawson, and another central pillar of the Tufton Street group.
The British Infrastructure Group report suggests that this climate denying network has found fresh confidence after victory for the Leave campaign in June, regardless of the factual problems with its evidence.
View the full climate denier map on Little Sis: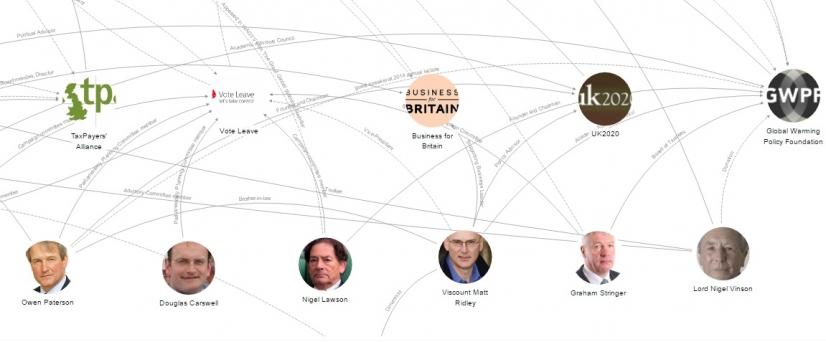 UPDATED 19/12/2016: Further comments from Jim Watson were added. The opening sentences were also adjusted after it emerged that no other MPs gave their support to the report. A detail about Philpott's history with UKIP was also added.
Main image credit: Web Summit via Flickr CC–BY