With U.S. Sen. Jeff Sessions (R-AL) in the midst of Senate confirmation hearings, watchdog group Food and Water Watch has raised new questions about how Sessions and his family profited from a fracking loophole provision he introduced in the Senate.
The group has unveiled new documents showing that Sessions' family owned stock in Energen, a Birmingham, Alabama-based oil and gas company, which pioneered fracking in Alabama and in turn benefited from Sen. Sessions' push to exempt hydraulic fracturing ("fracking") from U.S. Environmental Protection Agency (EPA) enforcement of the Safe Drinking Water Act.
Known better as the "Halliburton Loophole," Sessions co-sponsored — along with climate-denying U.S. Sen. James Inhofe (R-OK) — the first federal bill (S.724) to exempt fracking activities from drinking water regulations, a 1999 bill which later passed as a provision of the Energy Policy Act of 2005. A few years later, Energen's stock raised significantly in value, and Sessions and his wife cashed out in 2008. 
"In 1995, as Sessions ran for a Senate seat, he and his wife held between $1,001-$15,000 in Energen stock," wrote Food and Water Watch in a press release announcing the findings, which came from reviewing congressional disclosure forms. "They reported the same for 1996. In 1997 and 1998, the same range in value was posted as jointly owned. But in 1999 — the year Inhofe and Sessions introduced the bill to exempt Energen's and other fracking operations from regulation under the Safe Drinking Water Act — the senator reported that his wife had separately acquired through inheritance an additional stake in Energen, valued at $15,000-$50,000."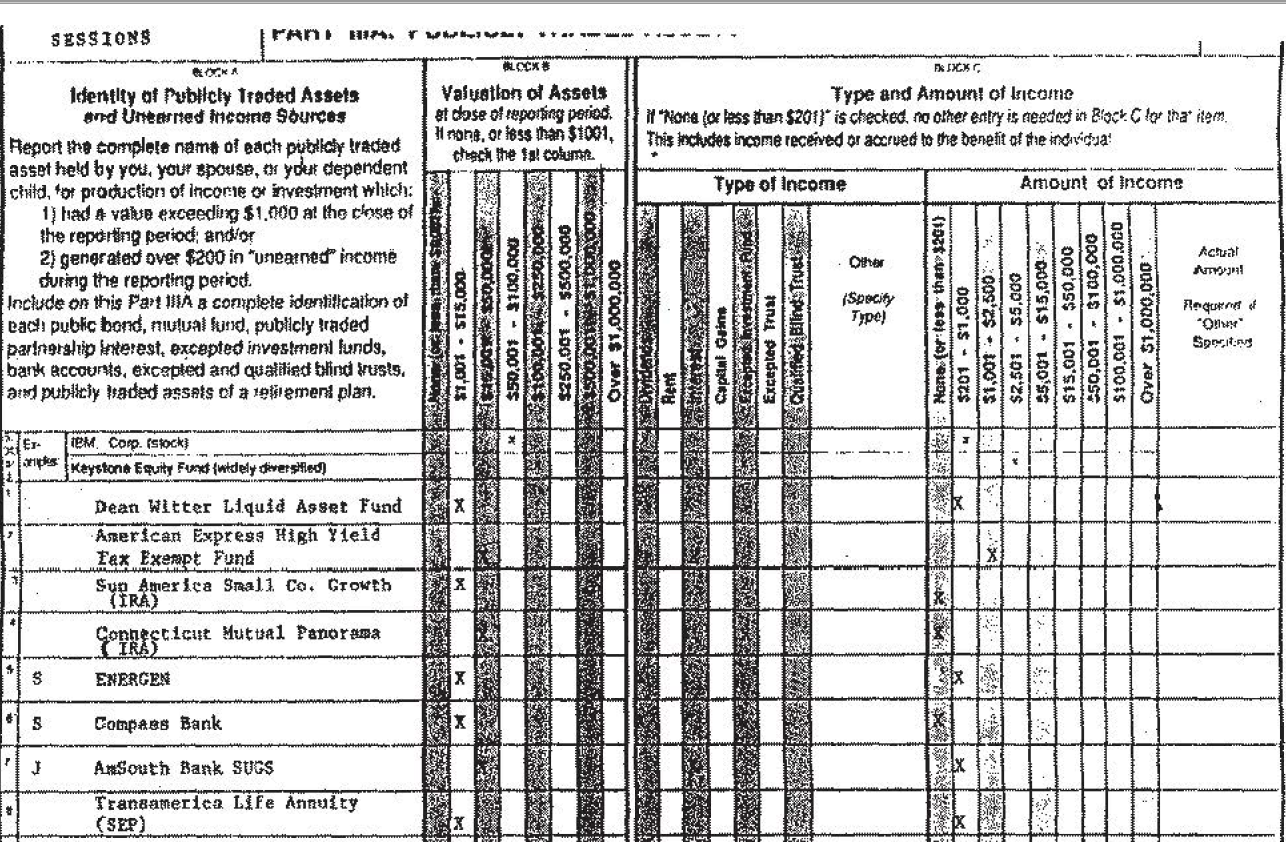 Image credit: Select Committee on Ethics of the U.S. Senate
"They reported the same for 1996, 1997 and 1998," continued Food and Water Watch. "In 2008, Sessions and his wife cashed out the stock. After averaging about $5 a share in 1995, Energen stock hit a year-long high of $78 a share in May of 2008."

Image Credit: Office of Congressional Ethics
Today, 71 percent of Energen's oil and gas sits in Texas' Permian shale basin, including 99 percent of its proven oil reserves. 
Energen's Influence Peddling and Ties to Sessions
According to documents published by the Alabama Oil and Gas Board, Energen officials actively participated in meetings alongside officials affiliated with Halliburton, Philips Petroleum, and others at a March 1999 hearing, which centered around what to do about water regulations as applied to fracking. At the time, as Desmog has reported, the Interstate Oil and Gas Compact Commission (IOGCC) was also pushing hard against applying EPA clean water regulations to fracking.
Twenty days after that Alabama Oil and Gas Board hearing, Sessions introduced S.724 on March 25, 1999. Former Sessions staffer David Stewart now serves as a lobbyist for Energen, working for the firm Bradley Arant Boult Cummings LLP.
This firm, then named Bradley, Arant, Rose & White, had lobbyists and attorneys who attended the March 1999 hearing on behalf of their clients. Sessions received $7,500 in campaign contributions from Energen during his successful 2014 U.S. Senate re-election campaign, $5,000 during the 2008 re-election cycle, and $10,000 during the 2002 re-election cycle.
"Senator Sessions' attempt to deregulate fracking at a time his wife was acquiring a large stake in an oil and gas company that would directly benefit raises many questions," Wenonah Hauter, Executive Director of Food and Water Watch, said in a press release. "It adds to the many other ethics questions that are swirling around his nomination — not to mention his troubling civil rights record." 
It remains to be seen whether Sessions will face questions about his support for the S.724 ("the Halliburton Loophole") or his Energen stock sell-off.
Main image Credit: C-SPAN3 Screenshot