On January 24, President Donald Trump signed two executive orders calling for the approval of the Dakota Access and Keystone XL pipelines, owned by Energy Transfer Partners and TransCanada, respectively. He also signed an order calling for expedited environmental reviews of domestic infrastructure projects, such as pipelines.
Fights against both pipelines have ignited nationwide grassroots movements for over the past five years and will almost assuredly sit at the epicenter of similar backlash moving forward. As DeSmog has reported, Donald Trump's top presidential campaign energy aide Harold Hamm stands to profit if both pipelines go through. 
Hamm, the founder and CEO of Continental Resources who sat in the VIP box at Trump's inauguration and was a major Trump campaign donor, would see his company's oil obtained from hydraulic fracturing ("fracking") in the Bakken Shale flow through both lines. Kelcy Warren, CEO of Energy Transfer Partners, was also a major Trump donor.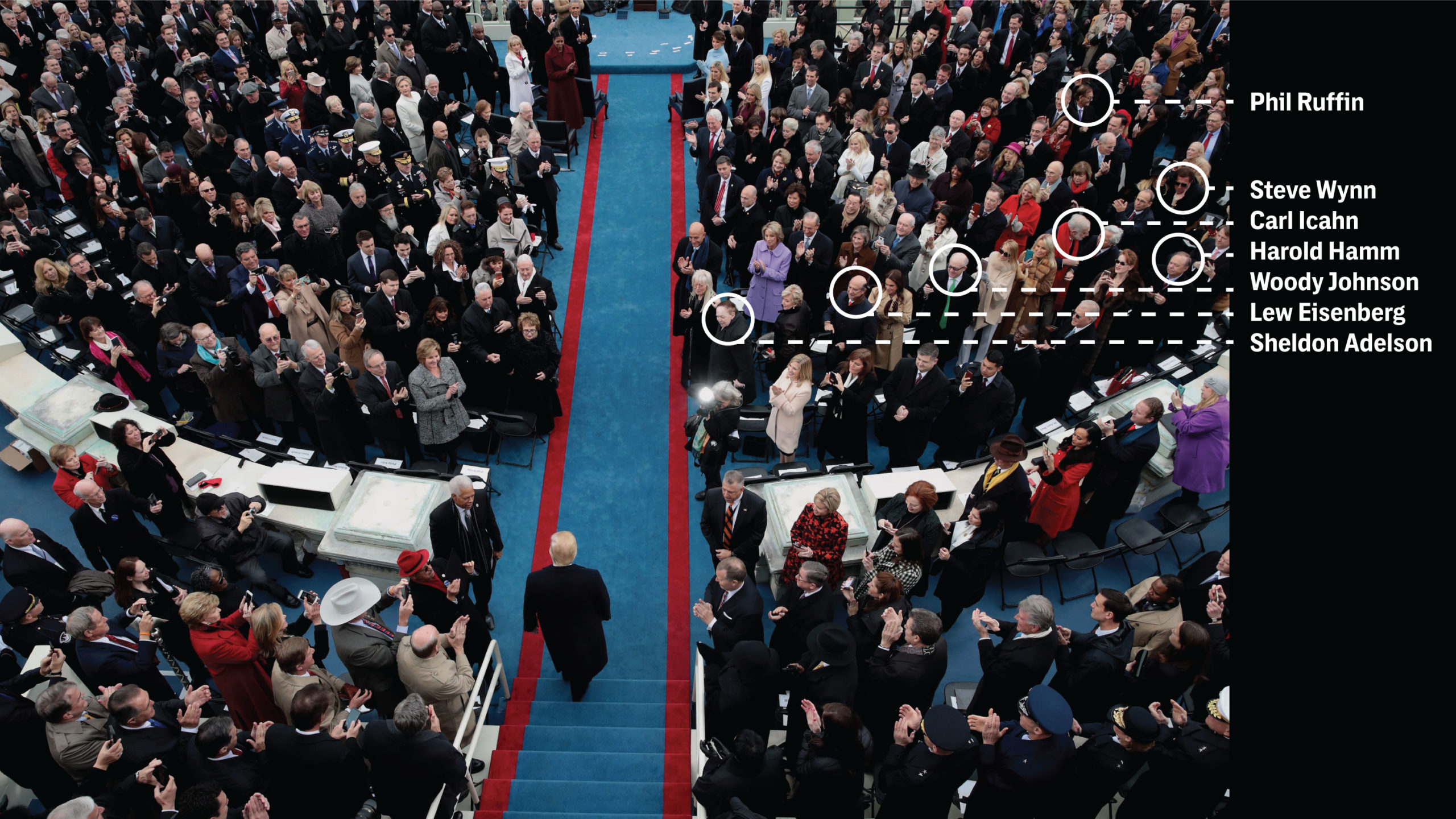 Image Credit: The Intercept
Rick Perry, Trump's nominee for U.S. Secretary of Energy, served on the Board of Directors for Energy Transfer Partners until he received the nomination from Trump.
The signing of the orders comes as the U.S. Army Corps of Engineers is under order to undergo a thorough environmental impact statement process.
Trump claimed constructing Keystone XL would create 28,000 jobs at the executive orders signing ceremony, also saying all of the steel for the pipelines would be manufactured in the U.S.

ABC Breaking News | Latest News Videos
But a September 2011 report published by Cornell Unversity's Global Labor Institute says the project will generate 2,500-4,650 construction jobs, also pointing to research which it said showed "there is strong evidence to suggest that almost half of the primary material input for KXL—steel pipe—will not even be produced in the United States."
"TransCanada's decision to contract steel pipe for KXL from outside of the US is consistent with past practice," the report stated. "TransCanada imported almost all of the steel pipe needed for the US portion of Keystone Phase 1 (Hardesty, Alberta to Patoka, Illinois) from Welspun's plants in India."
In November 2015, the Obama State Department denied issuing a permit for Keystone XL, citing lack of job creation which would come from giving the pipeline a permit.
"The pipeline would not make a meaningful long-term contribution to our economy.  So if Congress is serious about wanting to create jobs, this was not the way to do it," Obama said in nixing the pipeline. "If they want to do it, what we should be doing is passing a bipartisan infrastructure plan that, in the short term, could create more than 30 times as many jobs per year as the pipeline would, and in the long run would benefit our economy and our workers for decades to come." 
TransCanada, in the aftermath of the Trump announcement, says it will re-apply Keystone XL through the U.S. Department of State.
JUST IN: TransCanada says it will re-apply for Keystone XL pipeline after Trump's executive order today. pic.twitter.com/exKLvhF2ev

— CNBC (@CNBC) January 24, 2017
Trump's U.S. Secretary of State nominee Rex Tillerson, former CEO of ExxonMobil, would presumably have some say over the approval of the U.S.-Canada border-crossing Keystone XL, which must receive a presidential permit by the U.S. Department of State. Exxon, as reported by DeSmog, extracts tar sands in Alberta which would flow through Keystone and also has refining capacity in Texas.
Expedited permitting of pipeline projects has long been on the oil and gas industry wish list, having recently generated comments submitted to the U.S. Army Corps of Engineers — tasked with key permitting tasks for domestic pipeline projects — calling for a more rapid approval process.
Environmental leaders say they intend to fight back.
"Keystone, the Dakota Access Pipeline, and fossil fuel infrastructure projects like them will only make billionaires richer and make the rest of us suffer," said Annie Leonard, Executive Director of Greenpeace USA. "We will resist this with all of our power and we will continue to build the future the world wants to see."
Erich Pica, Executive Director of Friends of the Earth-U.S., echoed Leonard.
"Trump has emphatically pledged his allegiance to the oil companies and Wall Street banks that stand to profit from the destruction of public health and the environment," said Pica. "The movement to defend Indigenous rights and keep fossil fuels in the ground is stronger than oil companies' bottom line."
The industry, by juxtaposition, finds itself in a state of elation.
"We applaud and appreciate President Trump's immediate and decisive action to expedite the final easement for the Dakota Access Pipeline," said Craig Stevens, spokesman for the front group Midwest Alliance on Infrastructure Now, which is run by the Republican Party public relations firm DCI Group. "President Trump's decision shows businesses that the rule of law will be respected and demonstrates an affirmation of regulatory certitude to those looking to invest in America."
The American Petroleum Institute (API) also weighed in.
"We are pleased to see the new direction being taken by this administration to recognize the importance of our nation's energy infrastructure by restoring the rule of law in the permitting process that's critical to pipelines and other infrastructure projects," said Jack Gerard, API's President and CEO, in a press release. "Critical energy infrastructure projects like the Keystone XL and the Dakota Access Pipelines will help deliver energy to American consumers and businesses safely and efficiently.
Main image credit: Rob Wilson, Bold Alliance