Prime Minister Theresa May has the dubious honour of being the first foreign leader to meet the new President of the United States today.
Trump and May are meant to be talking trade. But senior figures have urged the prime minister to take the opportunity to remind the president that climate change is a serious problem while she's there.
Trump's cabinet full of climate science deniers has already set about tearing up the country's climate regulations, talking about abandoning international efforts to cut emissions, and laying plans to interfere with scientific research.
And there are concerns that this anti-climate action agenda could spread to the UK through a network of key individuals in Trump's circle of power linked to UK politicians at the forefront of the Brexit agenda.
MPs from the House of Commons' Environmental Audit Committee today published a letter to the prime minister, calling on May to challenge Trump's climate science denial. It said:
"We on the committee have grave concerns about the new President's views on climate change and his reported plans to abandon the Paris Agreement, undermining global efforts to mitigate climate change."
"You have said you will not be afraid to challenge the new President if he says something unacceptable. As the first head of government to meet the new President, we ask you to use that unique opportunity to impress upon him the importance of this subject to our common future."
The committee's chair, Labour MP Mary Creagh, added:
"The Prime Minister has said she won't be afraid to challenge the new President. So, she should start by telling him climate change is not 'a hoax'. Decades of scientific evidence from the world's leading institutions show that climate change as a result of human activity is a threat to lives and livelihoods in the UK, the United States and around the world."
It's not just politicians that want this message delivered. Last week, 100 scientists from leading British institutions wrote an open letter to the prime minister, calling on her to "use the United Kingdom's special relationship with the United States" to urge Trump to support global climate research. It said:
"For many years, climate change researchers in the United States and United Kingdom have worked extensively with each other and with researchers from across the world. We stand ready to support and assist our counterparts in the United States, as collaborators, co-authors and colleagues, in resisting any political attempts to prevent, hamper or interfere with vital research on climate change."
Such resistance could become increasingly significant as Trump's appointees get comfortable in their new roles. As DeSmog UK previously revealed, many of Trump's key appointments have links with the UK, leading to fears that the newly empowered network will use its influence to challenge climate action across the Atlantic.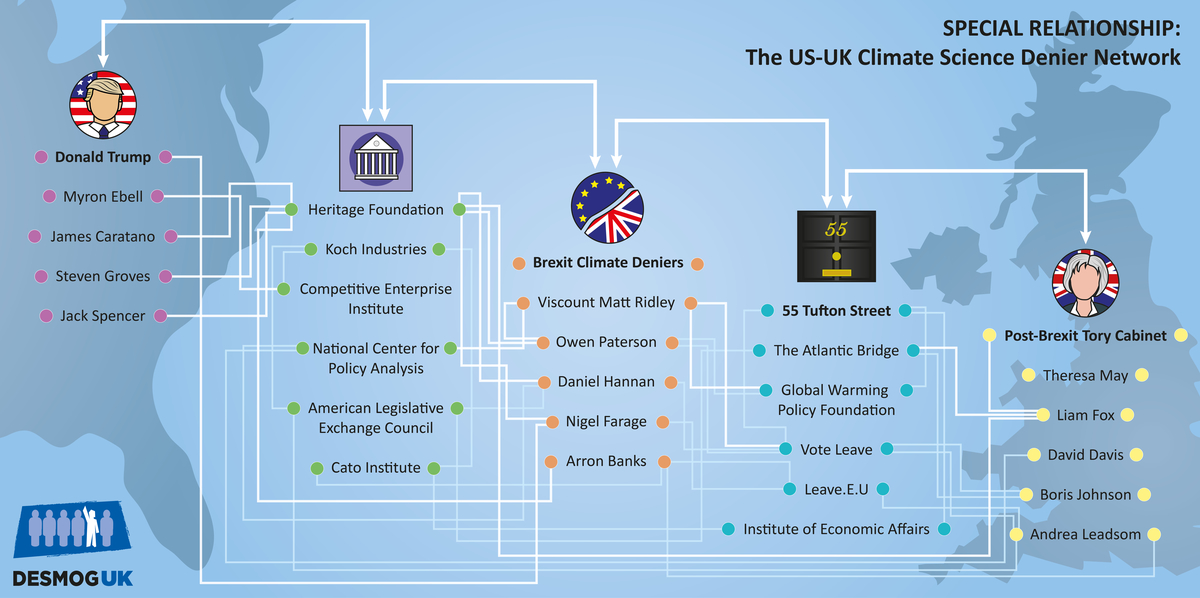 View the full interactive map on LittleSis
Main image credit: Gage Skidmore via Flickr CC BY–SA