As snowcover recedes from the coastal plain of the Arctic National Wildlife Refuge in Alaska each spring, thousands of Porcupine Caribou arrive to graze on new plant growth and calve the next generation of this herd that is the ecological and cultural backbone of the region.
Following ancient trails through the Brooks, Ogilvie and Richardson mountain ranges on both sides of the Alaska/Yukon border, the herd's migratory path to this sanctuary is one of the longest of any land mammal.

Yet with a new President in power that promises to open hydrocarbon development in the Arctic, this iconic herd's migratory way of life could be threatened.
The North's great barren-ground caribou herds, a sub-species grouping to which the Porcupine belong, were recently listed as 'threatened' by the Committee on the Status of Endangered Wildlife in Canada.
A combination of habitat loss, industrial development and climate change have provided a formidable challenge for the notoriously sensitive creatures.
While the U.S. National Oceanic and Atmospheric Administration (NOAA) has confirmed 2016 as the warmest year on record for our planet, making it the third year in a row to re-write the record books, the arctic as a whole is warming twice as fast as the rest of the globe.
What Will Trump's Oil Drilling Ambitions Mean for the #Arctic's Threatened #Caribou? https://t.co/Kj2vuCvNDe @MattJacques pic.twitter.com/lhwtRDSE5z

— DeSmog Canada (@DeSmogCanada) February 2, 2017
Dramatic changes are already evident across the north, with warming permafrost and earlier lake melts signaling not just a change in weather for places like the Arctic National Wildlife Refuge, but an existential threat to a way of life that has existed for millennia.
Moving even faster than global or regional warming trends, a political step-change in Washington has also sent shockwaves that seem to bode ill for the environment.
Under the patriotic banner of energy security, Donald Trump campaigned on the promise of expanding domestic fossil fuel development.
We haven't had to wonder long whether president Trump's "America First Energy Plan" was just empty rhetoric.
Trump's nominees to lead the Department of the Interior (Ryan Zinke), Department of Energy (Rick Perry) and the Environmental Protection Agency (Scott Pruitt) in particular served as early signals of a clear intention to de-regulate industry and expedite, or outright remove, environmental assessment and protection requirements tied to resource development.
Within days of taking office, the president has now signed executive orders advancing both Keystone XL and the Dakota Access Pipeline (DAPL), while simultaneously placing an expenditure and communications freeze on the EPA.
It may now be only a matter of time before renewed attention turns to the estimated 7.7 billion barrels of 'technically recoverable' crude oil laying under the arctic permafrost in a coastal plain area of the wildlife refuge known as the 1002 area.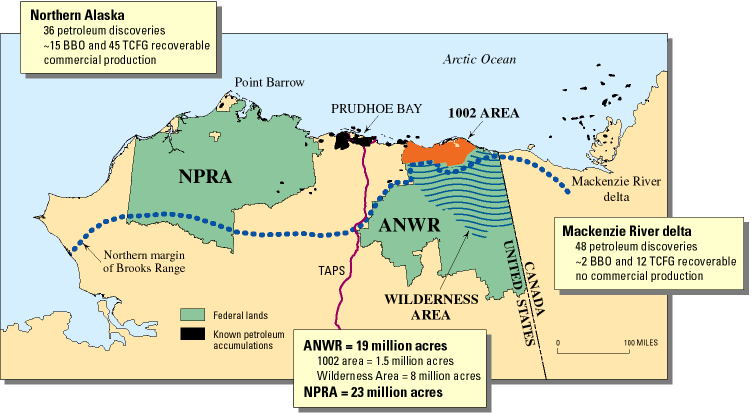 Map of the Artic National Wildlife Refuge with the 1002 in orange. Source: United States Geological Survey
"The Alaskan congressional delegation has asked that the 1002 lands be opened to development. This would impact the Porcupine Caribou herd," Yukon Conservation Society energy analyst Sebastian Jones told DeSmog Canada. This 1002 sub-area of the ANWR also happens to be the favoured calving grounds of the Porcupine Caribou herd, particularly when snowmelt occurs earlier.
"Calving grounds for these caribou herd are very, very important," says Dr. Justina Ray, President and Senior Scientist of the Wildlife Conservation Society of Canada and Co-Chair of the Committee on the Status Endangered Wildlife in Canada, Terrestrial Mammal Species Subcommittee.
"This is the most vulnerable time of year for this animal. They come to these places habitually year after year, and drop their calves at a time that coincides with new plant growth, so it's perfectly matched."
"Those first six weeks of life for calves are critical," Ray continues. "If you have disturbance in this area, whether it's noise from exploration or infrastructure, that could increase mortality directly or indirectly because the nutrition of the females is disturbed or they don't even calve."
Thanks in part to one of former President Obama's final acts of conservation — banning oil and gas drilling in the Arctic — Trump can't single-handedly overturn the protections currently in place for the refuge.
For this, an act of congress plus two-thirds majority vote in the Senate would be required, something Jones feels Trump won't be able to achieve, "unless something really weird happens."
A mother caribou from the Porcupine Caribou Herd with her young calf. Photo: Peter Mather, used with permission.
He also feels carbon emission reductions of other nations "will start to reduce demand, likely before oil could flow."
While the impacts of potential development in the 1002 area remain hypothetical for now, Trump's denialist view of climate change may pose a more imminent threat.
"A Trump presidency looks to be much more climate reckless," Jones says. "Caribou are among the species most vulnerable to climate change. If tundra disappears, times will get very tough for barren ground herds like the [Porcupine], and it appears we are already seeing climate effects across the north on caribou habitat."
What makes the potential fallout from a Trump presidency on the Porcupine Caribou particularly critical, is the impact any dramatic drop in the herd would have for the Gwich'in people of Alaska and Yukon who have relied on caribou for their subsistence for over 20,000 years.
It is the resolve and relentless efforts of the Gwich'in and others that give Jones reason for hope about the potential consequences of a Trump presidency.
"Trump and his acolytes will motivate the conservation community and users of the Porcupine Caribou herd," Jones says. "This has proven to be a formidable coalition that has defended far more focused and competent regimes."
Image: Porcupine Caribou Herd river crossing. Photo: Peter Mather, used with permission.