Oil giant BP is one of the corporate partners sponsoring this year's International Women's Day on 8 March under the slogan "Be Bold for Change".
In a promotional video for the day, BP says that being "bold for change" at its firm means "having the courage to change perceptions and the knowledge and expertise to change ideas. It's having the shared dream of changing communities" – cue lots of shots of cute children from various ethnic backgrounds.
Just on the face of it this is already problematic. It's all well and good for BP and a host of other companies to be addressing their gender balance issues – BP says it wants to ensure a quarter of its group leaders are women by 2020.
But BP's use of the International Women's day slogan gives it a whole new slant in the context of the impacts of climate change, transport emissions, and BP's industrial activities around the world.
All of these aspects have detrimental effects on women and some can also affect their children in the womb. This makes their PR spiel around International Women's Day feel more than a bit cynical.
BP – a highly influential lobbyist against European environmental regulations to curb climate change – has three non-executive directors on its board who are women. It has only had one female executive director in 27 years, Vivienne Cox, between 2006 and 2009.
"Non-executive directors are not the drivers of a corporation," James Marriott from oil activism organisation Platform told DeSmog UK. "You have to look at whose hands are on the steering wheel of the bus – the executive directors."
In the past BP has come under fire for basing its forecasts on a scenario in which global warming vastly exceeds the UNFCCC (UN Framework Convention on Climate Change) warming threshold of 2 degrees Celsius above pre-industrial levels, aiming for 1.5C degrees.
Since then, BP has announced it will be contributing to an £800m oil major climate fund (which could be considered quite small) to aid carbon capture and storage becoming a reality. The firm has also recently revised its oil projections downwards as climate policies start to kick in.
The UN says women are disproportionately affected by climate change. "Women commonly face higher risks and greater burdens from the impacts of climate change in situations of poverty, and the majority of the world's poor are women," states the UNFCCC.
Already there are disparities along gender lines in deaths from extreme weather events that may be linked to climate change. This might be for reasons including women not being taught how to swim or not being alerted to evacuate if not in public spaces.
Apart from this, air pollution from transport emissions, which has been compared to the asbestos of our generation, particularly affects the vulnerable, including babies in the womb and children. Even low levels of air pollution can increase the risk of premature birth and future health problems.
And BP's industrial activities around the world have posed problems for local women, for instance female subsistence farmers in Azerbaijan, Georgia, and Niger Delta.
The oil major has been involved in building the Baku Tblisi Ceyhan oil pipeline, completed in 2006, and construction is underway extending a gas pipeline called the South Caucasus. These pipelines are designed to get oil and gas flowing from Azerbaijan towards Georgia, Turkey, the EU and beyond – but they have a lot of undesirable consequences for women.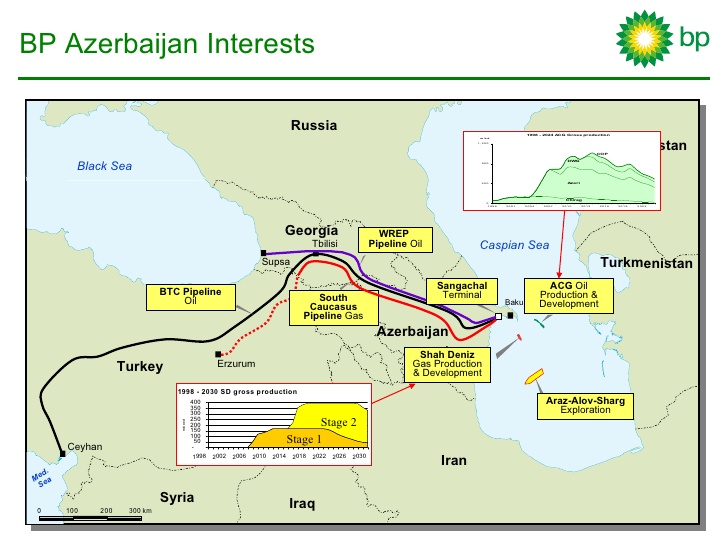 Photo via BP | LinkedIn
There are three main documented impacts, according to Platform's Marriott. In rural Azerbaijan and Georgia most farmers are women, and they are given a raw deal if the pipeline runs through their land. Then there's the increased militarisation of the pipeline corridors, as well as spikes in prostitution with the influx of male workers on the pipelines during their construction.
In the Niger Delta, similarly women make up most of the farmers in the incredibly fertile land of the delta. So they are the ones most affected by the massive industrialisation of the land, with the air, water and soil pollution that has happened as a consequence.
Therefore, not only are the women's livelihoods affected, but their health is most at risk from handling contaminated material. Incidences of stillbirths, infertility and deformities in infants are "unusually high" in the region.
BP, which now plans to drill for oil at the mouth of the Amazon river, where a coral reef has recently been discovered, is no stranger to using social licence to soften its image and exert influence – having used arts institutions to that effect for many years.
Supporting International Women's Day and goals to diversify a largely male-dominated industry, though worthwhile in and of itself, is another example of the oil giant buffing up its public image. And its rhetoric on women driving bold change definitely does not stack up with its role in climate change, air pollution and issues affecting women where it operates.
Updated 08/03/2017: BP's promotional video was embedded, and a link to BP's international women's day promotion was added.