Oil giant BP is promoting its brand to thousands of schoolchildren in almost 100 schools in Aberdeenshire, an area in which it recently slashed a fifth of its workforce.
Documents obtained by DeSmog UK through freedom of information requests show BP sponsoring a tutoring scheme and cooperating with the local council and universities to place its branding in schools.
DeSmog UK's investigation shows:
BP

's branding has been present in primary and secondary schools in Aberdeenshire, with students aged five to 16 years old.
Some participating schools and tutors are unconvinced of the scheme's benefits.

BP

pays only £2,000 a year to get its branding in front of thousands of students, despite posting profits of almost $3 billion in 2016.

BP

is closely involved in the design and implementation of the scheme as a member of the controlling steering committee.

BP

retained control over some of the scheme's output, and sought to use the resources of publicly funded co-sponsors to promote the company's involvement.
BP

in Aberdeen

BP has a long-standing presence in Aberdeen. Its website proudly states that:

"Aberdeen, the energy capital of Europe, is the headquarters for BP's North Sea upstream business, covering offshore operations, terminals and pipelines in the UK and Norway. We are a major employer in the North Sea Region and are proud of the work our people do to constantly push new frontiers."

Last year BP announced it was cutting 600 jobs in the region — the equivalent of a fifth of its North Sea workforce. The cuts are part of 4,000 redundancies BP expects to make in the wake of falling oil prices and rising exploration costs.

In January 2017, BP sold large parts of two of its North Sea projects to independent oil producer Enquest. The Unite union expressed concern that the sale could lead to further job cuts.

It is not only BP that is gradually abandoning the North Sea. Shell also sold $4.7 billion of assets in the region in early 2017.

This is a trend likely to continue as the North Sea's oil fields start to dry up.

Industry body Oil and Gas UK estimates 153 projects are due to be decommissioned over the coming years. Consultancy Wood Mackenzie expects North Sea companies will spend £53 billion from 2017 decommissioning oil and gas infrastructure.

The Scottish government has a £12 million transition training fund and a £5 million fund to retool ports and harbours for decommissioning projects.

But the burden to ensure a just transition away from the industry is largely falling on taxpayers and not the companies that have historically profited from the region, according to oil industry watchdog Platform.

As the industry winds down, companies are looking for ways to ensure they retain a social license to operate until the very end of oil.
BP

Student Tutors

For BP, this includes sponsoring the long-standing BP student tutoring scheme.

According to its website, the scheme aims "to provide positive role models for school pupils and to raise their aspirations and motivation towards continuing in education beyond their compulsory schooling".

The scheme places students from the scheme's co-sponsors the University of Aberdeen, Robert Gordon University, and North East Scotland College into classrooms.

The tutors help in all aspects of classroom life including science experiments, research projects and college applications, according to promotional materials sent to the schools.

There is even a heavily-branded promotional video to encourage people to apply for the scheme.

At one point in the video, a former tutor sings BP's praises, saying, "the most enjoyable aspect was that at last we get to go into BP. The company was really interesting. We did a lot of different activities regarding oil and gas".
The video claims that around 100 tutors are placed in schools each year.
According to data seen by DeSmog UK, tutors participating in the BP-branded scheme have been placed in 92 different schools since 2008. Of these, 75 of the placements were in primary schools, with children aged between five and 11 years old.
Schools and councils can no doubt benefit from additional resources, particularly as education budgets are cut.  
But with participants so young, BP and its co-sponsors must take extra care to ensure the presence of any branding is appropriate. That is why the "rules surrounding children are deliberately strict", according to the Advertising Standards Agency (ASA).
The ASA's advertising code says children are "generally more credulous and lack the experience of adults to engage, critically assess and cope with commercial images and messages." As such, "care should be taken when featuring or addressing children in marketing communications".
The sensitivities around such branding are heightened in a community where BP has such a significant commercial stake.
BP posted profits of $2.59 billion in 2016, and receives its share of a £750 million government subsidy for North Sea exploration each year.
Despite this, minutes of meetings of the scheme's steering committee obtained by DeSmog UK show BP pays a paltry £2,000 each year to sponsor the tutoring scheme.

Please note: Text has been highlighted by DeSmog UK for emphasis.
BP

Branding in Schools

BP gets a lot of bang for its buck. BP's branding appears on a wide-range of items given to all schools.

For instance, all BP tutors wear branded identity badges while in the schools.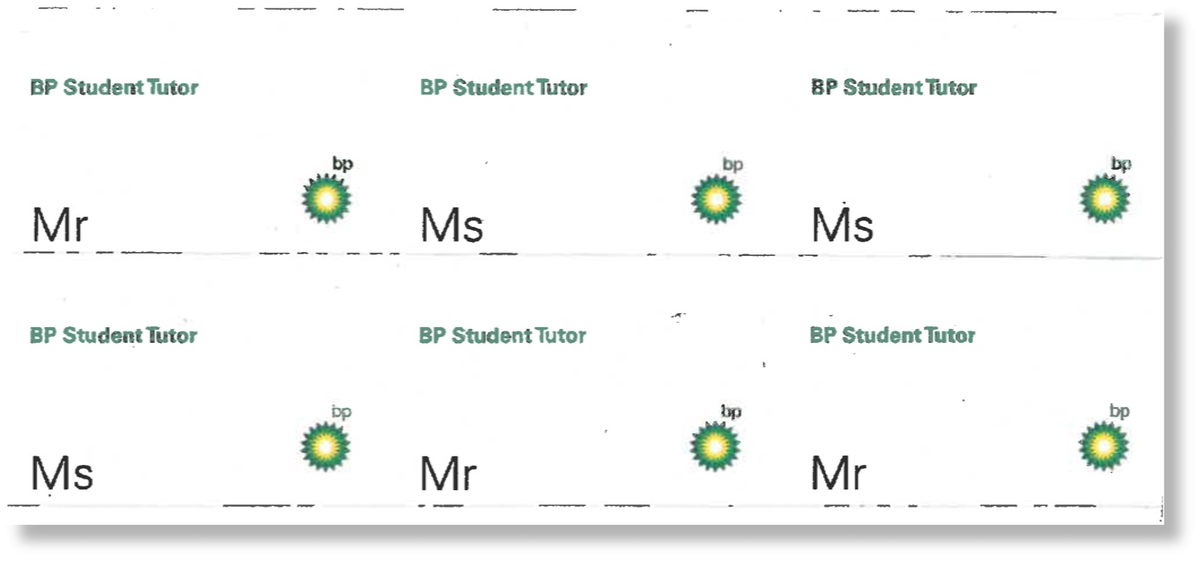 When discussing the need for identity badges, BP said it was "happy" to pay for the "BP endorsed student lanyards," meeting minutes show.

A BP-branded handbook was also sent to schools, encouraging their participation in the scheme.
The participating schools had a competition to design the cover of the handbook, judged by BP representative Paul Wilson.
The 15-page document promotes the virtues of having a BP-branded tutor within the school; from being an additional pair of hands for teachers, to providing a positive role model for schoolchildren.
Nowhere does it mention the benefits to BP.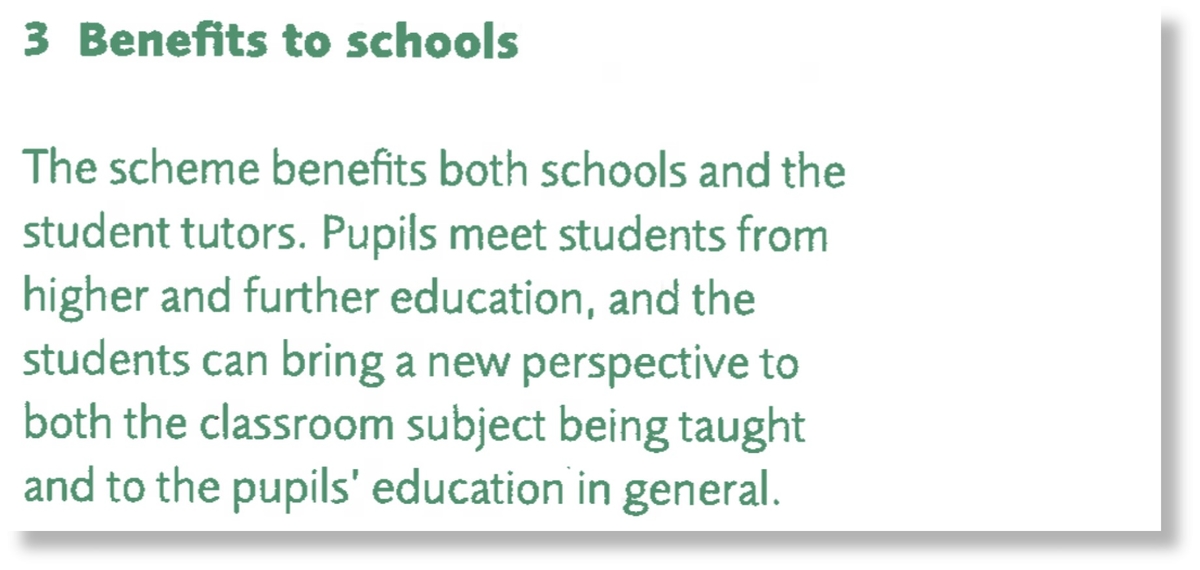 When tutors complete the scheme, they are presented with a BP-branded certificate. This is handed over at an annual awards ceremony at BP's Aberdeen headquarters.
A BP communications officer makes a presentation at the event, with the awards handed out in front of BP-branded slides.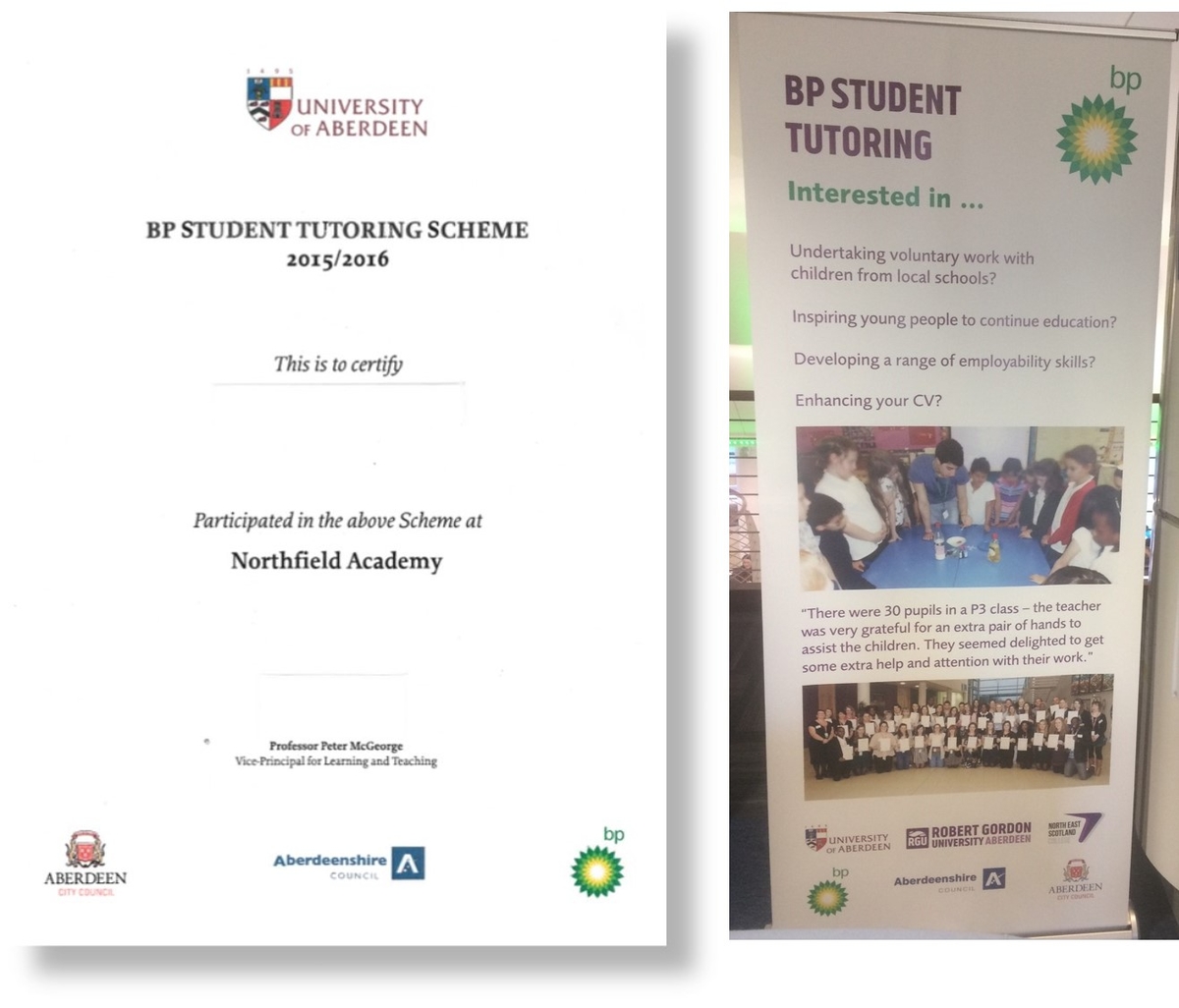 Aberdeenshire Council told DeSmog UK that it "does not encourage corporate branding of the scheme in schools. No branded materials are prepared for pupils, although participating schools receive a certificate featuring all the partner logos following the successful conclusion of a placement.
"The only branded materials are those for the tutors themselves, and relate to identity badges and lanyards for those badges."
It's not clear which — if any — public body is responsible for overseeing this kind of commercial activity in schools.
The Incorporated Society of British Advertisers' (ISBA) produced a guidance on best practice for commercial activities in schools with the Department for Education around a decade ago. It says "the level of branding should be appropriate to the activity".
The Department for Education did not provide DeSmog UK with any updated version of this document when requested, and did not confirm whether such a document existed.
ISBA's director of public affairs, Ian Twinn, told DeSmog UK: "One of the principles of our guidance is that strong branding in schools is really not appropriate. But discreet branding is."
"The only purpose of school is for the benefit of the children so brands really do have to ask themselves what are they doing there?
"Are the benefits to the children and to the school greater than any possible benefits to them? The strong advice [of the best practice guidance] was if that's not the case, should you really be there? And the answer is probably not. And the questions to schools is exactly the same. Why are you doing this? Is it necessary?"
Aberdeenshire Council told DeSmog UK "all necessary checks were conducted", but could not confirm if any participants had completed ISBA's best practice checklist provided for all schools and companies.
BP did not confirm whether it had completed the checklist, despite repeated requests.
One of the reasons BP may consider its branding necessary in this instance is that it is trying to present a positive image of the company in a community in which it has a significant stake.
"Kids are really susceptible to logos and that sort of thing", Savannah Law School professor Judd Sneirson, who specialises in 'greenwash' and corporate social responsibility programmes, told Desmog UK. Brands place their logos in front of people in the hope that "eventually the memories of some of the bad things they do will fade away."
That doesn't mean the scheme's benefits are necessarily wiped out, but "ideally, schools would take the money, it would be a less crass propaganda blitz for the kids, and we wouldn't be so hoodwinked by companies' good deeds and be more aware of their bad deeds, too", Sneirson said.
DeSmog UK contacted all of the schools that participated in the scheme. Only one school responded before Aberdeenshire Council asked for all enquiries to be directed through its communications office.
The one school that did respond told DeSmog UK that its experience with the scheme was broadly "positive".
When asked whether there had been any internal discussion about allowing BP branding into the school, and whether the school had discussed the nature of BP's activities with students, they told DeSmog UK that, "students are free to discuss this. Pupils are well used to different branding around the school".
The school did not respond to a request for clarification regarding what other brands students were exposed to.
No Need for
BP
Feedback from the scheme, seen by DeSmog UK, shows BP gets the opportunity to promote its brand in this way, despite participating schools not always being convinced of the need for the scheme.
The steering committee received feedback that many secondary schools were not willing to participate in the scheme as, "City schools are inundated with student teachers and other helpers therefore could not support tutors".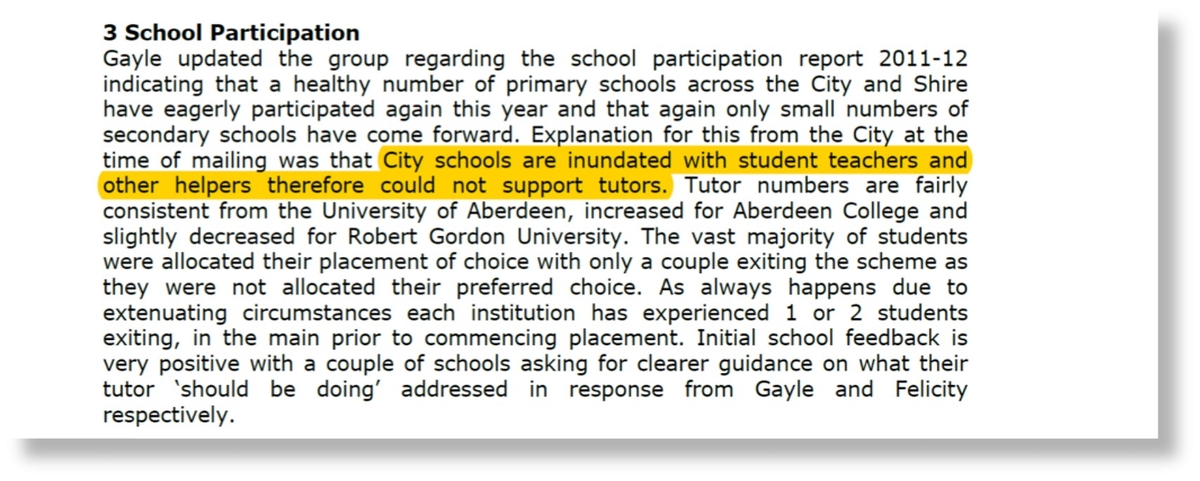 In feedback provided by participating tutors seen by DeSmog UK, some said schools "did not know why they were there and what to do with them".

This lack of enthusiasm is supported by data seen by DeSmog UK.
Of the 78 primary schools that participated in the scheme, only 45 participated in the scheme more than once. Only six of the 17 participating secondary schools hosted a tutor a maximum of three times over the 10 years for which the data was provided.
The same feedback shows that tutors felt they did not have a proper induction, were being left alone in class, and needed to discipline pupils, despite having no formal teacher training.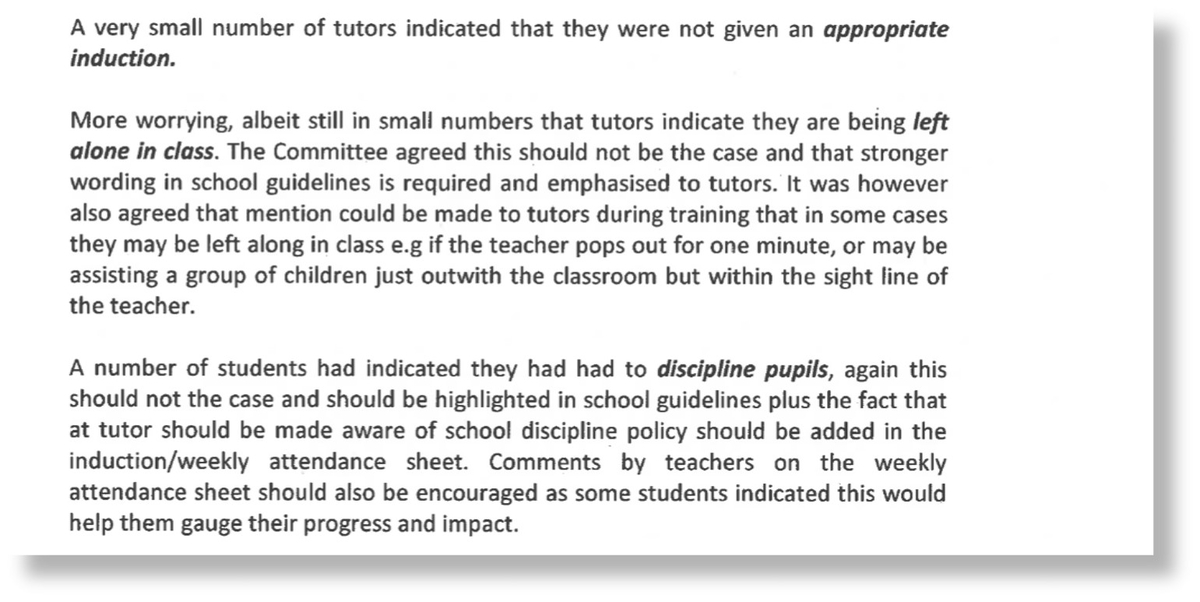 BP

's Guiding Hand

BP doesn't just get its branding in the schools in exchange for its sponsorship, it also gets to have a say in how the scheme is run and the opportunity to direct co-sponsors' resources as a member of the steering committee.

DeSmog UK has obtained minutes of the steering committee's meetings from January 2009 until November 2016.

The minutes show that a BP representative, Maggie Eggeling, pushed for the scheme to be promoted to potential tutors with expertise in science and engineering "due to funding from BP".

BP also secured the right to monitor the content of a student-designed website and video diary for the scheme, alongside the scheme's co-sponsors.

In one meeting, BP representative Paul Wilson asked the scheme's co-sponsors to help promote the annual awards ceremony "due to the overall success of the scheme and the collaboration involved". Representatives of the council, Robert Gordon University, the University of Aberdeen, and North East Scotland College all agreed to notify their press offices on BP's behalf.
The minutes also show there were cases where the scheme's co-sponsors were eager to harness BP's profile to promote their participation in the scheme.
A representative from Robert Gordon University, ranked 64th out of all UK universities and ninth in Scotland by the Complete University Guide, asked if BP could press release the scheme as it was an "excellent example of collaborative working".

The minutes make clear that the scheme is used as a promotional tool for BP, with the co-sponsors keen to borrow the other's brands at convenient moments.
Robert Gordon University, the University of Aberdeen and North East Scotland College all told DeSmog UK that they participate in the scheme as it "actively encourages its students to engage productively with employers and the wider community".
They do "not have concerns regarding BP's wider business operations", they said.
Aberdeenshire Council said BP's participation in the steering group "is important for the ongoing development and improvement of the scheme".
BP

Not Paying its Way

There have been some other problems with the scheme.

Meeting minutes reveal that in 2015, the scheme's administrator, Gayle Scott, had to step down from her coordination role due to overspending on activities and promotion in 2014-15.
Scott stepped back into this role, apparently in a voluntary capacity, in early 2016 — effectively working for BP for free.
In the final meeting minutes seen by DeSmog UK, the treasurer claimed that when the scheme received BP's next annual payment, there could be enough to re-employ the co-ordinator.
None of the scheme's co-sponsors would confirm whether the issue had now been resolved.
Minutes also reveal that BP failed to send a representative to any of the steering committee meetings in 2016, leaving the other institutions to carry on the work of coordinating the scheme on their behalf.
A spokesperson for BP told DeSmog UK that through the scheme, it has "developed a positive association with the councils and higher and further education institutions involved".
They said the feedback BP received from Steering Group colleagues, teachers at participating schools and the students involved is "very positive".
"They tell us the scheme helps students gain confidence and enhance their employability skills in communication, presentation and time management; useful for any future career. Student tutors act as positive role models, helping to increase pupils' aspirations and motivation to stay on in education and training".
Aberdeenshire Council said it "intends to continue with the tutor scheme and has no particular concerns about its operation, given its input into the steering group".  
While the scheme may have admirable aims, DeSmog UK's investigation shows that through the tutoring scheme, BP is spending a miniscule amount of money to place its branding in front of schoolchildren and use the resources of publically-funded institutions to purchase a social license to squeeze every last drop of oil out of the North Sea.
BP gets this access without due scrutiny of the company's wider responsibility to invest in the future of communities that have depended on the industry for decades, and will be hit hardest as firms increasingly abandon the region.
DeSmog UK has uploaded all of the documents it obtained for others to search and use in this Document Cloud library.