On April 12, Dimock, Pennsylvania resident Ray Kemble filed a nuisance and negligence lawsuit against Marcellus Shale drilling company Cabot Oil and Gas for alleged contamination of his groundwater and air. Kemble lives around the corner from the embattled Carter Road, where his neighbors have been struggling for years with a similar water pollution suit against Cabot.
Filed in U.S. District Court, Kemble's case is somewhat of a companion to the civil lawsuit brought by the Ely and Hubert families living on Carter Road. Their case began in 2009 and in March 2016, a jury awarded them a $4.24 million unanimous verdict for damages. However, the judge in their case recently overturned the verdict amid an ongoing dispute over the legality of evidence the families' attorney referenced during the trial.
Kemble, who has lived in his home since 1992, said in his complaint that he noticed "a change in his drinking water, including but not limited to discoloration and sediment build up" soon after Cabot began drilling near his property in 2008.
The Timeline
After Kemble filed a complaint with the Pennsylvania Department of Environmental Protection (DEP), the lawsuit outlines that Cabot agreed to a consent order in 2009. This order outlined a slew of DEP violations by Cabot, as well as the steps the company should take to prevent future harm, which Kemble's attorneys argue Cabot did not follow. 
Kemble's complaint further alleges that Cabot and its contractor GasSearch fracked another well, named Costello I, 500 feet from his property in 2008 and that afterwards, the companies dumped the waste from the drilling process — containing radioactive substances — into an open pit. Kemble says that doing so led to groundwater contamination, causing his well water to become "brown and cloudy."
In 2009, Costello I was wrapped into the consent order, and in 2013 the Pennsylvania DEP ordered that Cabot plug the well. Yet Kemble alleges in the complaint that the well was not properly covered or filled, and that Cabot has ignored the order.
After the culmination of the initial 2009 consent order, Cabot signed a new order with the DEP in December 2010, which allowed it to perform hydraulic fracturing ("fracking") on seven additional wells located near Kemble's property. Cabot chose to use the horizontal drilling technique on three of them.
The complaint alleges that this led to further discoloration of Kemble's water, "turning [it] black, like mud, [with] a strong chemical odor" once fracking began in November 2012.
According to the U.S. Department of Health and Human Services' Agency for Toxic Substances and Disease Registry (ATSDR), which the complaint cites, numerous chemical compounds have entered Kemble's drinking water.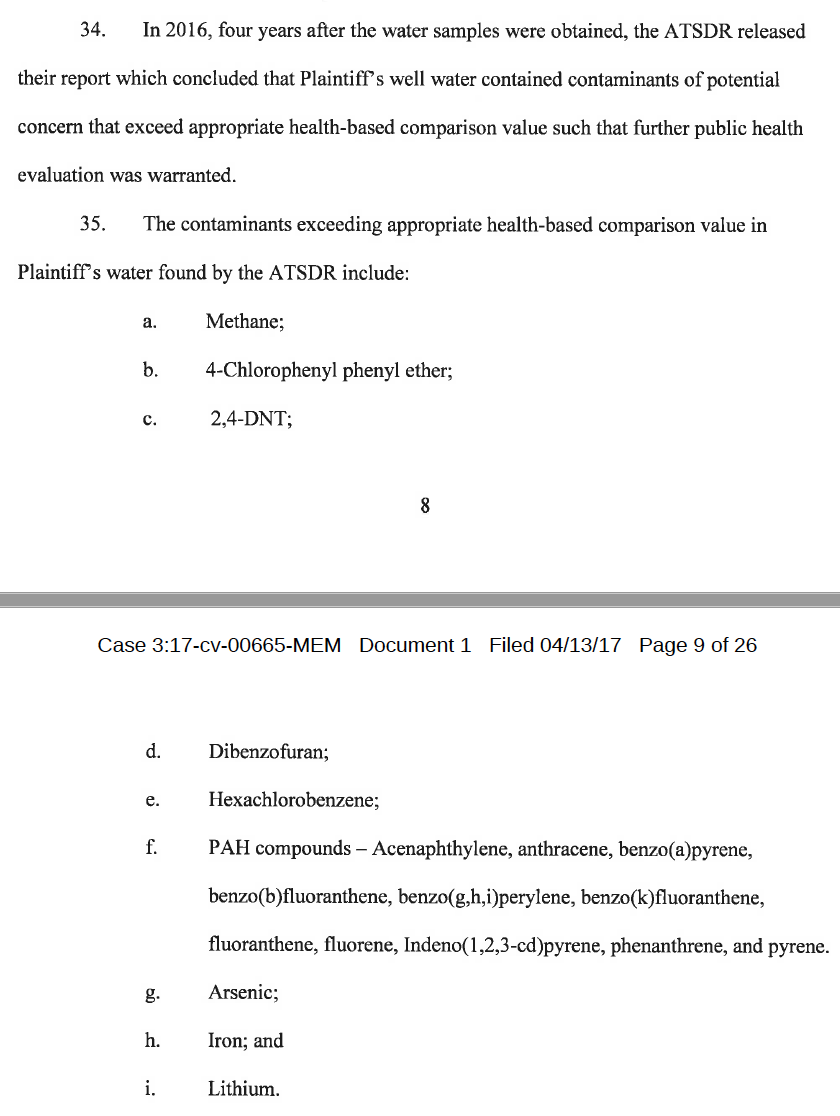 Credit: U.S. District Court for the Middle District of Pennsylvania
Cabot Responds
Cabot has already weighed in on the lawsuit and its claims, and is of the opinion that they are without merit.
"Mr. Kemble has been active for years in the media voicing his opposition to development of natural gas in Pennsylvania and this suit appears to be a continuation of that monologue," a Cabot spokesperson told the Scranton Times-Tribune. "Cabot intends to vigorously defend the lawsuit."
Kemble formerly worked for the drilling industry for nearly four years.
His attorneys did not respond to a request for comment for this story. DeSmog previously reported that Kemble has developed bladder cancer, which he thinks is linked to the drilling activity.
"My guts are full of tumors," Kemble previously told DeSmog. "We were drinking and bathing in [the contaminated water] because we didn't know back in '09 and '10."
In the other Dimock water contamination lawsuit, the judge has scheduled a settlement conference for May 10.
Main image: Ray Kemble Credit: © Laura Evangelisto, DeSmog