On an uncharacteristically sunny day in central London, thousands of smiling people in white lab coats holding placards adorned with Einstein's equations and Neil DeGrasse Tyson quotations marched towards Parliament shouting "science not silence".
The chant filtered back a half-mile or so down the road, and all of a sudden, thousands of similarly dressed, previously shy people had become vocal. It was a rare moment of activism from a group normally content to go under the radar, bunkering down in labs and libraries across the world.
The chant quickly became the impromptu slogan for London's March for Science on Saturday.
Between 7,500 and 10,000 people came out to march three miles from London's famous Science Museum to the House of Parliament to ask the government to support scientific enquiry in the UK.
The march was part of a global action, with over 500 marches taking place across the globe — from spots as far apart as Washington DC and Sao Paulo, Helsinki and Brisbane.
March for Science's aim is to persuade policymakers of the benefits of "robustly funded and publicly communicated science as a pillar of human freedom and prosperity", according to the event's website. 
It was meant to create a "celebration of science", according to Story Sylvester, one of the London event's organisers. 
The only way science can properly perform its role in society is if research budgets are preserved, and the government makes efforts to keep scientists in the UK post-Brexit, she said.
Scientists are "feeling threatened" she explained, so much so that they are uncharacteristically willing to take to the streets to call on politicians to make use of the findings they take years painstakingly researching. 
Britta Goodman, a molecular bioloigist living in London, agreed. "this is why the scientists are standing up, because they're fed up of not being listened to". 
"I'm a mother of two children and it gives me nightmares to think we're not acting as fast as we need to be" on issues such as climate change, she said.
Lots of #climate placards on show at #ScienceMarchLdn #ScienceMarch #marchforscience pic.twitter.com/tXUVwZgUdb

— DeSmog UK (@DeSmogUK) April 22, 2017
The concept of a March for Science originally grew out of a conversation on Reddit, aiming to replicate the high-profile Women's march that took place the day after President Donald Trump's inauguration.
It quickly blossomed, with high-profile sponsors including the Earth Day Network, the Union of Concerned Scientists, and the American Geophysical Union all getting on board.
The US march was organised in large part due to concerns about Trump's denial of basic climate science and his determination to roll back rules to cut emissions, and reduce funding for important research including Nasa's ocean and atmospheric monitoring.
But the idea went global, with people taking to the streets not only in solidarity with US scientists but also to express their concerns and frustration about how science may be undercut in their own countries.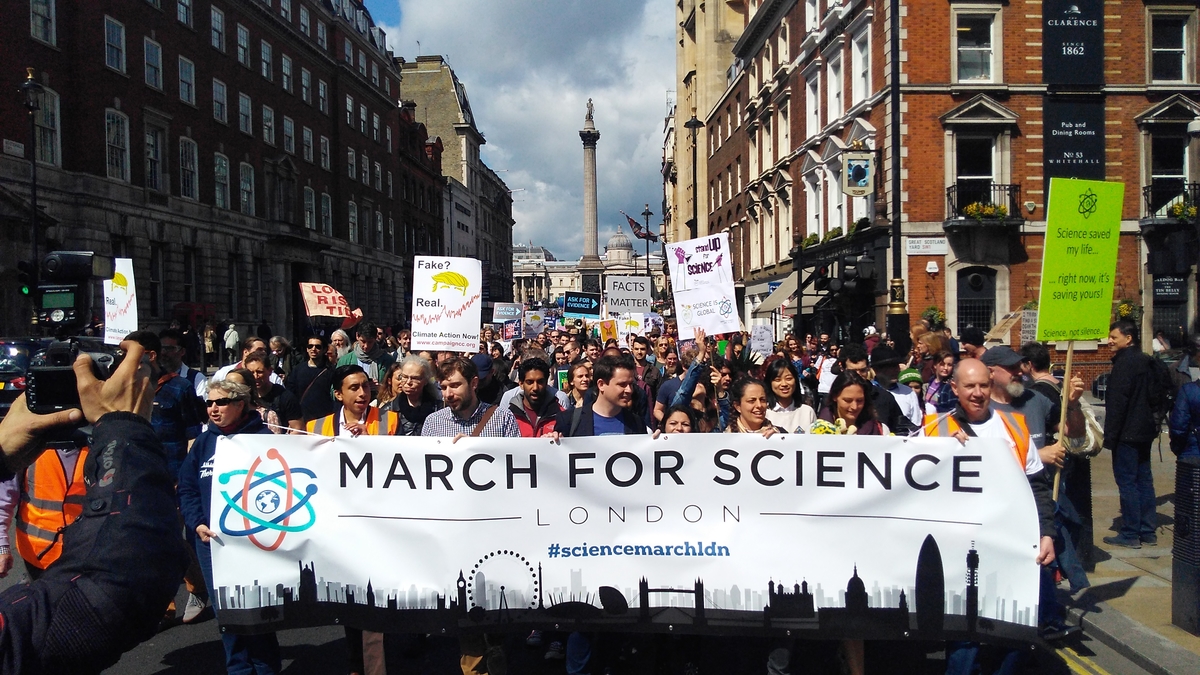 In London, many of the marchers were scientists, but plenty were just ordinary people worried about how science had become increasingly politicised.
The marchers' motivations were myriad, but plenty were concerned about the way climate science continued to be misrepresented by elected officials. And the issue is unlikely to feature in the upcoming 2017 UK general election.
Josh Berry, a "science enthusiast" from London, said he was there to try and show that the general public supported the idea of science-based policymaking, including on issues like climate change.
"I think the politics is about 20 years behind the science", he said. "Science provides the tools and politicians need to use it to sort it out".
"It's ridiculous that climate change is still a debate", Rebecca Lakin, who is about to start a PhD at the University of Bath, said. She was there with a small group of friends, holding her hand-painted placard aloft, to highlight the "corporate influence of the coal and oil and gas industry on politics, and highlight the impact it has on the environment".
Before the march, some scientists had expressed concerns that the action could portray science as simply another special interest.
But the organisers were at pains to emphasise this was not the case. 
The March for Science was emphatically a "nonpartisan" effort, Sylvester said. "We support science-based policymaking, but it's up to other people make political choices", she argued.
While there was the occasional local green party banner, and one Liberal Democrat sign, most of the protesters didn't identify with a particular group.
"It's great that people are coming together from so many different backgrounds", Megan Evans, a marine conservationist from Wales, said. "It shows optimism" and "does show people believe they can do something" in what she described as "an era of 'post-truth'".
Scientists are becoming increasingly vocal about politicians' efforts to cut science agency budgets and disregard evidence that is placed in front of them. But a march, supported by many whose scientific participation rarely extends beyond "reading the occasional book", is still an unprecedented move. 
So how were thousands of regular people persuaded to hit the streets in the name of particle physicists, marine biologists, and atmospheric scientists?
Because, as one bystander put it, against all odds, right now "science is sexy".