The streets of London were awash with a jumble of giant red letters today, as they made their way to Westminster Bridge to send a very important message to two of the world's most powerful leaders.
As hundreds of people weaved their way carefully through crowds of tourists, onlookers could only attempt to work out what the letters might possibly mean. After a spontaneous eruption of chanting – which made the bunch seem like a group several times its size – the letters soon assembled in their rightful order so that even those far down the Southbank could not mistake their message.
Raised defiantly in the air, the letters read: "TRUMP AND MAY CLIMATE DISASTER."
Around 300 people came together today as part of a protest organised by the Campaign Against Climate Change, which was held in solidarity with the People's Climate March in Washington and 375 similar events worldwide.
Protesters from all over the country came out to challenge Theresa May's government about its climate record ahead of Britain's 2017 general election, amid fears that they are following the Trump administration down a slippery slope.
One of the event's organisers, Claire James, wanted today's event to highlight that climate accountability extends not only to caricature figures like Donald Trump, but to representatives in the UK as well.
"We've got this Climate Change Act, which in theory is a really great framework for climate change action, but a lot of it feels like it's been chipped away in recent years," she said.
"We feel like we're in a car heading towards a cliff at speed and we don't know whether we're going to go over or not, but I'm pretty sure we need to be pressing the brake and not the accelerator."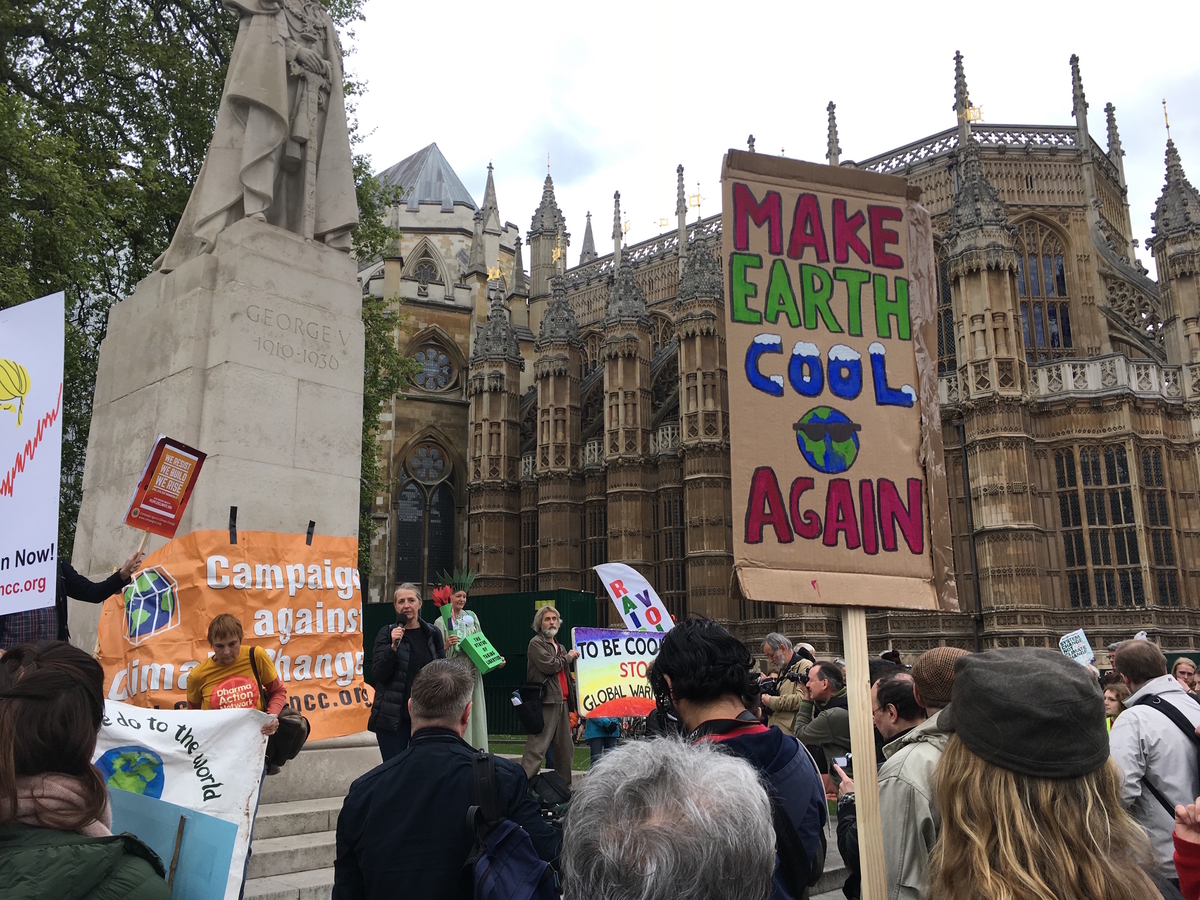 Photo: Laura McKenna
Although more modest in size, today's event sought to carry through some of the momentum of last week's Science March, which saw thousands of protesters turn up in London to stand up for funding across the sector and policies informed by scientific evidence.
Today's People's Climate March in the US was organised in resistance to the Trump administration's plans to dismantle climate change progress. It remains uncertain whether the US will honour its commitment to the Paris Agreement, which could come as a huge blow to the internationally recognised accord.
Just yesterday, only hours before today's planned protest, pages about climate science were also removed from the Environmental Protection Agency's website.
Veteran campaigner and retired teacher Diane Edwards, who travelled down to Westminster from the Wirral to be at today's protest, doesn't think that Trump and May are taking the issue seriously.
"It horrifies me that we're trailing America at the moment," she said. "In Britain, we could be doing so much more. We've slashed the subsidies for solar and wind. Huge opportunities are being lost here."
Edwards thinks that younger generations will be the ones to pay the price if effective measures aren't taken soon, something that 25-year-old corporate communications worker Helen Sonjen agreed with.
Sonjen said: "I'm concerned that the more complacent we get – the more people don't think anything's going to change – the more it's going to affect young people."
With the snap election looming, fears are mounting that a victory for the Conservatives could give Theresa May a mandate for a hard Brexit, which could come with devastating consequences for environmental regulation that is currently protected by the EU.
"So many of the voters are pensioners who aren't going to see the effects of climate change," Sonjen said. She remains hopeful that Donald Trump's recent election will be enough to shake young people into action.
Lorraine Inglis from Frack Off London, who was just one of the speakers who gave an impassioned speech at today's gathering, said that she is "horrified" about the upcoming general election and delayed Brexit negotiations. In her view, it is not just environmental regulations that people should be concerned about, but also the changes that could be made if the Human Rights Act is repealed.
"If they even changed our human rights and took away our power to protest … well, that's what is actually keeping a lot of the fracking industry at bay," Inglis said.
But she has faith that people have enough agency to force governments into action before it's too late.
"If you look around and see what people are doing in the local communities, that always gives hope. Take it out of the Houses of Parliament and take it back into your local community."
By coming together today and hearing speakers who are organising solidarity events across the UK, Inglis hopes that those who turned up can find other ways to continue the fight for climate action.
Until progress is made to invest in renewable energy and implement an effective climate change plan however, she says that the fight continues. 
Photo: Jessica Cooper