The UK is the largest European investor in thermal coal production and is among the top ten biggest investors globally according to a new report by Influence Map.
As the new report published today shows, UK shareholders own a total 0.9 percent stake in the world's thermal coal reserves. British Investment bank Elara Capital (the world's eighth biggest investor in thermal coal) has $15 million worth of assets under management representing 170 million tons of coal reserves.
Influence map analysed the links between coal mines, the companies that operate the mines, and the shareholders (such as pension funds and banks) invested in these companies. There is a total of about $185 billion in shareholder value tied to the 117 listed thermal coal producers and owners.
These listed companies produce 3 billion tons of coal per year and control 150 billion tons of reserves. These 150 billion tons are equal to about 43 percent of the remaining global carbon budget if the world hopes to meet its 2C warming target – it's six times the budget if we try to limit warming to just 1.5C.
Thermal coal is mainly used for power generation and for heating rather than for industrial processes such as making steel.
The report comes as one of Britain's largest managers of ethical funds divested its £20 million in fossil fuel companies.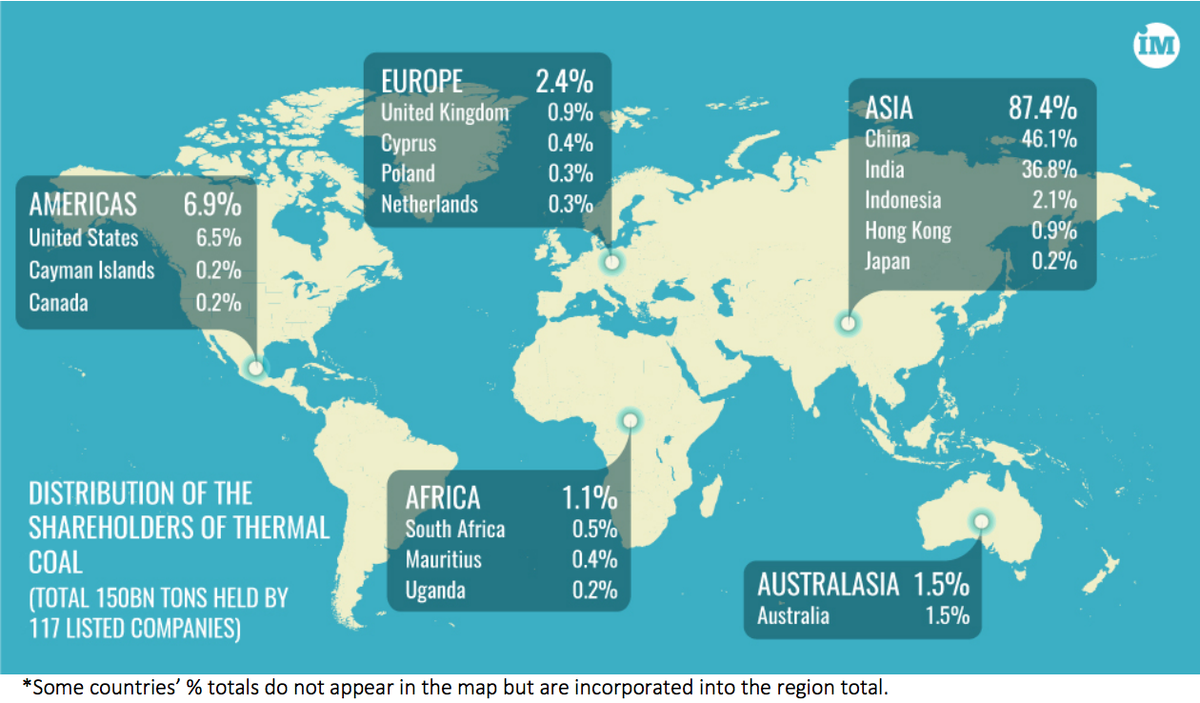 Photo: Influence Map report
Asia remains by far the largest investor, according to the report, with China owning 46 percent in thermal coal assets and India with 36 percent. It's followed by the United states which has 6.5 percent invested. European countries all together represent 2.4 percent of global assets.
But as the report notes, coal is on the decline in Europe and the United States. It states: "Despite shifts in governments in the US and Europe, official data shows a steady decline in coal production and use on both sides of the Atlantic, essentially the results of the wind down of coal power stations with no new builds planned."
Photo: Brücke-Osteuropa via Wikimedia Commons