President Trump has withdrawn the US from the Paris Agreement. In typical Trump fashion, he managed to appease his base while ensuring the rest of the world keeps giving him the attention he craves.
Because while the US is definitely withdrawing from the Paris Agreement, Trump left the door open just a smidge when he said the US might engage on climate change if he can strike a better deal. He said:
"In order to fulfill my solemn duty to protect America and its citizens, the United States will withdraw from the Paris Climate Accord but begin negotiations to reenter either the Paris Accord or a really entirely new transaction on terms that are fair to the United States, its businesses, its workers, its people, its taxpayers. 
"So we're getting out. But we will start to negotiate, and we will see if we can make a deal that's fair. And if we can, that's great. And if we can't, that's fine."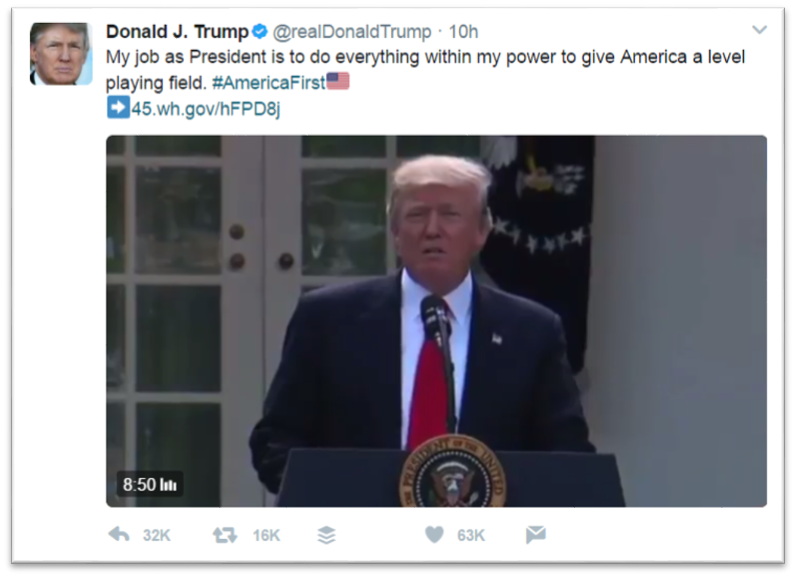 Unsurprisingly, his small clan of climate science deniers were delighted by the decision. And that includes his allies across the Atlantic.
A number of people and organisations linked to a US–UK climate science denier network – which has grown in strength and influence since the election of Donald Trump and the appointment of Theresa May – reacted with nothing short of glee at the decision.
The Global Warming Policy Foundation (GWPF) a group that has long-campaigned for the UK to water-down its climate commitments, was particularly happy.
Unsurprisingly, it rolled out its cronies to suggest the UK should think again about its commitment to Paris. Nigel Lawson, former chancellor and the group's founder, said in a statement:
"US industry already enjoys a huge energy cost advantage over the UK and other EU countries, so the US move can only make things harder for us in Europe. The next government must take a long,hard, look at whether we can afford our own Climate Change Act any longer. It is clear that the costs imposed on British businesses and households are now entirely unsustainable."
The GWPF's director, Benny Peiser, added:
"The Paris climate agreement was pushed through against the declared will of America's elected representatives. US leaders and critics had warned international leaders repeatedly that the US Senate rejected Obama's deal and that a Republican president would shred it to pieces. Now the Paris accord faces the same fate as the Kyoto Protocol which also ended in failure".
The GWPF's go-to expert and advisory board member, Matt Ridley, simply responded with an emoji.

UKIP figurehead, Nigel Farage (of golden-elevator fame), condemned what he saw as an overeaction to Trump's decision:

His party colleague, MEP and well-known climate science denier Roger Helmer called Trump's decision "American leadership in action":

But not so fast. By all accounts, the UK – like pretty much the entire world (Nicaragua, Syria and, now, the US notwithstanding) – remains committed to the Paris Agreement.
Secretary of State for business, energy and industrial strategy, Greg Clark, tweeted that clean growth remained a "pillar" of the UK's economic plans:

Climate minister, Nick Hurd, tweeted that the UK remained "v committed" to the deal:

And universities and innovation minister Jo Johnson tweeted that the UK was, and will continue to be, a "world leader" in climate science research:

Theresa May has largely been notable by her absence in recent days. Her failure to criticise Trump's actions was described as "disgraceful" by one Labour shadow minister earlier this week.
But even May managed to stir herself to offer a light rebuke of Trump's decision.
Like a disappointed parent, she said she was "disappointed" with Trump. Nonetheless, she reaffirmed that the UK "remained committed" to the Paris Agreement.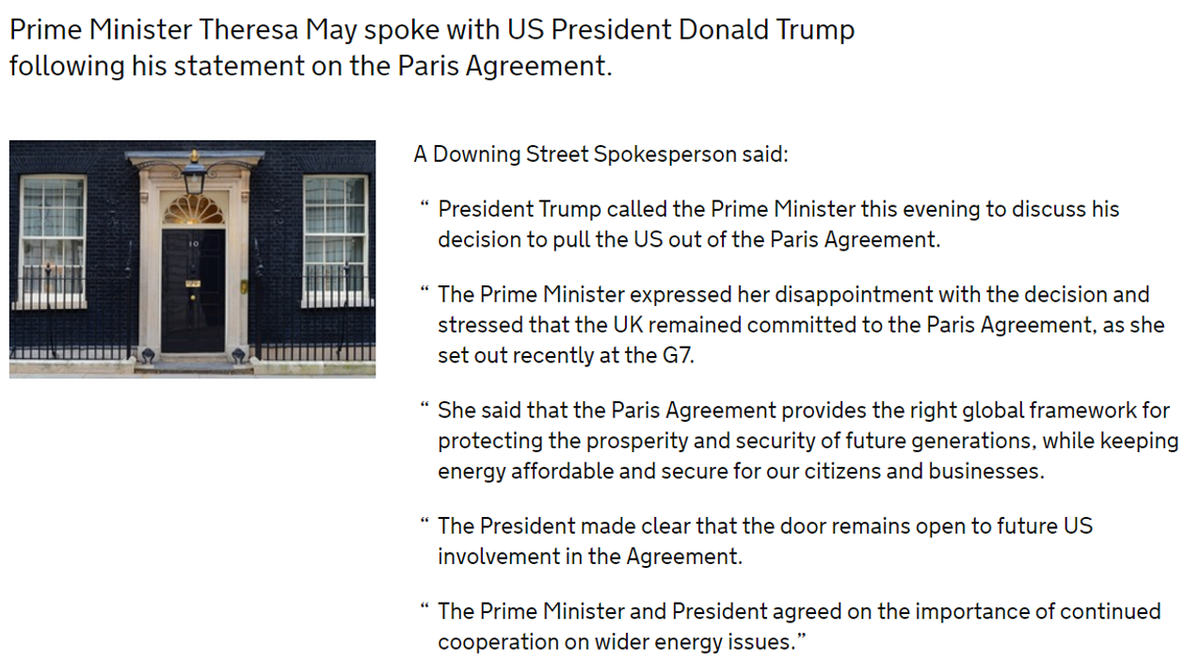 Labour leader, Jeremy Corbyn, was unimpressed with May's response. He accused May of a "dericition of duty" in failing to stand up to Trump, saying she was being "subservient". The BBC reports that at an event in York, he said:
"Given the chance to present a united front from our international partners she [Mrs May] has instead opted for silence and once again subservience to Donald Trump.
"It's a dereliction of both her duty to this country and our duty to our planet.
"This is not the type of leadership Britain needs either to negotiate Brexit or stand up to defend our planet in an era of climate change."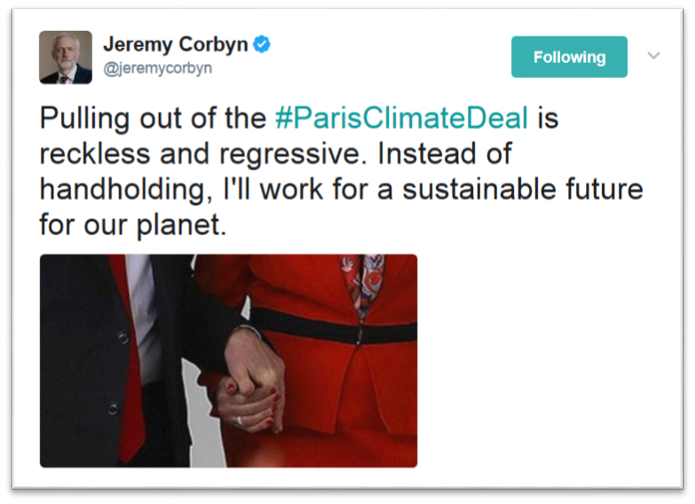 May's words are notably weaker than those of the UK's former friends in Europe.
France's new president Emmanuel Macron warned Trump the Paris Agreement was "irreversible and will be implemented".
Meanwhile, the EU and China are preparing a joint statement that's a figurative two fingers to Trump. It is expected to confirm their intention to "significantly intensify their political, technical, economic and scientific cooperation on climate change and clean energy".
Former Labour leader and ex-climate change secretary Ed Miliband pointed out the UK's signature was notably absent from a statement from a "High Ambition Coalition" responding to Trump's decision: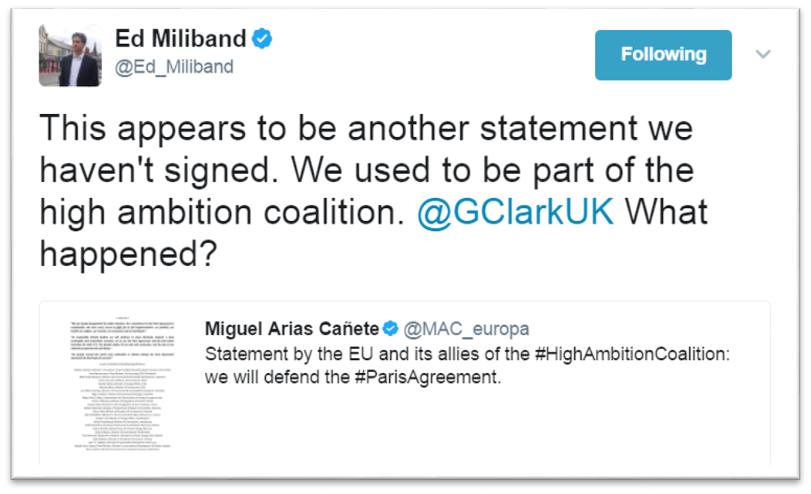 Even Exxon said Trump was wrong to abandon the Paris Agreement.
So in pleasing a few fringe climate science deniers, and pandering to some of his party's dirtiest donors, Trump seems to have unwittingly brought the rest of the world together in defiance.
Updated 02/06/2017: Quotes from Corbyn and Miliband were added. Greg Clark's position was corrected. Corbyn's tweet was added.