By Steve Horn and Curtis Waltman
On June 19, Louisiana's Democratic Governor John Bel Edwards signed a bill into law which will enter his state into the Emergency Management Assistance Compact (EMAC).
EMAC is the compact which last year gave out-of-state cops the legal authority to flood into North Dakota during the protests against the Dakota Access pipeline, owned by Energy Transfer Partners. The Louisiana bill, SB 151, was signed as Energy Transfer Partners has another pipeline proposed to run through Louisiana, the Bayou Bridge pipeline. Bayou Bridge is an extension of Dakota Access, set to run from Nederland, Texas, to refinery markets and export terminals in Louisiana.
The compact, signed into existence by President Bill Clinton in 1996, was created in the aftermath of Hurricane Andrew with the intent of expediting and bolstering natural disaster response efforts. But the federal legislation creating the compact also has language allowing for a governor of a state to issue an emergency order in the case of the rise of an "insurgency or enemy attack."
The Louisiana legislation, which got rid of its previous membership in the Interstate Emergency Preparedness and Disaster Compact, passed unanimously in both the House of Representatives and the Senate without debate.
According to state campaign finance data, Governor Edwards received a $5,000 campaign contribution from Energy Transfer Partners during his successful 2015 run for governor, with the company serving as one of his biggest donors. In February, Edwards endorsed Bayou Bridge.
"There is no way to move crude in significant quantities that doesn't have some risk associated with it," Edwards said of the pipeline. "But ultimately the pipeline is much safer than moving it on trains or on trucks." As DeSmog has reported, this is a talking point often conveyed by Energy Transfer Partners, even though it owns an oil-by-rail terminal which connects to Dakota Access in Patoka, Illinois.
Governor Edwards' brother, Daniel Edwards, serves as sheriff for Tangipahoa Parish in Louisiana, which is located about an hour drive north of Bayou Bridge's end point in St. Charles Parish. Tangipahoa Parish is part of the senate district for Senator Mack "Bodi" White, a co-sponsor of the bill.
Officials from the office of Governor Edwards and Senator White did not respond to a request for comment.
DAPL

 Model
Law enforcement officers involved in the Dakota Access response effort, which has come under fire for its militarized nature, have traveled to Louisiana in recent months to speak about lessons from Dakota Access which could be applied to Bayou Bridge. The protests against Dakota Access, which took form as a months-long encampment near the Standing Rock Sioux Reservation in North Dakota, were the largest mobilization of Native American tribes in modern U.S. history.
As previously reported by DeSmog, the National Sheriffs' Association served as the key vehicle for carrying out the emergency compact at Standing Rock. The association has lobbied Congress for more military gear for sheriffs' departments under the auspices of the U.S. Department of Defense's 1033 program, which enables police departments to buy surplus military gear from the department's Defense Logistics Agency.
The current president of the Sheriffs' Association, Sheriff Greg Champagne, oversees St. Charles Parish, the end of the line for Bayou Bridge. According to a Bayou Bridge corporate fact sheet, the Sheriffs' Association has endorsed the pipeline.
In October 2016, Champagne visited Standing Rock and criticized the protesters, who call themselves "water protectors," in a lengthy article posted both on the Sheriffs' Association website and on his government Facebook page. St. Charles Parish also sent officers to Standing Rock.
"We are a nation of laws. Emotion and empathy cannot carry the day. It just seems that opposition to this pipeline is not reasonably based upon legitimate environmental concerns," Champagne wrote. "Energy independence has been one of the major goals of this country for decades. In my home state of Louisiana, we are surrounded by gas and oil pipelines and safely so."
According to his biography on the Sheriffs' Association website, Champagne in the past has attended "two international counter-terrorism programs in both Israel and England, which focused on the detection and prevention of terrorism." A member of the Houma tribe and the head of the group Bold Louisiana of Native American descent jointly responded to Champagne's letter, saying that they too had visited Standing Rock, but had only seen peaceful and prayerful protest.
"If you are looking as to who has engaged in acts of war, sir, it might be best to see who came for one," they wrote. "A simple Internet search will produce countless images of unarmed Water Protectors being confronted by military-grade weaponry pointed at them by law enforcement." 
EMAC

 Abuse?
It has been debated whether or not the "insurgency or enemy attack" legislative language found within EMAC pertains to mass protest, but regardless, the gray area has created an opening for state-level law enforcement agencies. The Interstate Emergency Preparedness and Disaster Compact, signed into law in 1993 as a section of the Louisiana Homeland Security and Emergency Assistance and Disaster Act (Louisiana Disaster Act, for short), had no language found within the bill about an "insurgency or enemy attack."
The first major instance of EMAC's use for a protest movement came in Baltimore in April 2015 in response to demonstrations pertaining to the law enforcement killing of Freddie Grey. At that time, only a few agencies answered the EMAC call, including the New Jersey State Police and the Pennsylvania State Police, while the law enforcement crackdown was bolstered by mostly local and state officers in Maryland.
In 2016, the EMAC was again put to use to deal with those protesting at the Republican National Convention (RNC) in Cleveland, Ohio. According to an "after action report" published by EMAC, 1,071 out-of-state police officers came from 18 different states to assist with law enforcement efforts at the RNC.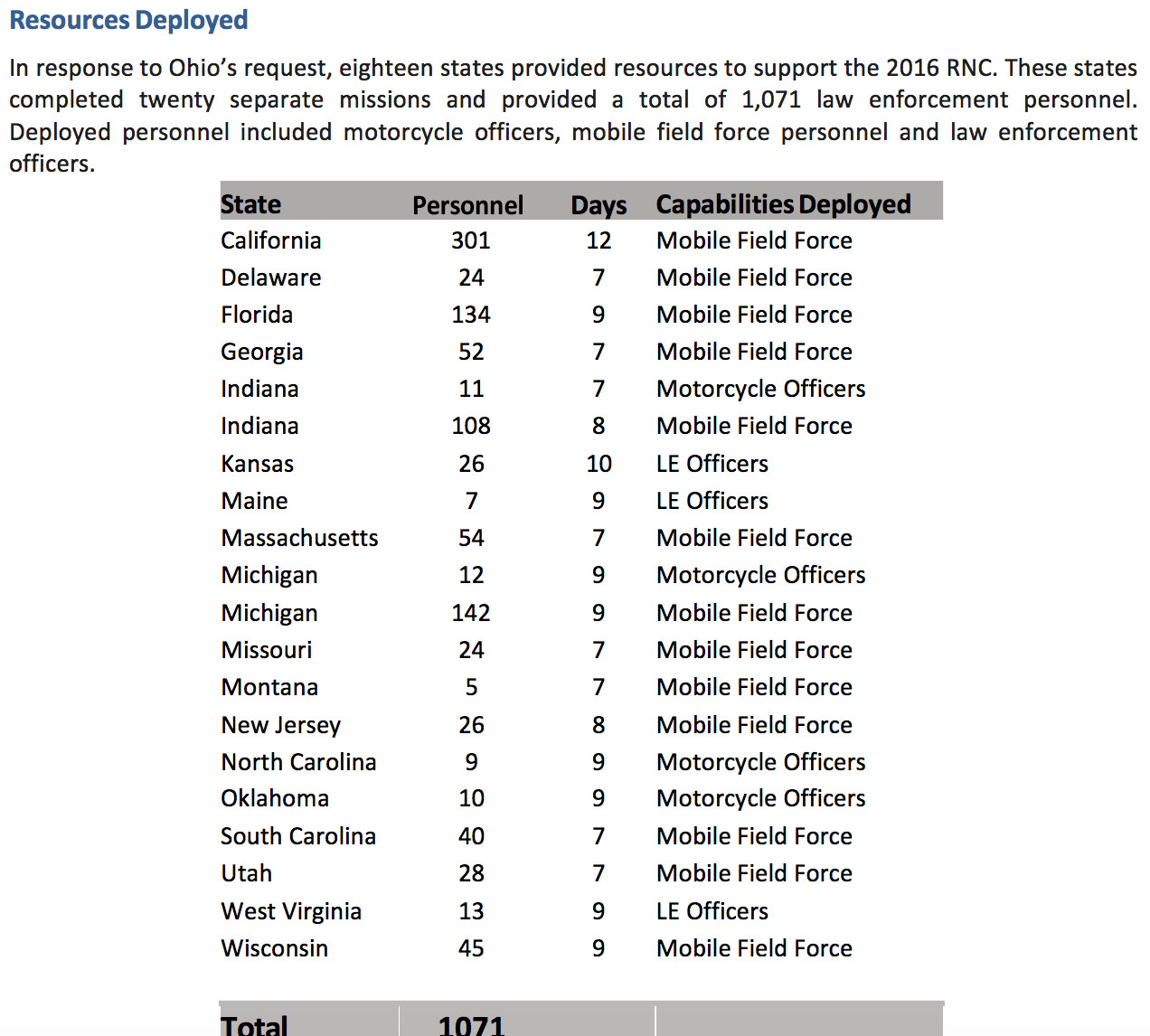 Credit: Emergency Management Assistance Compact
In Cleveland, Mayor Frank Jackson requested that Republican Governor John Kasich declare a state of emergency in February, some five months before the RNC. A month later, the City of Cleveland signed a state emergency memorandum of understanding with the Ohio Department of Public Safety, and the next month, Kasich signed the emergency order triggering EMAC. The after action report for the RNC spells out what law enforcement sees as the major advantage of having EMAC as a tool in the toolbox.
"One of the great advantages of EMAC is that troublesome and often complicated legal issues are resolved upfront within the EMAC law," wrote EMAC in the report. "These issues include tort liability, workers' compensation, reimbursement, and acceptance of licensure."
For Standing Rock, nearly 40 law enforcement agencies from around the Midwest answered the call made by North Dakota Governor Jack Dalrymple. They responded by bringing assault rifles, thermal imaging cameras, and military vehicles. It was the first instance where the emergency compact was used to create what resembled a massive law enforcement militia to suppress a protest.
After EMAC was put into action, 23 Democratic members of the U.S. House of Representatives wrote a letter on November 14, 2016 to then-President Barack Obama expressing their concerns about the compact's potential misuse.
The "use of the EMAC [for Dakota Access] raises questions when compared to the original legislative intent of Congress in 1996 to allow member states to provide emergency assistance after natural disasters overwhelm a state's capacity to respond," wrote the members of the House. "Its use for additional law enforcement personnel and equipment to respond to this peaceful demonstration is part of a recent trend away from historical precedent."
As a recent case in point showing of the compact mixed uses, Republican Governor Scott Walker of Wisconsin received two EMAC requests in late October 2016: One from North Dakota to assist with Standing Rock and one from North Carolina when the state's coast was battered by Hurricane Matthew. While Standing Rock protests did not result in any deaths, Hurricane Matthew claimed the lives of 26 people in North Carolina.
Emails obtained by MuckRock show that the Walker administration chose to aid North Dakota rather than North Carolina, which experienced $2.75 billion in damages from the hurricane. An email from Brian Satula, head of Wisconsin Emergency Management, sent to the Walker administration, explains that Wisconsin "has not been able to adequately fill those mission requests," in reference to North Carolina.
No Bayou Bridge "Direct Tie" 
Considering the Louisiana bill's recent passage, though, it appears EMAC's use beyond natural disaster zones could just be getting started. Mike Steele, communications director for the Governor's Office of Homeland Security & Emergency Preparedness, said there is no connection between Bayou Bridge and Louisiana's EMAC bill.
"I don't believe there is a direct tie other than pipeline related emergency being one of many types [of] emergencies where we may need assistance from officials outside the state," said Steele. "I believe this bill just addresses a few technical issues like liability."
Yet a talking points sheet on the EMAC bill supplied to DeSmog by Steele actually lists Dakota Access as one of its prominent, recent uses. 
Indeed, a related bill proposed in the Louisiana State Legislature would levy an insurance surcharge and give the revenue from that to the Emergency Management Assistance Trust Fund. This may indicate that Louisiana is trying to get ahead of the kind of financial woes currently facing North Dakota, which has footed a $22 million bill for all of the out-of-state assistance it received under EMAC to handle the Dakota Access protests.


Credit: Congress.gov
For months, North Dakota had attempted to secure federal funding, but it will receive $15 million in repayments as part of the congressional spending bill passed in May. That, however, will still leave North Dakotans on the hook for about $7 million of the EMAC costs.
Main image: Militarized law enforcement responding to Standing Rock protests in North Dakota. Credit: Bold Nebraska