The last few yards are always the toughest.
The UK has been making reasonable progress down a path towards its legally binding climate goals, but it currently has no plan on how to get over the line.
Such a plan is "urgently" needed, experts warned last week. And new data shows that any strategy must take regional differences into account, with emissions reductions being felt unevenly across the UK.
DeSmog UK takes a look at the key challenges in each region.
Emissions Map
The UK as a whole reduced carbon dioxide emissions by 27 percent between 2005 and 2015, the government's latest update to its regional greenhouse gas emissions data showed.
The UK has a target to reduce all greenhouse gas emissions, not just carbon dioxide, by 37 percent by 2020 compared to 1990 levels. But the UK is currently set to miss that goal, with current policies creating a large gap between expected emissions levels and what they would need to be to hit the goal.
And some parts of the UK are lagging far behind others.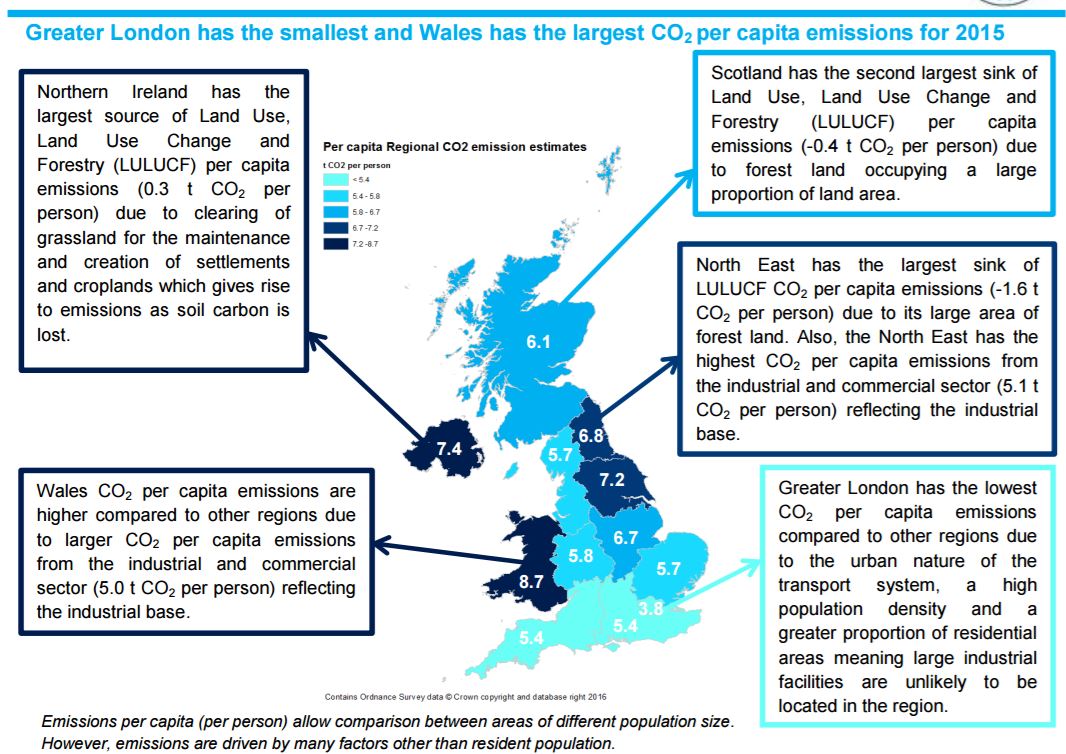 Wales
Wales is the worst offender. It has the highest per person emissions in the whole of the UK, at 8.7 tonnes of carbon dioxide per capita.
For comparison, an average passenger vehicle will emit around 4.7 tonnes of carbon dioxide each year, according to the US Environmental Protection Agency.
Wales' high emissions are largely due to its relatively small population and the presence of lots of heavy industry in the region.
Government advisor the Committee on Climate Change has warned that the Welsh government is like to miss its target to reduce emissions by 40 percent 2020.
Jessica McQuade, WWF Cymru's policy officer, told DeSmog UK that Wales needed to improve across lots of policy areas including energy efficiency, agricultural emissions, and renewable heat technology.
She said the government "has known for several years that Wales must accelerate action on emission reduction. But the latest figures show again that incentives and programmes in Wales are not having the scale of impact needed."
"We recognise that Wales has an increased challenge in decarbonising due to our heritage of high emitting industries. However, there are questions over the future viability of many of these industries so we expect to see a detailed route map transitioning to a low carbon Wales.
"This will support communities into greener jobs and help tackle air pollution issues created by these industries."  
Northern Ireland
Northern Ireland's per person emissions are slightly lower than Wales', at 7.4 tonnes per capita. But it has made the smallest change in its emissions since 2005, with an 18 percent reduction.
Northern Ireland's above average emissions are due to the limited supply of gas to the region, meaning industry and residents burn more polluting fuels such as coal and oil, according to the government's analysis.
But the problems go much deeper than this, a spokesperson for Friends of the Earth Northern Ireland told DeSmog UK.
"We need some sort of cultural shift in politics. We need to start using the language of a low carbon future," they said.
This is made harder by the increased presence and profile of Northern Ireland's largest party, the Democratic Unionist Party (DUP).
The DUP has blocked the Northern Ireland assembly's attempts to pass a climate change act and once appointed climate science denier Sammy Wilson, now a Westminster MP, as environment minister.
Theresa May's Conservatives just agreed to pump an extra £1 billion into Northern Ireland's economy in exchange for DUP votes to prop up the government in Westminster. But it's unlikely much of this money will go towards cutting Northern Ireland's emissions, the spokesperson said.
They said much of it was likely to go towards infrastructure projects that would improve roads for private transport — potentially increasing per person emissions — rather than investing in cleaner options such as public transport.
"We worry that the past record of the DUP and Sinn Fein mean they will probably go for high carbon projects. It might well make things worse".
But that doesn't mean Northern Ireland is destined to be perennially behind the rest of the UK.
"The DUP has always created the obstacle to climate legislation being passed. But the DUP is a pragmatic party and are starting to feel the criticisms of their stance on climate change."
"Northern Ireland is a climate pariah and if we want to be taken seriously on the world stage we need a shift on this."
Scotland
At the other end of the spectrum is Scotland, which had the largest reduction in emissions between 2005 and 2015, of 29 percent.
That's partly because it has quite a small population, and quite a lot of countryside to suck up carbon dioxide. But it has also made good progress on switching to renewable energy sources.
Dr Richard Dixon, director of Friends of the Earth Scotland, was cautiously optimistic about Scotland's low carbon prospects. He DeSmog UK:
"It is welcome news that Scotland continues to make good progress in bringing down carbon emissions. In the UK, Scotland has led the way in terms of the clean energy revolution which our economy and society needs. Tackling climate change can deliver huge benefits such as reduced fuel poverty, cleaner air, improved health and creating thousands of jobs."
But there remain challenges for Scotland to address in the coming years, not least in the transport sector.
Dixon said: "Transport pollution has been stubbornly high for decades and we will need significant action to match nations such as India and Norway who are planning to end the sale of fossil-fuelled cars by 2030.
"In terms of agriculture, setting a national nitrogen budget by 2020 will promote much more efficient use of fertiliser and could help farmers save cash."
"Scotland punches above our weight on the world stage as a climate leader. With Trump's recent rejection of the Paris Agreement, this leadership and good examples are needed now more than ever."
England
Emissions are spread very unevenly across the population south of the border.
London has by far the lowest per person emissions, at 3.8 tonnes of carbon dioxide, largely because there are so many people and pretty much no space for industry inside the M25.
That's not the case in the much more industrialised Yorkshire and Humberside, which has per person carbon dioxide emissions of 7.2 tonnes — just 0.2 tonnes fewer than Northern Ireland's per person emissions.
Between 2014 and 2015, emissions didn't reduce at all in Yorkshire and the Humber, the data shows — the only region where that is the case.
Just north of Yorkshire, the North East region has the highest emissions from industry. But this is partly balanced out by its large forests, meaning it only has per person emissions of 6.8 tonnes per person.
The North East also had the largest reduction in regional emissions between 2005 and 2015. The region cut emissions by 40 percent largely due to a significant drop in the amount of coal, oil and gas burned in industrial processes, as well as some improvement in transport emissions.
Main image credit: Albert Bridge via geograph.ie CC BY–SA 2.0