By Laura Creighton, reporting from Lancashire
Two lorries attempting to make their way in and out of shale gas company Cuadrilla's Preston New Road fracking site have been stopped in their tracks by protesters.
Two men managed to jump on top of the lorries after several people ran in front of them to slow them down. The first lorry was stopped at around 12.30pm, with the second vehicle mounted a couple of hours later.
Protesters said they expected them to remain on the lorries "for several hours", disrupting supplies to and from the site.
One protester, who goes by the name of Bluebell, said: "I think it's very brave, it's a vital thing to do."
She added that, although the protesters had caused disruption along the road, "there'll be a lot more disruption when there's earthquakes", referring to the often-cited tremors known to occur at some fracking sites.
Police responded by stationing around 20 officers and multiple police vehicles at each lorry, situated either side of the access gate.
One lane of traffic has been closed on part of the road due to the disruptions. But many road-users honked their horns, smiling and waving to the protesters in support despite the delays.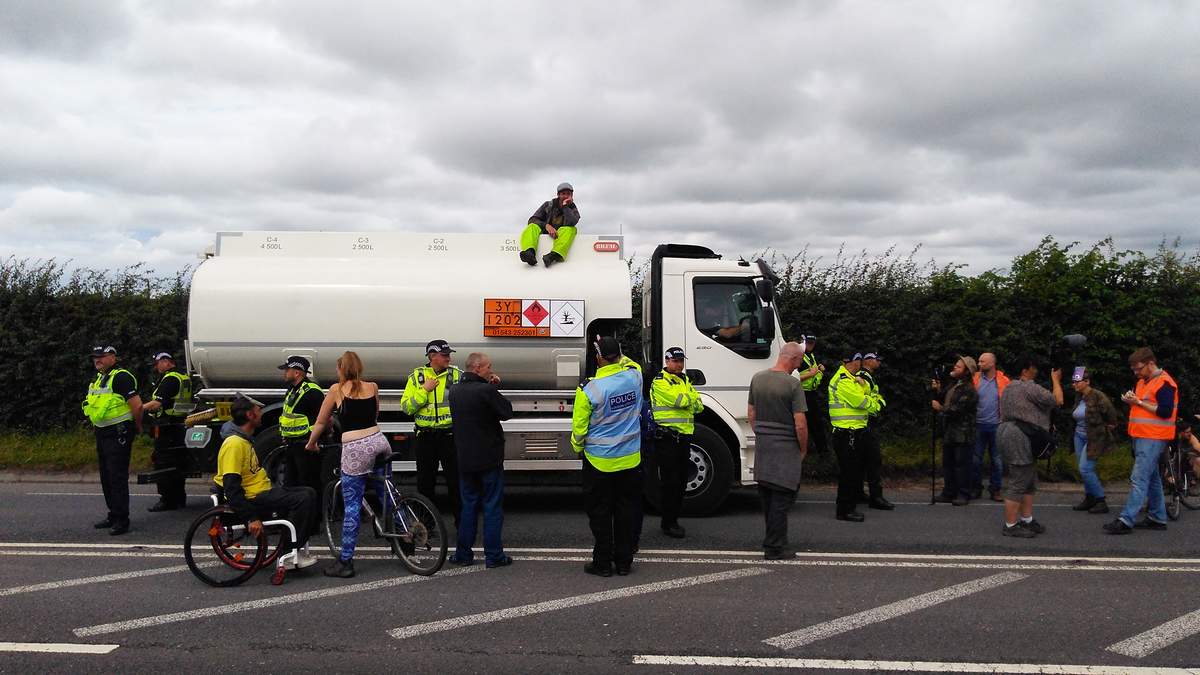 Today's traffic disruption is part of a dedicated month of action to protest Cuadrilla's plans to frack for shale oil and gas in Lancashire. The local protesters are joined by a group called Reclaim the Power. A spokesperson for the group said: "Spontaneous actions today show the creativity of the response to this."
"The cops have drafted in extra resources from around the country. It's gonna be really hard to push fracking through here."
Protesters also criticised the police as well as Cuadrilla's own security team at the site for heavy handedness. Today's actions follow an incident at the site last week, in which Cuadrilla's security appeared to violently restrain one protester. Lancashire police are now investigating.
Another protester, Daz, who remains mainly at the base camp, said: "This is the only option we have left to us, we tried the democratic route, we tried the legal route.
"We've been intimidated by the corporations and backed into a corner."
Daz grew up two miles away from the fracking site: "I promised my kids that they could play 'round here like I did so I can't go home because I won't break that promise," he said.
A spokesperson for Lancashire constabulary told DeSmog UK: "Our intention is to ensure a consistent and coordinated policing response and ensure a balance between the rights of people to lawfully protest, together with the rights of the wider public, including local businesses, to go about their lawful activities.
"We aim to prevent, where possible, crime and disorder, but if it does occur we will provide an effective, lawful and proportionate response."
Incidents at the site and near Cuadrilla's HQ are planned throughout July, as part of a month of action.