Mat Hope and Laura Creighton report from Lancashire
Three anti-fracking protesters were arrested after they locked their arms inside tubing at Cuadrilla's anti-fracking site in Lancashire, forcing police to close off a section of Preston New Road from around 8am this morning. Five police vans and more than 30 officers were on the scene.
Though the rainy weather kept most of the protesters from the previous day away, this did not stop the three protesters who had locked on their arms inside heavy tubing from lying out on the road for more than three hours.
Protesters use the tactic to disrupt activity at the site, as police are forced to cut them out of the tubing before they can be moved or arrested.
The action caused substantial disruption to local traffic, with police closing about 1-mile of Preston New Road until 12.30pm.
Local anti-fracking protester Chris Wilson, from Preston, told DeSmog UK the action was intended to disrupt supply to Cuadrilla's shale gas site. "They're scraping the bottom of a barrel that was out of date 50 years ago," he said.
Referring to campaigners' concerns that Cuadrilla's site could be the first of many, leading to air pollution and unsustainable water demand, he said: "These people are not endangering my kids' health, and if that disrupts someone's commute to work, so be it."
"There are lots of alternative forms of energy," he said, "but there is no alternative to water."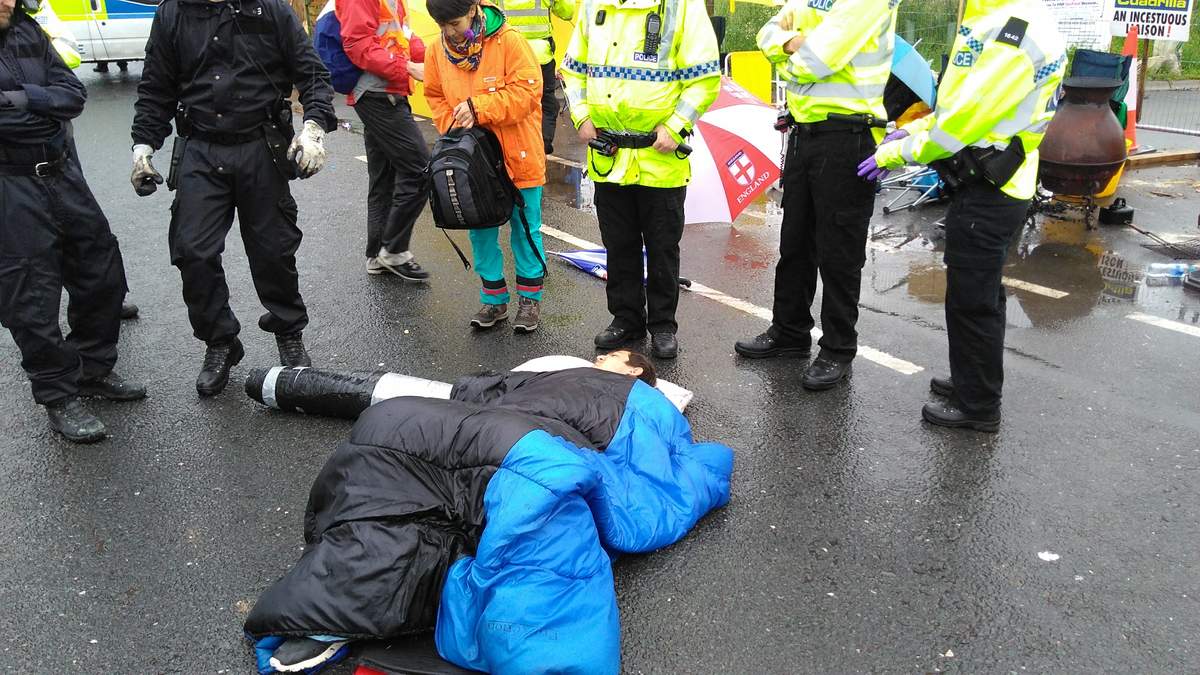 One of the locked-on protesters was dragged across the road with his arm still inside the tubing. The justification given by police for moving the man was to make way for a funeral procession, though police failed to reopen the road after the protester was moved.
Although the protesters were in different spots on the road, enough room was left for emergency vehicles, until the police vans blocked the road off
Special protestor removal forces appeared around 9am. However, efforts to remove the tubing did not take place until around 10.45. The police cut one protester from their tubing at 11.30am and was immediately arrested.
Anti-fracking protester Chris Saltmarsh, from Liverpool, told DeSmog UK that his decision to protest against Cuadrilla's activities was "a matter of life and death, a matter of local democracy, and an act of solidarity with the local community".
"In order to avoid catastrophic climate change we need to leave fossil fuels in the ground, and can't build new fossil fuel infrastructure in the UK or anywhere else."
The protests against Cuadrilla "need to be led by local people but if we're going to stop fossil fuel energy generation everyone needs to work together", he added.
Police removed and arrested the second set of locked-on protesters at midday.
The police used pliers, craft knives and drills in their efforts to release the protesters.
As the police began unlocking the protesters, a 25 metre stretch of road was cleared by the police, allowing only a few press and one legal observer inside the cordon.
Once police had removed the locked-on protesters, two heavy goods vehicles and a handful of smaller vans were escorted into the site.
Hannah Murray, speaking on behalf of campaign group Reclaim the Power, said: "The lock-ons were deployed really successfully, they were strategically placed 50 feet apart, so that we didn't block the traffic, but unfortunately the police decided to employ a strategy of blocking the whole road with their vans, which caused a lot of chaos.
"We stopped a convoy coming in for over four and a half hours, and caused quite a lot of disruption to their work today."
The lock-on is part of a month of action supported by campaign group, Reclaim the Power.
Eye witnesses said two protesters who managed to board lorries the previous day alighted overnight and were arrested.
Speaking to DeSmog UK, the Lancashire constabulary reiterated that "Our intention is to ensure a consistent and coordinated policing response and ensure a balance between the rights of people to lawfully protest, together with the rights of the wider public, including local businesses, to go about their lawful activities.
"We aim to prevent, where possible, crime and disorder, but if it does occur we will provide an effective, lawful and proportionate response."
Photos: Mat Hope and Laura Creighton