Power grab. Backroom Deals. Henry VIII. Reckless. All of these words have been used to describe the European Union (Withdrawal) Bill – better known as the Repeal Bill.
The Repeal Bill was officially released on 13 July. This is the plan for how the UK will bring over all the EU laws it is currently operating under. And there's one big question everyone is asking: how transparent will Brexit be?
From Labour to the SNP, most opposing parties have denounced the bill. And green groups in particular are concerned about the lack of scrutiny and accountability that will take place as the government tries to turn some 1,100 pieces of EU environmental legislation into British law in a very short time span.
"The Repeal Bill risks turning back the clock on 40 years of environmental gains," ClientEarth's director of programmes, Karla Hill, said. "The Bill creates sweeping new powers for ministers without giving a proper role to Parliament.
"To protect the environment we need strong laws that cannot be undone by backroom deals in Whitehall."
Changing Laws
Under the EU, Britain has been held to account on environmental issues such as breaching legal air pollution limits and cleaning up a swath of beaches, areas once too polluted to swim in. But now many fear that these laws will be weakened and that there will not be the same level of power to enforce them.
On the first concern, laws can be diluted or weakened in a few ways. While some changes are needed in order for the laws to make sense in the UK (for example, changing EU authorities to UK authorities responsible for a given rule) there is the risk that not all EU environmental law will get translated into legislation or the wording could get changed in such a way that would change the meaning or intent of the law.  
"The Bill fails to guarantee existing environmental laws will be safely kept on our statute books as primary legislation," Hill told DeSmog UK. "This creates more uncertainty to businesses and for millions of people across the country who want their natural environment protected."
One example that some commentators have given is that the precautionary principle may no longer have any legal basis once Britain leaves the EU.
Major #RepealBill loophole? Treaty principles only apply post-#brexit if they have direct effect. Key #environment law at risk. #greeneruk pic.twitter.com/VMwIoy4bnI

— Richard Benwell (@RSBenwell) July 13, 2017
The reasoning behind this is that currently Britain, as part of the EU, adheres to the Lisbon Treaty which entered into force in 2009 and was signed by all EU member states. The Lisbon Treaty is based on "the precautionary principle and on the principles that preventive action should be taken, that environmental damage should as a priority be rectified at source and that the polluter should pay." But once Brexit happens, it's likely that this constraint will no longer apply unless specifically retained by new UK law.
Only those treaties which apply "directly" to the UK will be adopted, leaving room for interpretation. And as the Repeal Bill states: "There is no right of action in domestic law on or after exit day based on a failure to comply with any of the general principles of EU law."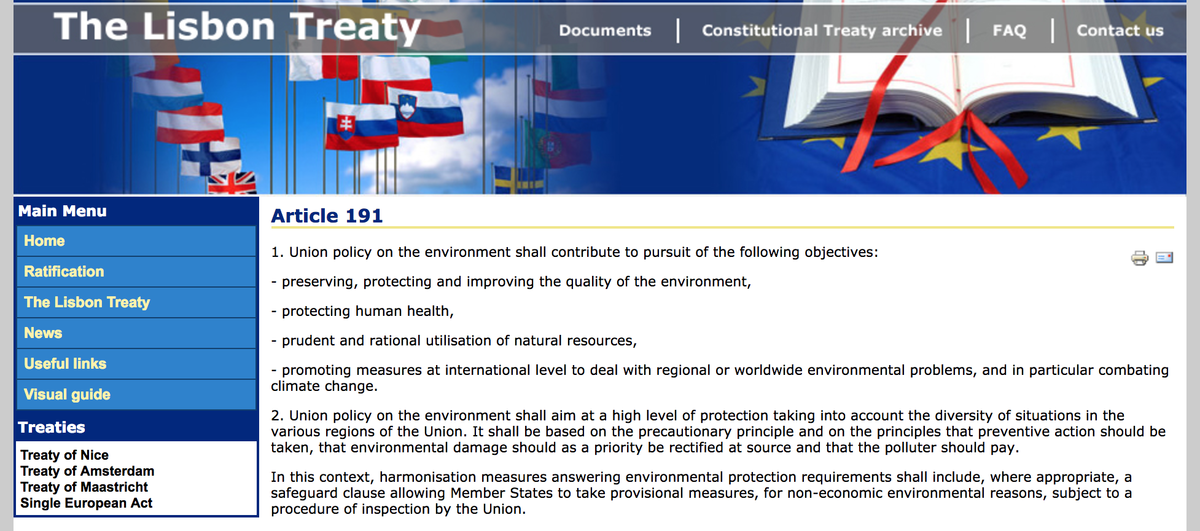 Another example can be found in the government's White Paper on the Repeal Bill published in March. As the White Paper explains: "There will be gaps where some areas of converted law will be entirely unable to operate because we are no longer a member of the EU. There will also be cases where EU law will cease to operate as intended or will be redundant once we leave."
It goes on to give some examples for how this may unfold including one situation where the law involves an EU institution: the Offshore Petroleum Activities (Conservation of Habitats) Regulations 2001.
As it explains, when it comes to regulating offshore oil and gas activities relating to the conservation of habitats, this is currently the responsibility of the European Commission. When changed into UK law, the government could decide to "either replace the reference to the Commission with a UK body or remove this requirement completely".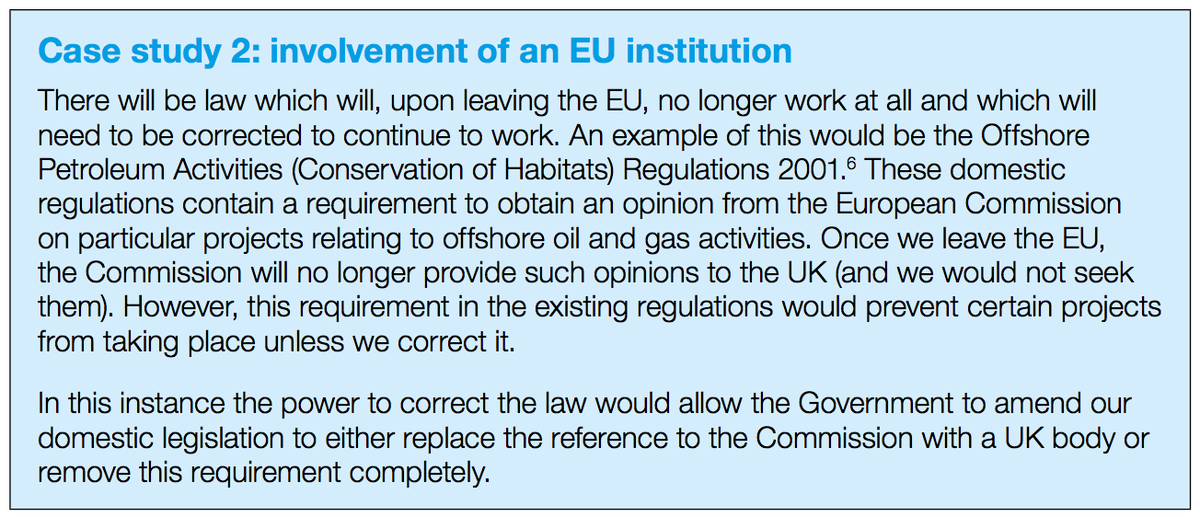 As Shane Tomlinson, a director at climate think tank E3G explained: "Under the powers proposed in the Withdrawal Bill there would be no public scrutiny over such a decision, which could have a major impact on critical habitats for birds and marine species."
"The blanket powers given to Ministers in the draft Bill with deficiencies arising from withdrawal raise serious concerns about the scrutiny for environment and climate issues," Tomlinson continued. "The powers would enable Ministers to make provisions 'that could be made by an act of Parliament' without having any of the usual checks and balances."
Where do ministers get these powers? Under Section 7, entitled "Dealing with deficiencies arising from withdrawal" of the Repeal Bill it gives government ministers the power to change EU laws. This can happen for any number of reasons, such as when the EU law doesn't apply to the United Kingdom, or contains references to the EU which aren't necessary.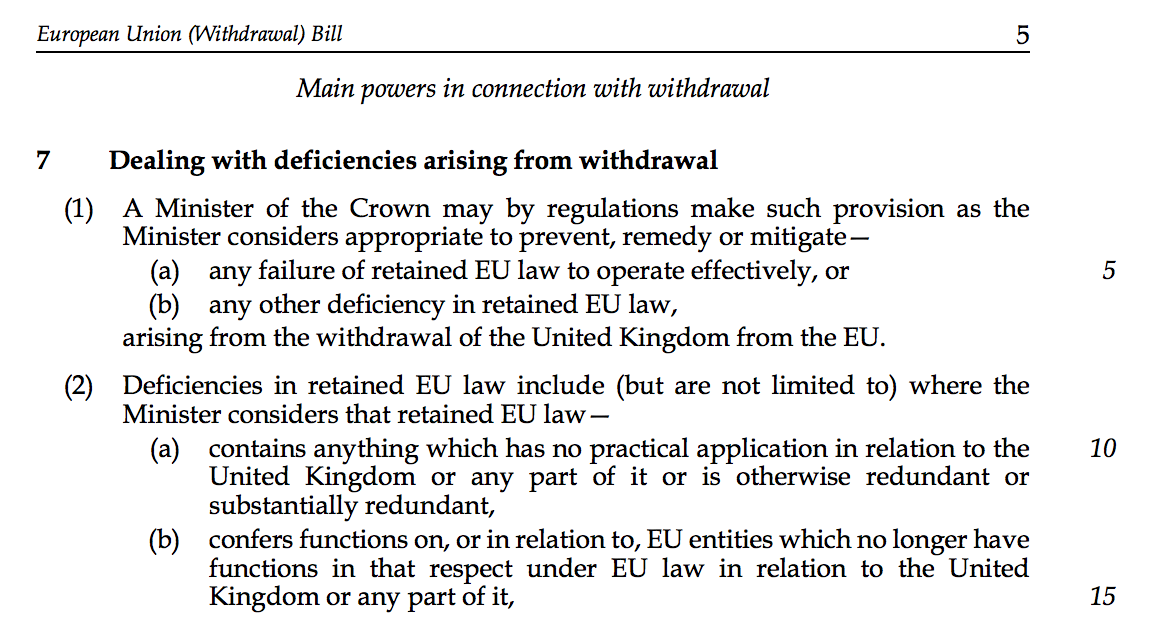 And when it comes to implementing the Brexit withdrawal agreement, it also states that a minister can make any changes they "consider appropriate for the purposes of implementing the withdrawal agreement if the Minister considers that such provision should be in force on or before exit day".


According to the Bill, the power to "modify" laws includes the ability to amend, repeal, or revoke laws.
'Power Grab'
This is the crux of the issue – the so called "Henry VIII powers". Typically, new laws are introduced into either the House of Commons or House of Lords and then go through a series of Parliament debates to scrutinise the proposed legislation before it gets approved.
But as the Bill currently stands, many argue it allows government Ministers to modify legislation without full parliamentary approval. (The much repeated reference to Henry VIII comes from the fact that in 1539 he pushed through a law that gave him unilateral power to change legislation as he wished. The law was abolished shortly after his death.)
Typically these sorts of powers (modifications without Parliamentary scrutiny) are reserved for small, time-sensitive technical changes to the law, a Business Insider article explained. But the "time pressures caused by May's Brexit timetable means that they will have to be used much more widely and liberally."
With Article 50 triggered, the deadline for Brexit is March 2019. When this happens, all EU laws will become UK law. The government then has set a two-year limit from the day Britain leaves within which it can keep, change, or drop these laws.
And given the sheer number of laws that need to be translated in order to properly apply to the UK, there are questions about how this can be done while also going through due process and allowing all MPs to scrutinise the changes before they're adopted.
As former Environment Secretary Andrea Leadsom previously acknowledged, about one third of the 1,100 pieces of environmental legislation that need to be put into British law will be difficult to translate.
"This is one of the most broad and constitutionally significant bills to go through Parliament and will have massive ramifications for us all, and future generations," said Alexandra Runswick, director of democratic reform campaign group Unlock Democracy. "This bill is not just about process, it's about power. If Brexit was about taking back control, the repeal bill is very clear that Westminster government is the only beneficiary."
Runswick called the government's existing scrutiny procedures "woefully inadequate" and said that given the volume of different laws to examine "without additional capacity this will simply not happen".
"The bill will hand significant powers to ministers on an unprecedented scale," she said, "and the public should be concerned that at the moment the appropriate checks and balances are simply not in place."
"As it stands, there is a very real threat that these powers could be used to substantially rewrite our laws behind closed doors … For public confidence to be restored this cannot be a power grab by Government Ministers but an opportunity to meaningfully engage our representatives."
Enforcing New Rules
Once the laws are set, then comes the issue of enforcement.
According to a government briefing document published alongside the Repeal Bill, new laws will be enforced through judicial reviews and Parliamentary scrutiny.
But many, including a House of Lords select committee report on Brexit and climate change published in March, question how well new laws will actually be enforced. There's also the question of whether those departments or agencies that will be responsible for enforcing new rules will receive increased budgets or more resources to do so. (Local councils for example are already facing pressures to comply with air pollution law due to lack of resources)
#environment laws are only as effective as the institutions that enforce them. #GreenerUK on #RepealBill: https://t.co/sciz9DFtVx @guardian

— Nick Molho (@NickMolho) July 13, 2017
Green Party co-leader Caroline Lucas said: "There's an enormous environment-shaped hole in the Government's Brexit plans. The Repeal Bill may transfer EU laws onto the British statute, but there's no provision here for ensuring that these laws are properly enforced by institutions in the UK.
"The Government knows that this simple transfer isn't enough to ensure that our environment is protected – and their refusal to legislate for specific environmental protections and enforcement is reckless."
#RepealBill hands extraordinary powers to ministers & fails to offer security on environmental law enforcement. It's a dangerous document.

— Caroline Lucas (@CarolineLucas) July 13, 2017
Lucas is now working with other MPs in order to table amendments to the Repeal Bill (much as she did for the Queen's Speech) to ensure environmental laws are properly enforced through the Brexit process.
As ClientEarth's Hill put it: "Laws are not just pieces of paper. We need a robust, independent means of policing these laws, not just Ministers making up institutions and marking their own homework."
There are "significant risks in terms of democratic accountability or access to justice to challenge and enforce environmental regulations" explained E3G's Tomlinson.
"To manage these risks it is critical that the government gives explicit guarantees that new arrangements relating to environmental and climate change issues will be 'as strong or stronger' than existing regulation; and that it sets out a clear, transparent plan to build robust and accountable organisations to ensure democratic enforcement."
Photo: Neil Howard via Flickr | CC 2.0