A new bill by one of the rail industry's favorite senators looks to change how the industry is regulated to allow "market forces to improve rail safety." In June, Sen. Deb Fischer (R-Neb.), who happens to chair the Senate Surface Transportation Subcommittee, introduced the Railroad Advancement of Innovation and Leadership with Safety (RAILS) Act.
In essence, the bill seeks to shift the rail industry toward a self-regulatory — and more difficult to enforce — approach to safety known as "performance-based regulation," an effort first reported by DeSmog after a Congressional hearing in May.
In that hearing, Rep. Bill Shuster (R-PA) advocated for performance-based regulations for safety, saying that government should "allow the railroad industry to keep more of their profits." That's what you should expect when moving to a system relying on market forces to improve safety.
Speaking of market forces, it should come as no surprise that the top donor to Senator Fischer's election campaigns is rail company Union Pacific. Or that four of her top eleven donors are rail companies, which include Berkshire Hathaway (owner of rail company BNSF), Norfolk Southern, and CSX.
That helps explain why she is pushing to allow the industry to self-regulate via performance-based regulations. Even in a pro-industry opinion piece in the publication RailwayAge, written by a former employee of rail lobbying group, the Association of American Railroads, it wasn't possible to sell the bill without noting that it allows industry to regulate itself:
"…performance-based safety standards mean rather than the [Federal Railroad Administration] prescribing particular actions, such as mileage-based brake tests and specific operations and maintenance procedures, the agency would specify a safety outcome — such as a maximum accident-type rate or component failure rate — and allow each railroad to devise its own cost-effective means of achieving that target."
What could go wrong if you allow each railroad to devise its own cost-effective means of achieving safety? Let's take a look at Exhibit A: Lac-Mégantic.
Lac-Mégantic: When 'Market Forces' Regulate Safety
Shortly after the deadly oil-by-rail disaster in Lac-Mégantic, Canada, a columnist at The Guardian stated, "the explosion in Lac-Mégantic is not merely a tragedy. It is a corporate crime scene." There is a mountain of evidence to prove how corporate cost-cutting caused the July 2013 accident in the small Quebec town.
The fire on the locomotive that started the whole deadly chain of events was the result of cutting costs for engine repair. A report from the Transportation Safety Board of Canada stated that "This temporary repair had been performed using a polymeric material, which did not have the strength and durability required for this use."  That was the first mistake due to cost-cutting shortcuts.
The company operating that oil train had also been allowed to run the trains with a single person crew. Another cost-saving measure that railroad labor unions oppose and one that the rail industry in America is lobbying hard to make standard.
And then there was the corporate policy of not using all of the braking systems in order to save time, which we wrote about on DeSmog last year:
What has been overlooked is the corporate policy of not engaging the "automatic brake" when leaving a train on the tracks. Harding [train engineer] set the independent brake and handbrakes but did not set the automatic brake because that was corporate policy.

The brakes he did apply were sufficient to hold the train. But then the locomotive caught fire that night and the fire department cut power to the locomotive, which led to the loss of pressure in the independent brake and the train "running away" down the hill towards Lac-Mégantic.

It would have taken Harding 10 seconds to engage the automatic brake. If this had been done, the train most likely would have remained in place until it was scheduled to continue the next morning. But company policy was to not engage the automatic brake even when parking a loaded train of explosive Bakken oil on a hill above a town. Why not?

Because while it only takes 10 seconds to engage the braking system, it takes between 15 minutes to an hour to disengage the system when the train is restarted the next day. And in the rail industry, time is money.
This is what happens when market forces drive safety precautions. And that is why it is accurate to describe Lac-Mégantic as a corporate crime scene.
'Sound Science' and
ECP

 Braking

The new bill from Sen. Fischer include the section "Sound Science," which requires that regulations be based on things like "appropriately validated models and formulas." It does not mention how one goes about "appropriately" validating models and formulas.

This approach of claiming that safety regulations aren't based on sound science or that the "science is still out" has already proven to be a very effective approach for delaying further safety measures for the rail and oil industries. It has been the main argument allowing the oil industry to continue to transportvia train a dangerous and volatile oil that could easily be stabilized and made safer to ship.

In the RailwayAge opinion piece supporting Fischer's industry-friendly bill, it notes that the industry is particularly interested in rolling back the requirement to have electronically controlled pneumatic (ECP) brakes on oil trains, saying this regulation was "troubling to railroads and the scientific community."

When DeSmog asked RailwayAge to provide evidence that the scientific community found the regulations requiring ECP braking "troubling," the author of the piece — former Association of American Railroads (AAR) employee Frank Wilner — directed DeSmog to the Transportation Technology Center, Inc. According to its website this organization is "a wholly owned subsidiary of the Association of American Railroads."

So, scientists on the payroll of the rail industry's main lobbying group find a proven safety technology "troubling." What should be more troubling to anyone concerned about rail safety is a bill introduced by a senator taking large amounts of money from the rail industry, a bill which is then promoted by not only the industry's lobbying group but also a former lobbying group employee, claiming in an industry trade magazine that industry-paid scientists are the final word on safety.

As repeatedly noted on DeSmog, there is ample evidence that ECP brakes are safer. 

But perhaps the strongest argument for ECP brakes is that they are required on trains hauling nuclear waste. Why would this be required if these brakes offer no safety benefits? In 2004, the AAR gave a presentation on why trains should be allowed to move spent nuclear fuel (SNF) and clearly noted that ECP brakes were important for safety. Yet 13 years later, this group is purporting that it is an unproven technology.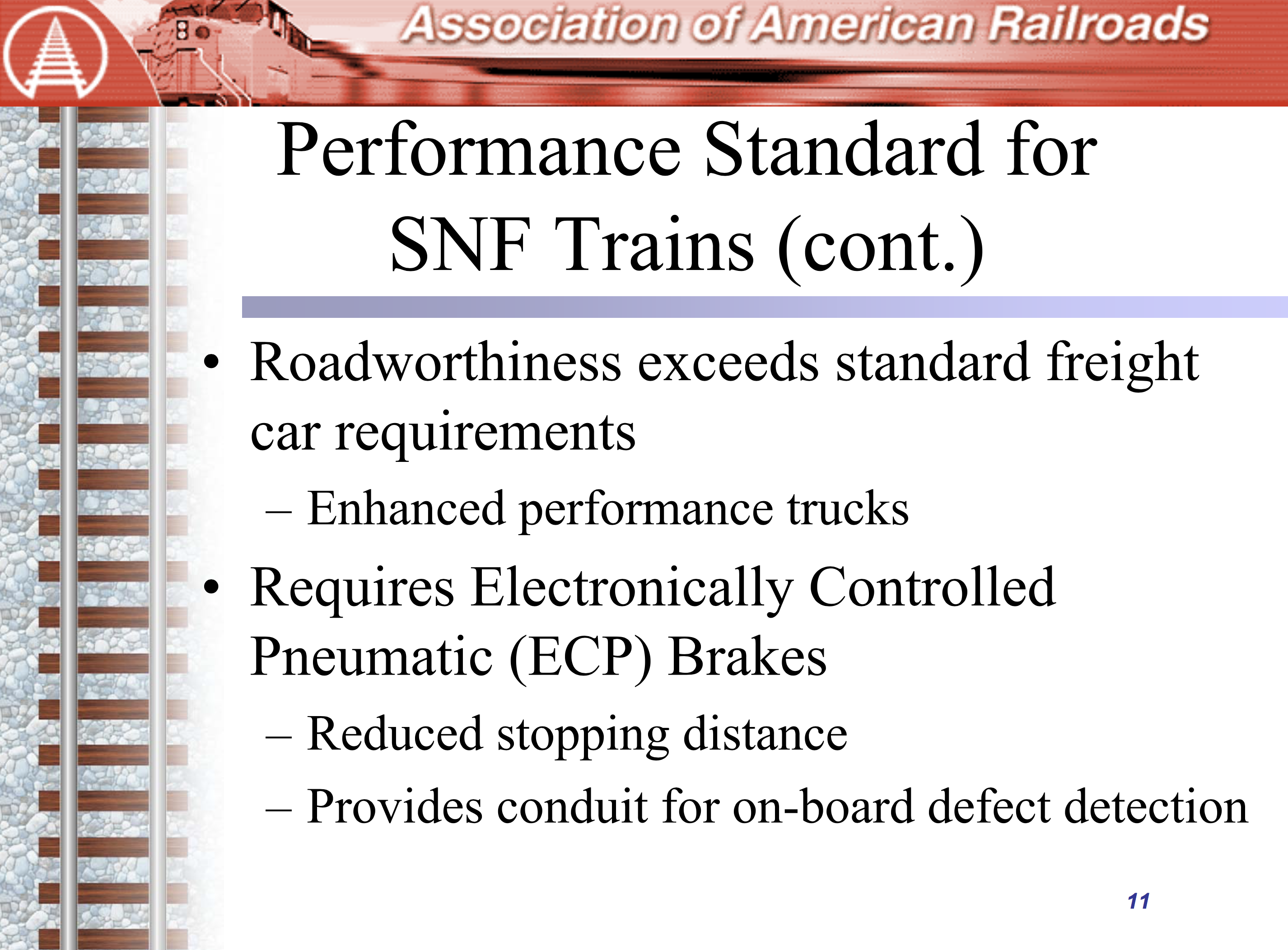 And that's not all. There's evidence that ECP brakes would have prevented the Lac-Mégantic disaster.
Performance-Based Regulation or Profit-Based Regulation?
"Railroad rules have been written in blood." This line comes from the annual report of the Commissioner of Railroads for the state of Michigan — in 1901. It implied that safety rules were only implemented when enough blood had been spilled.
One hundred and fifteen years later, in an opinion piece on rail safety for CNN, rail expert Fred Failey essentially said the same thing, opening his piece with the statement, "The rules by which trains operate on American railroads were written in blood."
Now, with over 100 years of history showing the rail industry's refusal to implement safety measures until enough people have died, the industry is again pushing to regulate itself in order to avoid proven safety technologies for the sake of "keep[ing] more of their profits." Congress and the anti-regulatory officials now in the Trump administration are working hard to allow this to happen.
The only performance that will improve when implementing performance-based regulations is the performance of railroad stock prices and the fundraising efforts of politicians like Sen. Deb Fischer.
Main image: Union Pacific locomotive Credit: Atomic Hot Links, CC BY–NC–ND 2.0