There are fewer ribbons tied to the hedgerow, and most of the funny signs are gone. In their place stand weary protesters, greater in number than before, parallel to a bulked up security detail.
"We can't really call this a protest anymore," says Nick Sheldrick. We're talking while once again perched opposite the Lancashire site shale gas company Cuadrilla are trying to frack.
"No, it's peaceful direct action," adds Louise Robinson, who has been at Nick's side almost daily for three months.
When I first met the protesters in March, Louise was quietly holding a placard while keeping a close eye on her niece playing along the footpath. Louise is now living on that same stretch of pathway.
"I was here doing 48 hour shifts, days and nights not sleeping. And I thought, 'right, well I may as well pitch my tent up'."
This is still recognisably the Preston New Road rolling resistance, this is still the UK's anti-fracking frontline, but a lot has changed in a few short months.
Month of Action
Since the protesters first arrived in January to object to fracking in their area, Cuadrilla's work has modestly progressed while opposition to the company's presence has continued to increase.
Lancashire council originally rejected Cuadrilla's application for the site in 2015. But the national government overruled the decision the following year, allowing the project to go ahead.
A survey in June showed 66 percent of local residents oppose fracking within five miles of their home. A government poll published a month earlier showed 30 percent of people nationwide are opposed to fracking, with only 19 percent supporting it.
Many of the faces lining the side of Preston New Road, on the main thoroughfare to the village of Little Plumpton in Lancashire, are the same as when I last visited. Others are new. Plenty are more weathered than when I last saw them, sporting peeling noses from the "PNR tan" protesters get due to the lack of shade or shelter at the side of the road.
The local protesters have been joined by national campaign group Reclaim the Power (RtP) for the past month. July marked a 'month of action', with daily stunts intended to disrupt Cuadrilla's work.
RtP's arrival was a phase-shift for the movement, but I'm told the actions have been a collaborative effort.
"It's been a very successful month. The RtP lot have done good work. I think we work well together," Nick tells me. "They're organised. They're very organised. And we weren't really."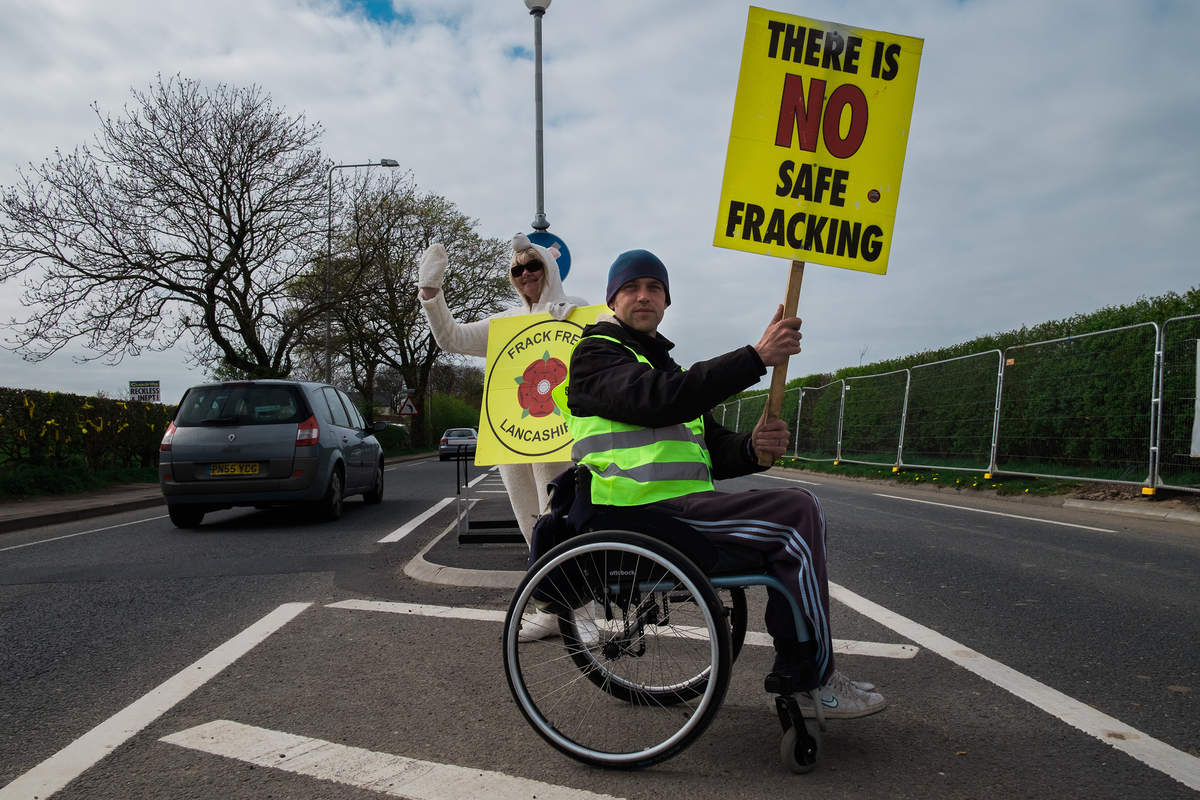 Nick Sheldrick holds a placard in the middle of Preston New Road. Credit: Alban Grosdidier
RtP's organisers were driven to come to Preston New Road precisely because they saw a local community with all the enthusiasm to stop the fracking industry, but perhaps without the tools or expertise to do so. Liz Snook, a campaigner with RtP tells me:
"There was an awareness that the local people here had been struggling under difficult conditions."
"It was an opportunity to say to them they don't have to carry the burden of this alone all the time."
"People around the country I think are aware this is the frontline and have stepped up and supported the local community".
Another local protester, Katrina Lawrie, who has also pitched her tent beside the road, is pleased RtP came.
"The difference they've made with us working together has really been amazing. And I hope it's a template others can use."
"It's not been easy, we didn't always communicate well in the first few days. But we learned very, very quickly and that's what it's about. It's about learning to work together and stand together. And if we do that, we can beat it."
Meg Holmes came from Essex to join the Lancashire protests. She originally travelled up to bring her carpentry and design skills to the camp, but has ended up staying on for longer, fitting  work life around her campaign schedule. On the day we meet she is sitting in the road as part of a human roadblock in front of Caudrilla's gates.
For her, the protest is "an issue of democracy. The local people here have said no."
She tells me she and others who have come from afar to join the protest have been "so inspired and welcomed by everyone here."
"It's super, super beautiful to see people working together like this, and I feel my time is well spent here."
"If we stand together on this, hopefully it can show people that people can work together and change things and inspire more people everywhere to do it."
Police Power
Since RtP arrived at the beginning of July, there have been almost daily 'lock-ons', with protesters attaching themselves to each other or objects in front of Cuadrilla's gates to make them harder for the police to remove. Nothing can come or go from Cuadrilla's site during that time, continually delaying the company's plans to frack.
With the increased disruption has come greater antagonism between police and protesters.
"Things have got worse. Things have got rougher," Nick says.
"They [the police] are getting more desperate. Closing the road off when there's no need to close the road off. Telling people we're the cause of obstruction in middle of the road and that's why they have to do it. Little nasty tactics like that to cause a public divide."
The security presence is notably more intimidating than before. A dozen or so security guards hired by Cuadrilla mingle with police and play-fight among themselves, tussling with each other around the police vans in the early hours of the morning.
When I arrive at around 5.30am to report on the start of the day's action, I am never allowed out of the security guards' sight.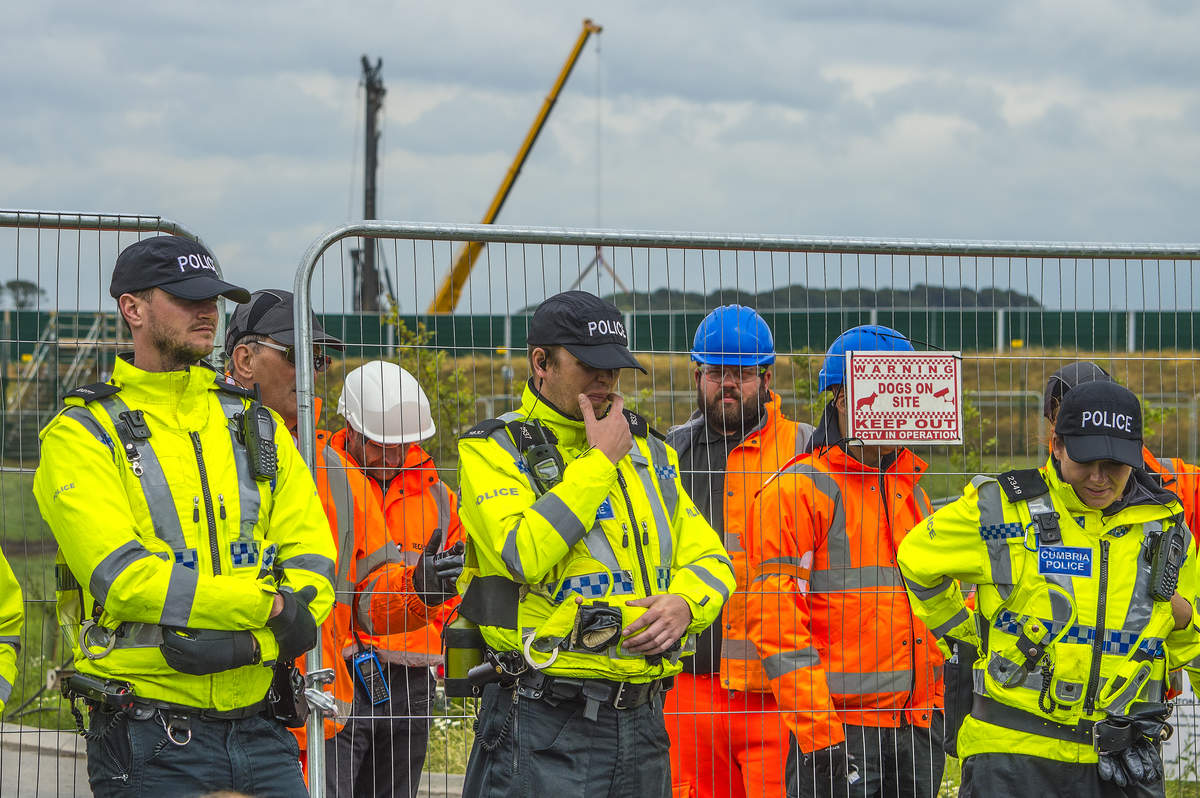 Police and security outside Cuadrilla's Preston New Road site. Credit: Rob McEwen
Miranda Cox, a local councillor from nearby Kirkham who has been ever present at the protest since it started in January, says the cosy relationship between the police and Cuadrilla has become more noticeable.
"I feel [the police] are very tactical now in the sense that there's less communication, less willingness to engage. And I think it's quite clear that they have a massive presence sitting in their vans, and then they only come out when a lorry comes. I keep saying it and I'm bored of saying it but it's pure facilitation of the industry, it's got to be. This is not policing, this is babysitting trucks.
"When you see 50 police running up the side of trucks that are carrying portaloos, if that's not facilitation I don't know what is. They're the most expensive portaloos ever."
The protesters don't think they are to blame for the disruption and traffic delays that have become a feature for residents of the area. They believe the police are causing more disruption than is necessary, and say the force is quick to shift blame onto the campaign to stop Cuadrilla.
Lancashire Constabulary claims it costs around £450,000 a month to police the protests. When asked to comment on the police's response to two actions in July, a spokesperson offered the same statement on both occasions: They told DeSmog UK that the force's "intention is to ensure a consistent and coordinated policing response and ensure a balance between the rights of people to lawfully protest, together with the rights of the wider public, including local businesses, to go about their lawful activities."
"We aim to prevent, where possible, crime and disorder, but if it does occur we will provide an effective, lawful and proportionate response".
Those at the side – and increasingly in the middle – of the road acknowledge that the local community are starting to get fed up. But they maintain faith that people see through what they consider to be a disproportionate police response to peaceful protest.
John Tootill, owner of the Maple Farm nursery where many protesters have been camping since the start of the year and where RtP have now established a community hub tells me:
"The level of policing has increased which is simply demonstrative of the fact that the government is tantruming to try and push this industry through, which is simply not wanted.
"Although the police presence is very oppressive, people just see the vast number of officers and police vehicles with amusement as it's so surreal.
"And the reckless behaviour of the police, which is evident to all onlookers when they see convoys and vehicles being escorted to the site with blue lights flashing as if it was an emergency or they were escorting vehicles through a war-torn area, it's so ridiculous. It's so out of step. It's so absurd."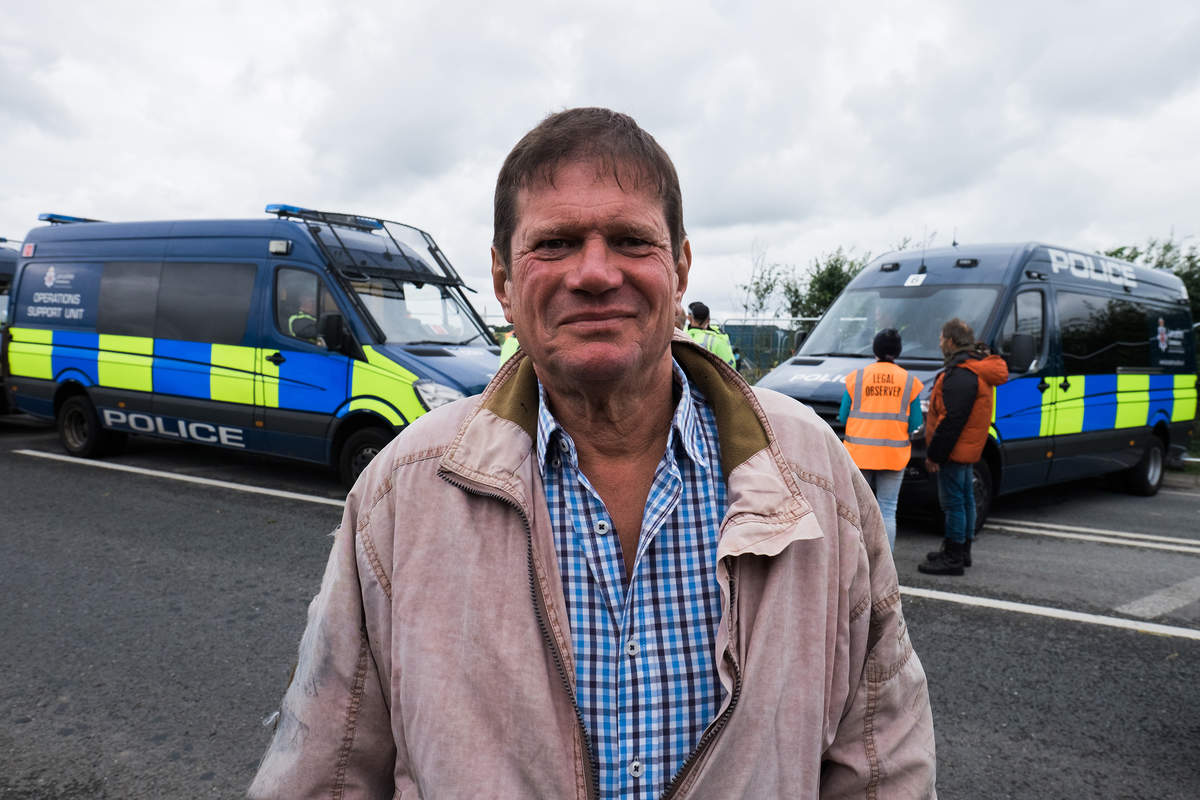 John Tootill, owner of Maple Farm where the anti-fracking community hub is based, standing in front of a lock-on outside Cuadrilla's Preston New Road site. Credit: Alban Grosdidier
The conflict between protesters and police has started to make national headlines.
In July, a protester was hit by a supplier's van leaving the site. No police action was taken at the time, but Lancashire Constabulary tells me they are investigating a complaint.
One protester is also pressing charges for an alleged assault by Cuadrilla's private security force earlier in the month. The increasingly volatile atmosphere has led Green party MEP Keith Taylor to call for an "urgent review" of the police's tactics at the site.
Miranda worries that such violent headlines are distracting from the point the protesters are really trying to make — that Cuadrilla's plans have repeatedly been rejected by the local community.
"I think Cuadrilla are getting an easy ride really. It's becoming a police versus protester issue, as opposed to protests versus Cuadrilla.
"I'm not here to be against the police, that's not my role. My role is to be an inconvenience to Cuadrilla."
As for the public, "they see all these police and that's all they see, they don't see the frack pad."
"I feel the police are actually being used. And that saddens me, really."
Back to Fracking
The protesters' motivations have evolved since I first visited in early Spring. They have moved on from being concerned just about the environmental impacts of fracking. Now, they are concerned just as much with the implications of Caudrilla's activities for local self-determination, and the role of the police and government play in facilitating industry compared to peaceful protest.
But their ultimate goal remains the same: to stop fracking at Preston New Road.
It's clear that despite the disruption, despite the increasingly negative experiences with the police, and despite some reports of a fractured community, Cuadrilla's activities have driven a small but substantial set of local people closer together in Little Plumpton.
John says: "We've learnt so much more about our neighbours. We've learnt so much more about our community and the good people around.
"All these people here. They are giving their time, in a totally peaceful way, all of which have shared dreams for the future."
Nick agrees that as the attention increases so does local engagement and, ultimately, opposition. He says a combination of protesters' efforts on social media and the community hub set up at Maple Farm has brought more people to join the anti-fracking movement.
"We have had a lot more locals come down. So we'll still have decent numbers when [RtP] go."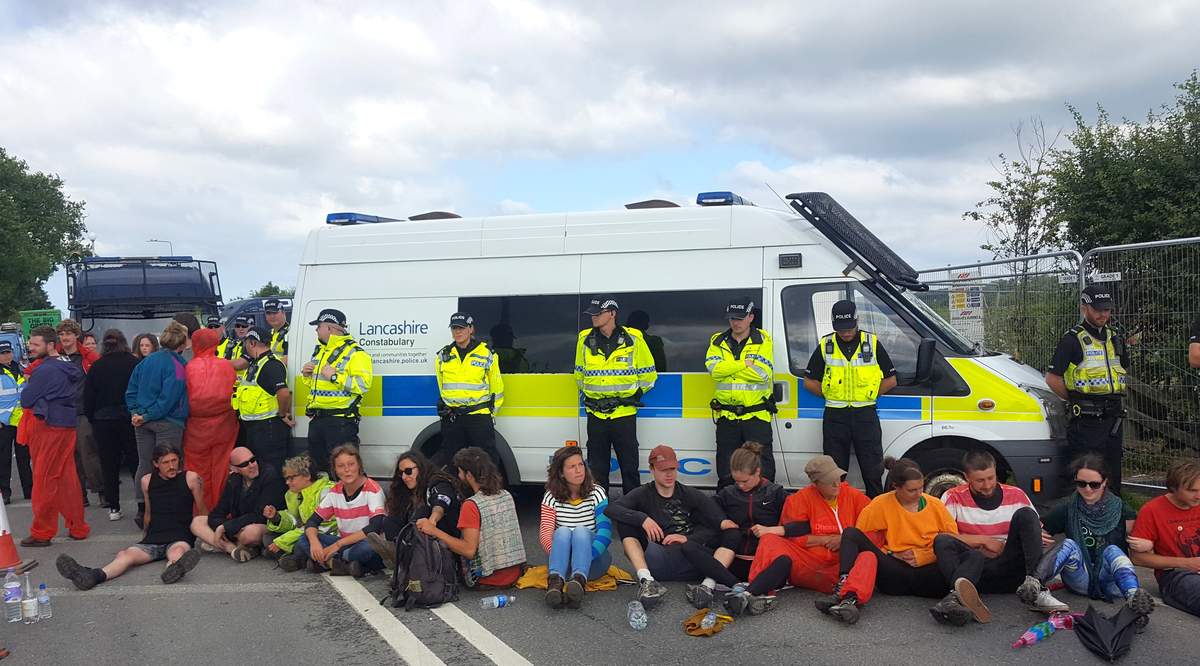 Protesters form a human roadblock on the west side of Cuadrilla's Preston New Road site to prevent industrial traffic entering. Credit: DeSmog UK/Mat Hope
A day after my third visit to Preston New Road at the end of July, Cuadrilla claimed it had delivered its main drill to the site outside of its normal working hours, aided by a police escort. Cuadrilla's chief executive Francis Egan called the delivery "an important milestone".
RtP quickly released a statement saying that if true, it would only "strengthen everyone's resolve". The campaigners said the protest had already proved its ability to delay and disrupt Cuadrilla's activities.
Certainly, just one day before, the protesters were feeling upbeat about their chances of stopping the industry altogether.
"The momentum is building. The opposition is building both here and nationally and it's so heartwarming to see the support that we have against this industry," John tells me.
"I think it's just a matter of time before this site and potential other sites get closed down because there's just no potential future in what they're trying to do."
"I'm tired, and the sooner this comes to an end the better. But I can see very much that the end is in sight, that this industry will be stopped."
Not everyone is as optimistic.
Miranda thinks opposition is growing, but can see Cuadrilla's plans are still progressing even if it is more slowly than anticipated.
"It will be interesting to see where we are in a year's time, if they get that drill in the ground and if they start fracking. I'll be interested to see what people's perception is then."
"I think we're determined to carry on. We're determined to keep blockading the site, to keep up our pressure on suppliers and to keep raising awareness among local residents."
"But I actually seriously couldn't make a prediction as to how this is going to go."
Main image credit: Rob McEwen