One of the UK's largest oil and gas companies has reiterated its optimism for the prospects of a UK shale gas industry. The statement comes days after fracking company Cuadrilla finally starting to drill in Lancashire, despite months of public opposition and geologists questioning the feasibility of a UK industry.  
IGas is "poised to capitalise on its potential" having restructured the organisation towards the UK fracking industry, and secured planning permission for new shale gas projects, its non-executive chairman, Francis Gugan, writes in the company's annual report published online this week by Companies House.
The company is due to commence drilling at a site at Tinker Lane and Springs Road in North Nottinghamshire – likely later this year – once final conditions around its planning permission are agreed with local authorities. IGas told DeSmog UK it expects to give an update on its plans to the market at the end of September.
Gugan said the optimistic outlook was built on "emphasising the importance of shale development in Britain". IGas employs PR company Hill and Knowlton to lobby the UK government on shale gas issues, as do fracking companies Cuadrilla and INEOS.
Gugan also attributes the company's improved prospects to a weaker pound in the wake of the Brexit referendum, and rising oil prices.
IGas's licenses cover more than one million acres of the UK, with the company claiming to be "the largest independent producer of oil and gas in Britain".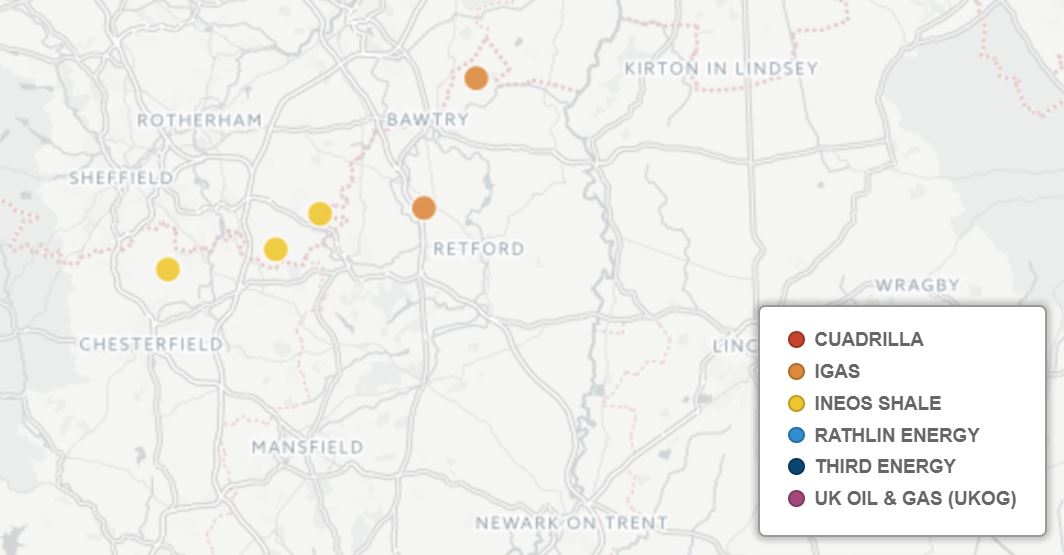 Credit: Cropped image from map produce by Carbon Brief.
It's flagship shale gas projects in Tinker Lane, Nottinghamshire, and Springs Road in South Yorkshire have been met with opposition by local campaign groups.
"This is the last throw of the dice so it's greatly overhyped," a spokesperson for Frack Free Nottinghamshire, one of the local groups objecting to the development, told DeSmog UK. "Its gas from shale or oblivion for onshore oil and gas operators," they said, as reserves from conventional wells start to dry up.
Gugan's comments seem to align with this. He said the UK's energy sector is at a "critical juncture", and that "UK sourced gas is an increasingly important" for the UK's energy security, hence IGas's restructuring.
Gugan goes on to say that IGas seeks to maximise profits from its oil and gas operations "whilst fully respecting the environment and the local communities within which we operate". This includes giving £850,000 to local projects over the past nine years.
DeSmog UK analysis of IGas's community donations shows the company has spent almost £87,000 in the East Midlands over the past two years as the it tries to purchase a social license to operate, including donations to schools and playgroups.
IGas has also given over £95,000 to projects in the North West of England, one of four regions in which it has a financial interest.
A spokesperson for local activist group Frack Free Yorkshire told DeSmog UK: "IGas has long been contributing financially to local community projects, presumably because it wants to be seen as a benign friend. We find that cash-strapped voluntary organisations that accept financial donations from IGas have not always fully explored both sides of the argument.
"Therefore there is a concern that they have not necessarily made informed choices."
A DeSmog UK investigation previously revealed how fracking company Cuadrilla was using local schools and sports clubs to try and improve its public image in Lancashire. Big oil company BP has used similar tactics to greenwash its image and keep the public onside as it cuts jobs in the North Sea.
IGas's accompanying accounts show it made an underlying operating profit of £3.7 million last year, with £99 million of debt. The company had a £32.9 million loss after tax.
Main image credit: Anita Starzycka via Pixabay CC0