Is the coal industry on its last legs in Europe? A quick look at the statistics suggests it might be.
Since 2007, coal power production has fallen by about 20 percent, and several EU countries, including the UK, have pledged to phase-out coal completely before 2030.
But coal is not dead yet.
Just 280 coal power plants – out of 13,000 power generators – were responsible for almost 40 percent of EU emissions last year, according to think tank Sandbag. Those power plants are concentrated in particular countries within the region, most notably Poland, the Czech Republic, and Germany.
That's why thousands of people congregated in Germany's Rhineland this summer to protest against the ongoing mass mining of the world's dirtiest fuel, in a country proud of its supposedly green vision.
The activists set up a climate camp, blocked trains, and occupied a mine, all the while chanting "ende gelände" – "end the story" – the name of the alliance that organised the action. The chants had a distinctly multilingual tone.
Coal Has No Borders
Given the UK has promised to phase out coal by 2025, why could so many British accents be heard? Because the coal industry, and its impacts, is a truly global phenomenon.
Coal is exported from – among others – Africa, South America, Indonesia, Australasia, Russia, and the US. It finds its way to India, China, Germany and the UK where it is burned for electricity that can be used on a continent-wide power grid.
The impacts of coal likewise seep across state-boundaries.
Air and water pollution from power stations and mines in one country can find their way into others depending on which way the wind blows, and which way the river flows. The social impacts of the industry – and ending it – pulsate from the heart of coal communities outwards, affecting national and regional economies.
That's why Sama Bakr, a London resident, cycled all the way to the Rhineland for the action. She told DeSmog UK:
"We know that many of the issues in this world are linked – and the coal mining industry is linked to land grabs in the Rhineland where villages are being emptied to establish the mines, and it's linked to deforestation like the Hambacher forest that is nearby, and destruction of ecosystems, and the patriarchy, and many other issues.
"And what Ende Gelände and the climate camp did is create a space where people from the different movements were invited to join forces to build a diverse resistance to face this diverse set of issues."
Ende Gelände isn't the first trans-national action calling for the acceleration of coal's demise.
In 2014, thousands of people formed a human chain for 8 kilometers along the Germany-Poland border. Czech protesters have also objected to the potential expansion of a huge coal mine on the country's border with Poland, with major concerns about water contamination flowing across the border.
Poland is planning the biggest expansion of its coal industry of all the European countries. As such, the country's activists tend to focus on preventing expansions than shutting down existing capacity, Kuba Gogolewski, a campaigner for activists Foundation Development YES – Open-Pit Mines NO (DY–OPMN) told DeSmog UK. He calls this "shadow fighting".
"Shutting down things is more visible, but the shadow fighting gets less credit, even though it's more important," he said.
This involves getting people that are against coal expansion in positions of power, with many 'activist mayors' now in office in key communities where they can block developments.
That's why Poland hasn't had to "move to civil disobedience" yet, he said. But that doesn't mean activists in the country won't feel the need to do so soon: "There wasn't a need for it, but things are getting pretty nasty".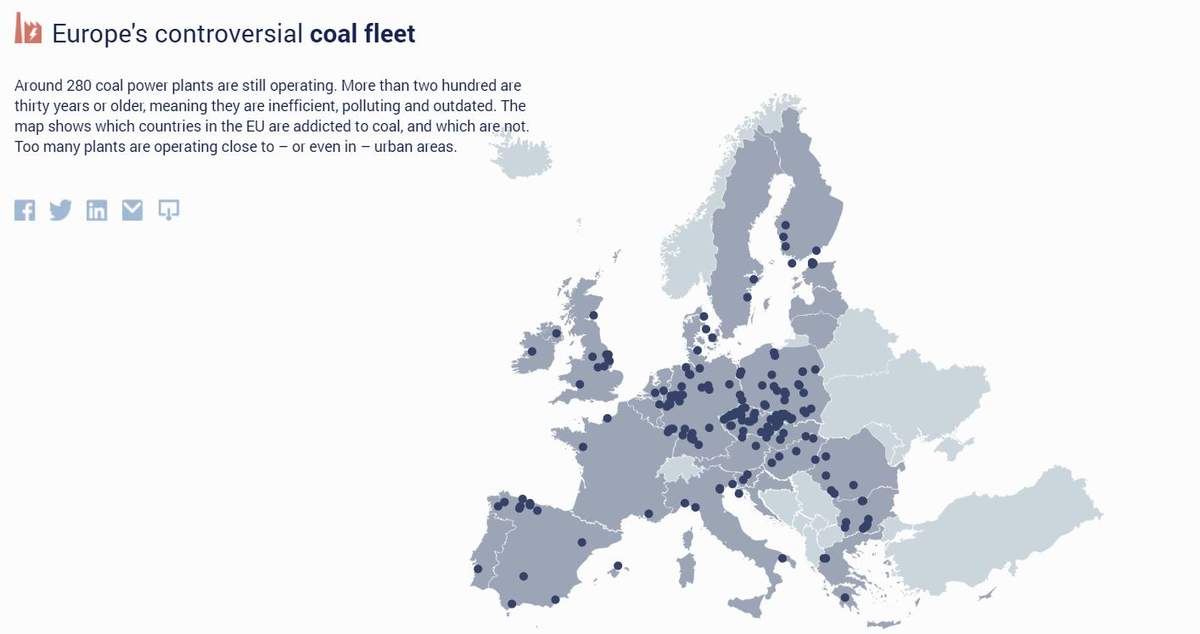 Source: European Coal Map 
Urgency
And that's what drives the activists on – the sense that despite coal's apparent demise things are not moving fast enough.
Think tank Climate Analytics estimates European countries must close their coal plants by 2030 to keep to the Paris Agreement.
But Germany is planning on keeping its mining industry going until at least 2045. And in the UK, there are two applications for new coal mines, at Druridge Bay in Northumbria and Nant Llseg near the massive Ffos y Fran mine in Merthyr Tydfil, currently moving through the planning process.
The destiny of the individual projects matters because what happens in one country can have knock-on effects across the region – whether through pollution, trade, or simply legitimising the continuation of the industry.
"The time period in which we can prevent the worst impacts of climate change is closing rapidly," Insa Vries, spokesperson of Ende Gelände, said in a press release.
"We need to phase out fossil fuels immediately. Our actions of civil disobedience emphasizes the urgency of this demand."
Bakr agrees: "It is going to end, because at one point there will be no more coal, or no more money in it, or no more investors but it's just about how soon we need it to happen".
And while coal mining and production continues, communities will feel the effects.
Gogolewski argued that companies currently persuade policymakers to keep supporting their plans as they are scared of what will happen to jobs in the area if mines close.
But policymakers need to "think of the best thing for the people rather than allowing them to be used as a human shield by the company", he said, and find a way to offer better, cleaner jobs in the community – an idea often referred to as a 'just transition'.
"We're not trying to say it's the environment against jobs," he said. "We're about jobs versus jobs."
"What's your Plan B? This industry will decay. This is imminent".
So why should people from all nations, and all walks of life get involved, as was evidenced at Ende Gelände's most recent action? It's about solidarity, Bakr said.
"Because there are people standing up, people whose lives are at risk, and if they are standing up and if they're doing that then I have absolutely no right not to."
Main image credit: Ende Gelände via Flickr CC CC BY–NC 2.0