Over this past weekend, with no announcement or notice, the website for Fueling U.S. Forward went dark. The Koch-funded campaign that had set out to promote the "positives" of fossil fuels has seemingly shut down, having wiped the website from the internet and deleting all traces on Facebook and all of its videos off of Youtube.
The abrupt end of the campaign, barely a year old, comes after a summer in which the group's messaging clearly pivoted from celebrating fossil fuels to attacking clean energy and electric vehicles.
Upon its launch in August 2016, Fueling U.S. Forward CEO and President Charles Drevna told a crowd at the Red State Gathering that the campaign would set out to promote the "positives" of fossil fuels, which he described as "reliable, abundant, efficient and sustainable."
"We've got to take this to the emotional and personal level," said Drevna.
Alex Fitzsimmons, then the Communications Director for Fueling U.S. Forward and now on staff in the Department of Energy, described the effort as "winning the hearts of minds" of Americans.
The campaign born under the Fueling U.S. Forward brand had been anticipated by a report by investigative journalist Peter Stone, who revealed in early 2016 that the Koch network planned "to spend about $10 million dollars per year to boost petroleum-based transportation fuels and attack government subsidies for electric vehicles."
For months, the campaign revolved around cheerleading for fossil fuels, through flashy videos and infographics released on social media, and by sponsoring events and populating panels to sing the praises of oil, gas, and coal, oftentimes targeting minority groups (a goal that Drevna had publicly verbalized) with pro-fossil fuel messaging.
For example, in December 2016, Fueling U.S. Forward hosted a gospel concert and toy drive in Richmond, Virginia, an event described in detail by Hiroko Tabuchi of the New York Times:
Though few in the crowd knew it, the concert had a powerful sponsor: Fueling U.S. Forward, a public relations group for fossil fuels funded by Koch Industries, the oil and petrochemicals conglomerate led by the ultraconservative billionaire brothers David H. and Charles G. Koch. About halfway through the event, the music gave way to a panel discussion on how the holidays were made possible by energy — cheap energy, like oil and gas.

The concert flier was adorned with a red car bearing Christmas gifts. "Thankful for the fuels and innovation that make modern life possible," it read.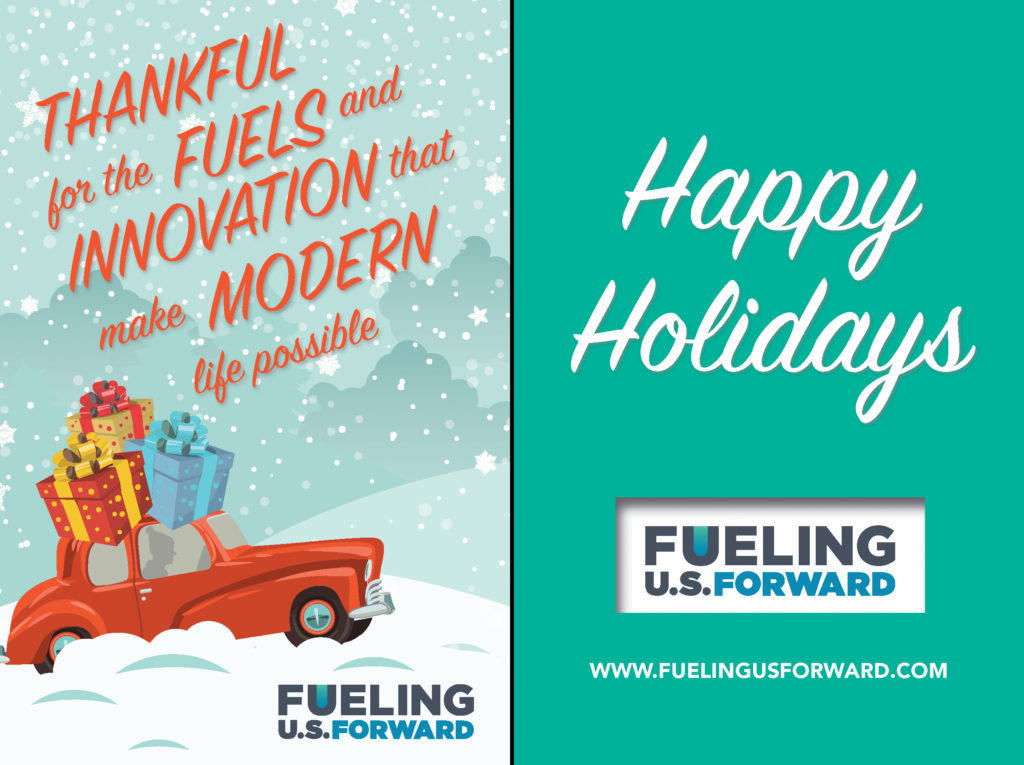 This brand of boosterism continued for months—the campaign seemed to invest heavily in the paid promotion of videos and graphics on Facebook, including an ill-conceived series of videos called "Great Movies Re-imagined Without Fossil Fuels." (Examples included Apollo 13 and The Fast and the Furious.)
However, over the Summer of 2017, Fueling U.S. Forward pivoted sharply from straightforward fossil fuel cheerleading to outright bashing of electric vehicles (EVs) and clean energy. First came "The Dirty Secrets of Electric Cars" video, which was followed up by "The Hidden Costs of Electric Cars."
Both videos were widely debunked and criticized by EV and clean energy experts, as well as on KochvsClean.com.
The "Hidden Costs" video seems to have been the last official act of a 14-month old campaign that now exists only in archives and broken Google search result links.
Though Fueling U.S. Forward appears to be dead, the Koch-funded attacks on clean energy and electric vehicles will continue through Koch network-affiliated think tanks like the Institute for Energy Research (and its sister org, the American Energy Alliance), through political advocacy groups like Americans for Prosperity and its host of statewide chapters that are funded by the Koch network, and even within the Trump administration itself.
The Department of Energy has already landed a number of alumni from the Institute for Energy Research and Fueling U.S. Forward.
Parties affiliated with Fueling U.S. Forward haven't responded to requests for comment.
KochvsClean.com will continue to track the influence of the Koch brothers and their network's coordinated attacks on clean energy policy. And we will continue to expose the connections to oil and gas interests and to debunk egregious attacks on clean energy solutions.