This morning, before German Chancellor Angela Merkel arrived at the United Nations climate talks in Bonn, UN staffers rolled out a red carpet.  At the same time, a group of Pacific Islanders rolled out their own red carpet, in the form of an 80 meter scarlet banner that read: "Keep It In the Ground."
The islanders and many other climate advocates at these talks (known as COP23) had another, more specific request — that Merkel commit Germany to a full phase-out of coal.
For all of its historic leadership on climate issues, including in the formal UN negotiations, Germany is now burning more coal than it was just a few years ago when the Paris Agreement was being developed and adopted. The country is still the largest consumer of coal in all of Europe, by a long shot, with some 50 gigawatts of coal power capacity that represent nearly one-third of Europe's total.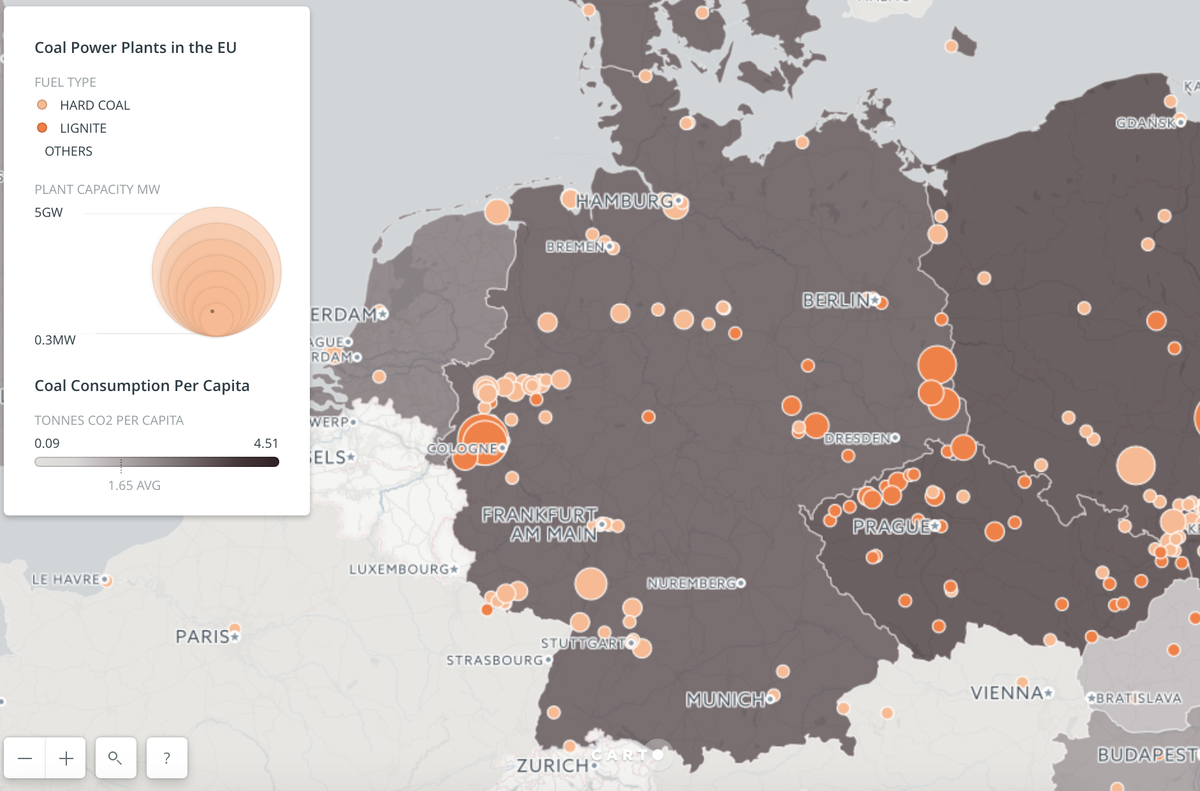 Germany continues to rely on coal-fired power plants for much of its electricity generation. Credit: Climate Analytics
Largely due to this coal dependence, Germany is off-track to meet its long-established target of reducing greenhouse gas emissions 40 percent below 1990 levels by 2020. That is despite making great progress in ramping up renewables by 30 percent in the electric sector over the past 15 years. As Merkel oversees negotiations in the creation of a new coalition government between various leftist parties, the issue of how to achieve this 40 percent by 2020 target is on the table. According to data released earlier this year by Climate Analytics, the only way for Germany to achieve this goal would be to stop burning coal by the end of the next decade.
"Our hope is that [Merkel] will arrive today and hear the pleas of the most vulnerable countries and affirm her pledge from a decade ago and that she will support a coal phase out by 2030," said Jennifer Morgan, executive director of Greenpeace International.
The Pacific Islanders are demanding an immediate phase out. George Nacewa, who describes himself as a Pacific Climate Warrior from Fiji, said, "Germany's coal poses a direct threat to Pacific Islands and our people." Nacewa added that Merkel "needs to phase out coal immediately to keep global temperature rise below 1.5 degrees Celsius and give us in the Pacific a fighting chance for survival!"
Zane Sikulu, another Pacific Climate Warrior, said that Germany's coal addiction is keeping the country from being a true climate leader.
Zane on why the Pacific Climate Warriors are holding a massive #KeepItInTheGround banner as leaders arrive for final days of negotiation at #COP23 #EndCoal pic.twitter.com/ccjZcHYg5F

— 350 Pacific (@350Pacific) November 15, 2017
Today, environment and foreign ministers and heads of state will arrive at the climate talks to take over where negotiators have left off, and there is opportunity for them to ratchet up ambition before the talks conclude. Germany's role as the physical host of COP23 gives Merkel's voice even greater influence.
"Delegates will want to see a clear signal from Merkel that Germany will continue to be a strong player," said Sven Hamerling of CARE International, "and the best way to do that is to annouce a commitment of a full phase-out of coal by 2030."
Main image: Pacific Islanders roll out a clear message about coal for German Chancellor Angela Merkel as she arrived at the UN climate talks November 15, 2017. Credit: Ben Jervey, DeSmog