It's been a busy year. We've published roughly 230 stories, profiled 70 individuals and organisations operating in the climate science denial and lobbying world, and produced a whopping 15 different breakdowns and analyses on the general election.
We've written the words "climate change" more times than we can count, "Brexit" more times than we'd anticipated last June, and "science denial" more times than anyone wants.
Our reporting this year has taken us to local communities in the UK — from those facing new coal mines in Northumberland and Wales, to anti-fracking protests along a small stretch of road in Lancashire. It has taken us further afield, too — to Bonn in Germany to cover the international climate negotiations.
We've also continued to dig deep into the small but influential network of transatlantic Brexiteer climate science deniers — a network which continues to expand and strengthen through its connections to climate disinformation think tanks and Trump-influencers in the US.
Here, we take a look back at some of our best stories of 2017. These are ones we're particularly proud of, ones that our readers (you!) loved, and ones that we will continue to cover in the new year.
A heartfelt thanks to all of you for continuing to support DeSmog UK.
Climate Science Denial
Introducing DeSmog UK's Climate Disinformation Database
Behind each climate policy failure is a network of politicians, corporate lobbyists, and shadowy think tanks pushing to preserve the fossil-fuelled status quo. DeSmog UK's new database casts light on the activities of those pushing disinformation to dampen commitment to action on climate change or promote fossil fuels.
Stay tuned: We will continue to document misinformation and update this database with new deeds and profiles. If you have any suggestions, comments or ideas feel free to get in touch at [email protected].
A New Special Relationship for America and Britain Emerges with Climate Science Deniers Linked to Trump and Brexit
On Friday January 20, fossil fuel lobbyists and climate science deniers from both sides of the Atlantic stepped out of the shadows and into the White House as Donald Trump was inaugurated as the 45th president of the United States. In light of this, DeSmog UK mapped this new US–UK climate science denier network, held together in large part by libertarian think tanks, to shed light on this growing group of influencers.
As the year progressed, we continued to cover this network with stories about how UK politicians – from Liam Fox to Owen Paterson and two of Prime Minister Theresa May's special advisors – continued to meet with prominent US climate science deniers. In 2018, we'll continue to follow this web of disinformation and unravel the potential implications for climate action.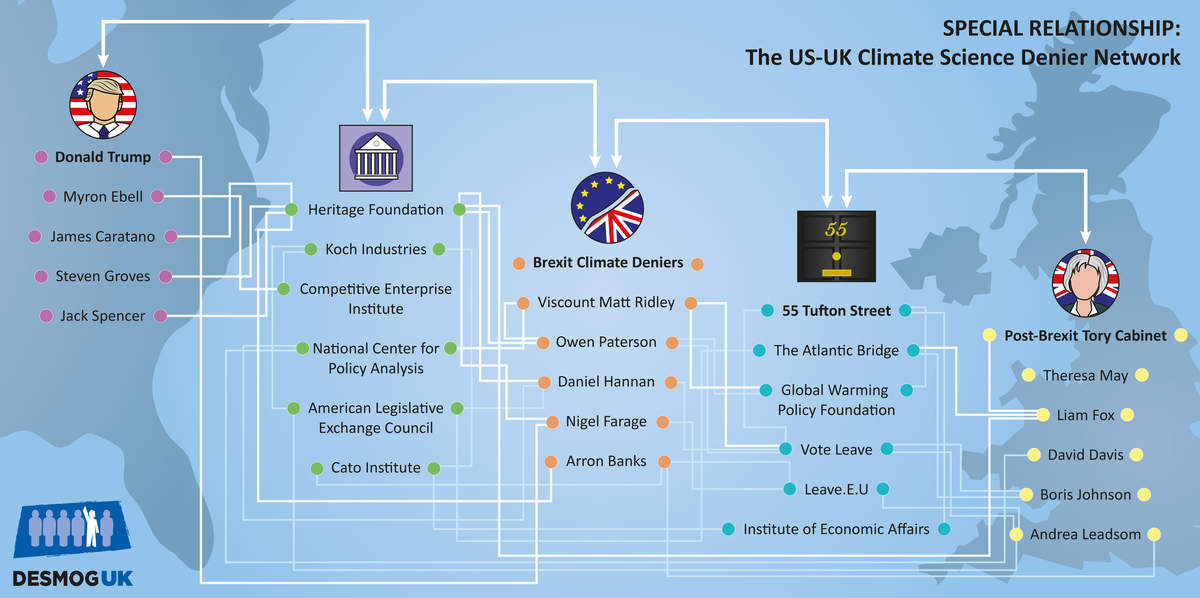 Investigative Scoop
Revealed: Local Authorities Failing to Report on Air Pollution Due to 'Stretched Resources'
Air pollution in the UK has been described as a "public health crisis". But as our investigation revealed, many local authorities have been failing to fulfil their legal requirements on air quality reporting due to a lack of resources.
Based on freedom of information requests and analysis of more than 350 local authority reports, the information raised questions about the effectiveness of the government's decision to continue to put responsibility for addressing air pollution on local authorities.
In the new year we'll be keeping an eye on how this continues to unfold as lawyers once again challenge the government's plans to cut dangerous air pollution.
Corporate Greenwashing
Revealed: How BP Puts its Branding in Local Schools While Cutting North Sea Jobs
This spring we revealed how oil giant BP is promoting its brand to thousands of schoolchildren in almost 100 schools in Aberdeenshire, an area in which it recently slashed a fifth of its workforce. Documents obtained by DeSmog UK detailed how BP is sponsoring a tutoring scheme and cooperating with the local council and universities to place its branding in schools.
Following on from that, a second DeSmog UK investigation showed how BP launched a new set of resources for primary school kids in the UK.
The "Science Explorers" series provides free online resources for children aged between 5 and 11 years old, and includes a few for investigating why the climate is changing. The resources are tuned towards one big question: "Why are living things the way they are?" The fossil fuel company's resources are used by over 50 percent of the UK's secondary schools and 25 percent of primary schools, BP claims.
BP isn't the only fossil fuel company targeting schools in order to bolster its social license to operate. Cuadrilla has done it too as we reported. And we bet there are other examples out there which we will work to uncover throughout 2018.
Local Communities Fighting Fossil Fuels
How 25 Metres of Country Road Became England's Fracking Frontline
Towards the beginning of the year, we travelled to Lancashire to see what was happening on the ground. Speaking with locals we learned about their tireless efforts to defend their community against fracking.
As DeSmog UK editor Mat Hope wrote:
"At the end of two days, two notebooks, and two tanks of petrol I have a story about what happens when a central government tells local people what to do, what happens when the police protect profit and not people, and what happens when 25 metres of sleepy countryside roadway gets turned into a symbolic battleground for a whole country's energy debate.
"Because, hard as it may be to believe, this is England's fracking frontline."
We revisited the protesters in June after a coordinated 'month of action', and found a larger, better organised campaign. As local campaigners admitted:
"We can't really call this a protest anymore."
"No, it's peaceful direct action."
Towards the end of the year, we also covered a report by watchdog Netpol that called for an "urgent review" of police tactics at fracking protests.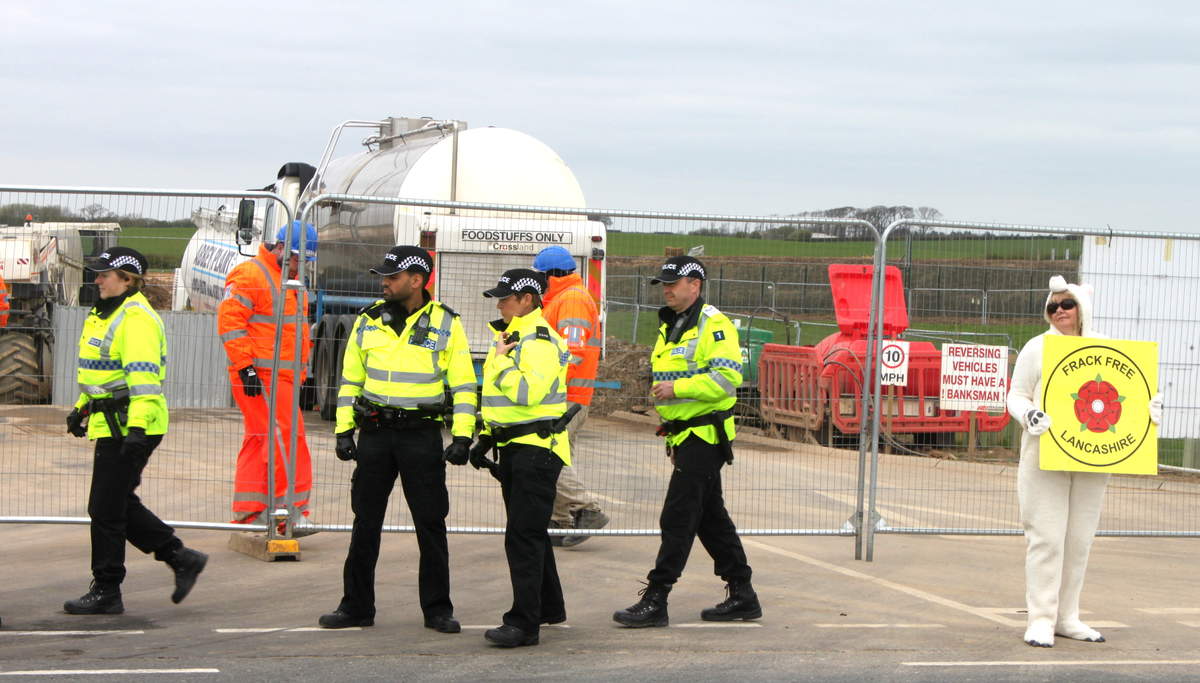 From the Valleys to the Beaches, New Coal Mines Bring Fear not Hope
Closing out the year, we travelled to two separate corners of the country: Wales and Northumberland. Communities in these two areas are facing the prospect of new opencast coal mines and the impact this will have on them and future generations.
As one community member near Druridge Bay described:
"It's very important for our children and grandchildren that we stop digging for coal now. We know what's happened in the past — it was black gold back then. We thought then that this was one of the greatest finds and we had all this fuel to burn.
"But now we know the damage that it causes. And it causes it not just in relation to the CO2 gas but also to getting it out of the ground and spoiling it for the community and tourism and the wildlife."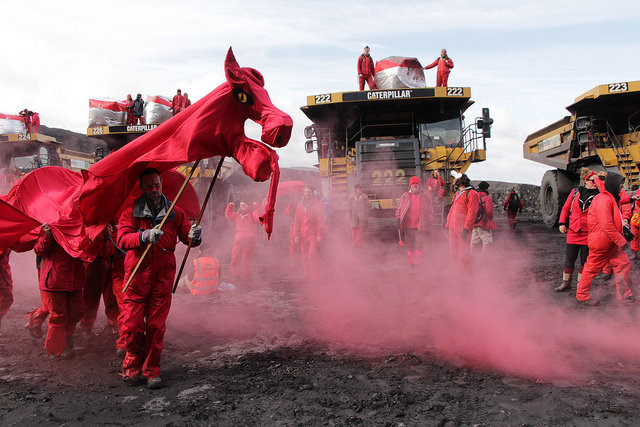 Influence and Lobbying
Mapped: Here's How Many PR Companies Lobby for Fossil Fuels in the UK
Our analysis this year brought to light the nearly two dozen PR companies representing various fossil fuel and energy companies in Britain.
Examining the PR and lobby registry files up to May 2017 showed the scale of the industry's efforts to influence opinion and policy through the many companies hired to represent corporate interests to both the public and to government. You can explore the map here.

UN Shipping Climate Talks 'Captured' by Industry
Shipping is sometimes forgotten in the scheme of industries impacting our global emissions.
But as we reported in October, the shipping industry "captured" UN talks that were meant to be working towards setting a climate target for the sector. The industry used its clout to delay and weaken curbs on emissions.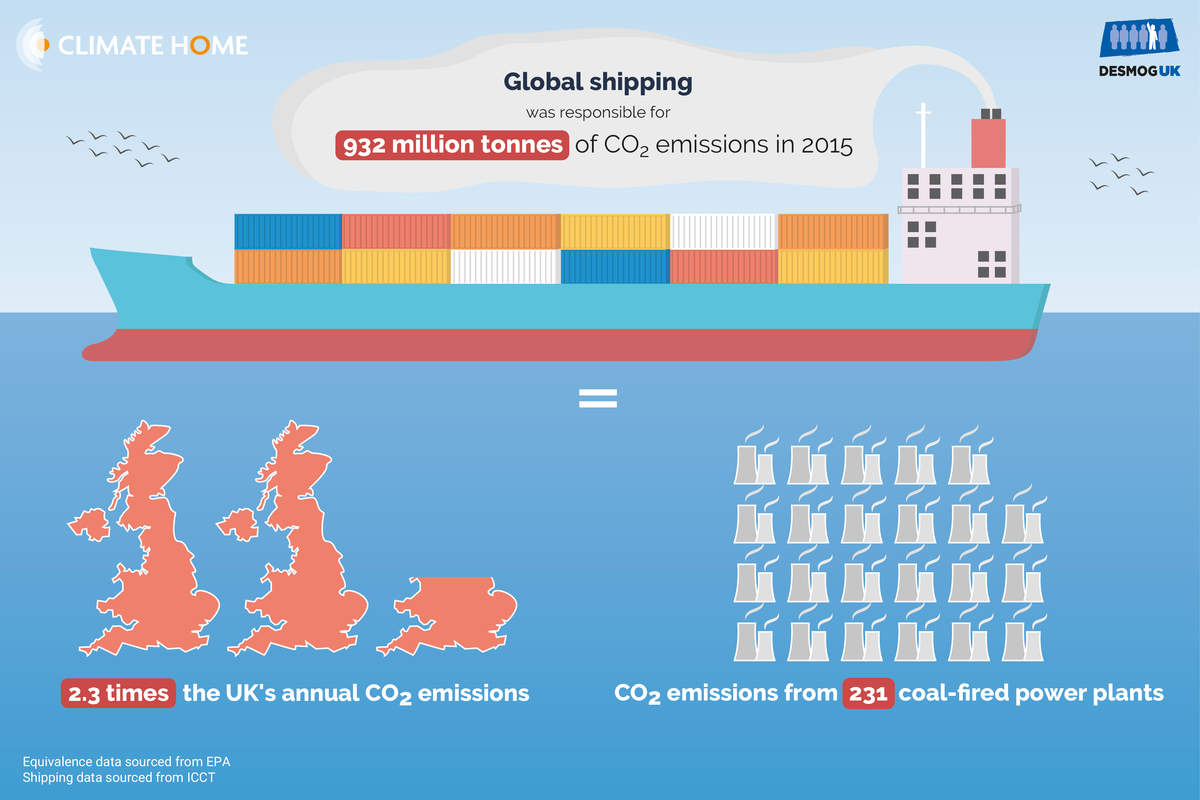 Oil, Energy and Airports: Where are the Main Parties Getting Donations From?
In the lead up to the general election this summer, we took a look at the donations received by the main parties to help give insight into their relationships with polluting industries.
As our data crunching showed, the Conservative Party received significantly more money from individuals and companies in the fossil fuel industry compared to the Labour Party and the Lib Dems.
Mapped: How Fracking Lobbyists From the UK and America Have Infiltrated Parliament
We also mapped the key connections between donors to the All-Party Parliamentary Group (APPG) on Unconventional Oil and Gas in 2016, and Britain and America's corporate fracking interests. As Parliamentary data revealed, fracking companies are donating hundreds of thousands of pounds to this select group of UK MPs and Lords. The contributions give the shale gas industry privileged access to lawmakers, and allows companies to promote their interests inside parliament.
The group was disbanded before the end of the year.
Thank You
All of these stories illustrate DeSmog UK's dedication to cutting through the spin, the PR, and the misinformation.
Our reporting is a success because you — our readers — share, promote, and use our work.
We hope you join us again in 2018 as we continue to strive to  investigate the undue influence of purveyors of disinformation and the fossil fuel industry on UK action on climate change.